UNGA agenda for China, Pakistan, Russia, South Korea: Kim Jong-un, Kashmir and a whole lot more
Trump delivered a 'fire and brimstone' speech that threatened Kim Jong-un's North Korea with 'total destruction' if it did not abandon its quest for nuclear weapons.
On Friday, the representatives of 39 countries will address the United Nations General Assembly (UNGA) in New York.
Key among them — and those which India will be observing with care — are the leaders and representatives of Pakistan, Bangladesh, China, Russia and South Korea. India will be keeping a watchful eye on the neighbours to the East and West.
After all, while one can choose their friends with care, one is not afforded the same luxury of doing so with their neighbours.
Fireworks at the UNGA
So far, it's been a stellar week for political junkies and fans of the UNGA (yes, they exist).
Both US president Donald Trump and French president Emmanuel Macron, made their maiden addresses touching on topics which had far-reaching implications, especially for Asia. Trump delivered a 'fire and brimstone' speech that threatened Kim Jong-un's North Korea with 'total destruction' if it did not abandon its quest for nuclear weapons.
According to a report in the BBC, French president Emmanuel Macron, taking umbrage with a speech Mynanmar state counsellor Aung San Suu Kyi delivered to her nation, told the UNGA that "the military operation must stop, humanitarian access must be guaranteed and the rule of law restored in the face of what we know is ethnic cleansing."
Against this backdrop, Pakistan prime minister Shahid Khaqan Abbasi, Bangladesh prime minister Sheikh Hasina, Chinese foreign minister Wang Yi,  Russian foreign minister Sergei Lavrov and South Korean president Moon Jae-in are set to take the stage.
Pakistan
Forget saving the best for last. Pakistan will be the one to watch, popcorn in hand.
In his speech Tuesday, Trump spoke of "denying terrorists safe haven,  transit, funding, and any form of support for their vile and sinister ideology", added that they must be driven out nations and stated it was time to expose and hold responsible countries that support and finance terror groups such as Al-Qaeda and the Taliban. Some  say this was a not-so-veiled dig at Pakistan, and while Trump did not explicitly name-check Pakistan, it will be enough to set them off and exclaim that they are "victims of terror." Right.
According to this Firstpost report, on the very same day that Trump made his speech, Pakistani prime minister Shahid Khaqan Abbasi, who will be speaking at the UNGA, complained to the United States about the greater role Trump wants for India in Afghanistan.
Pakistan foreign secretary Tehmina Janjua confirmed that in a meeting at United Nations on Tuesday with vice-president Mike Pence, Abbassi raised concerns over the great role that Trump wants India to play in Afghanistan.
Expect Abbassi to continue his whinging  express similar sentiments concerns during his speech even as he attempts to staunch the bleeding in the Pakistan-US relationship that has been caused by a belligerent US president who is yet to learn the limits of hard power. Earlier this week, the Pakistan army chief General Qamar Jawed Bajwa unequivocally that the army had absolutely nothing to do with the ouster of Nawaz Sharif.  
It comes as a rather fortuitous coincidence that Abbassi can be expected to follow in the long line of Pakistani prime ministers and parrot the line of the generals comfortably ensconced at General Headquarters in Rawalpindi.
According to a report in India Today, Abbassi is expected to raise the "Kashmir issue" and rather helpfully throw in some words decrying the plight of the Rohingya Muslims.
To sum up, Pakistan is expected to make the following points: Don't blame us for terrorism, India has "ill-intentions" in Afghanistan,  the people of Kashmir are engaged in a freedom struggle and the Rohingya are being persecuted. Three out of four isn't bad. But one out of four is just plain awful.
Bangladesh
The Rohingya crisis has left our neighbour to the East reeling. Some estimates say that 40,000 refugees have flooded into Bangladesh from Myanmar. Last week, External Affairs Minister Sushma Swaraj called Bangladesh prime minister Sheikh Hasina to express New Delhi's support to Dhaka.
According to a  Firstpost report, Hasina's deputy press secretary Nazrul Islam, Swaraj said that "New Delhi's position is same as of Dhaka over the Rohingya issue."
Hasina, earlier this week, also spoke to Trump. However, she did not seem to express much optimism after that conversation, stating that she did not expect any help from him as she knows how he feels about refugees. Ouch. That's some darned good shade throwing from Ms Hasina.
On Tuesday, Hasina, attending a meeting in New York, said, "We have told Myanmar, they are your citizens, you must take them back, keep them safe, give them shelter, there should not be any oppression and torture."
Expect more of the same during her UNGA speech, renewing the call for Mynanmar to take back the refugees on a global stage and a plea for world powers to step up and help resolve the crisis.
China
When it comes to buying property, the old adage goes thus: Location, location, location. When it comes to China, that location is North Korea.
Forget the Doka La stand-off with India. That was so yesterday's nuclear war.
The new conflict hotspot has it all: Unhinged leaders with an unearned superiority complexes and bad haircuts, over-the-top rhetoric and large armies standing at the ready to do battle.
Trump, speaking on North Korea in his UNGA speech stated, "It is an outrage that some nations would not only trade with such a regime, but would arm, supply, and financially support a country that imperils the world with nuclear conflict. No nation on earth has an interest in seeing this band of criminals arm itself with nuclear weapons and missiles."
While he did not name drop China, the implication was unmissable. The Dragon was quick to respond, calling the speech "really unhelpful". The People's Daily newspaper ran an op-ed with the headline: Trump threatens DPRK with 'total destruction', while China calls for peaceful settlement. The newspaper also called his speech "political chest-thumping" which would "only push the DPRK to pursue even riskier policies, because the survival of the regime is at stake."
NDTV reported that Chinese foreign ministry spokesman Lu Kang, in the aftermath of Trump's address, stated that the United Nations Security Council, by imposing sanctions on North Korea, had agreed that the issue needed to be resolved through "political and diplomatic means." "
The Peninsula situation is still in a complex and sensitive state .We hope that relevant parties could maintain restraint while completing United Nations Security Council resolutions, and take more correct actions which are helpful in easing the situation," he said, according to the NDTV report.
According to a report, on Wednesday, Yi, meeting German foreign minister Sigmar Gabriel on the sidelines of the gathering that the situation on the Korean peninsula was getting more serious by the day and cannot be allowed to spin out of control. A resolution to the North Korea issue cannot only rely on sanctions and not talks, Wang said, the report added.
China, which is being represented by Foreign Minister Wang Yi, in the absence of Xi Jinping, is expected to push for talks on North Korea and tampering down the rhetoric. Expect a single-minded focus even as it takes the opportunity to take a few digs at the US president. 
Russia
Where some see crisis, others see opportunity. Similarly where some see an unhinged madman throwing a match onto a powder keg waiting to explode, others see leadership.
Apparently, it's all in the eye of the beholder.
These days, it seems Russia is all about live and let live.
According to a report in The Daily Beast Russia also — to the surprise of fewer and fewer American observers (including Hillary Clinton) — praised Trump's speech as something "we haven't heard from an American leader for a very long time" and stated that Trump's comments seemed to point to a possibility of the Trump administration wanting to mend fences after relations reached a nadir under the Obama administration.
Sergei Lavrov, who is faithfully representing Russia in the absence of his boss, also stated that it would be quite useful if Trump were to meet Vladimir Putin at an Asia-Pacific Summit in November, according to The Daily Beast report.
Lavrov also reportedly said that a key takeaway from Trump's speech was that the US would not "impose its way of life on others."
Expect more of the same from Lavrov and a bit of expert trolling about 'Russiaphobia' engulfing the United States. Frank Underwood Vladimir Putin would certainly approve of this message.
South Korea
South Korea knows what war is good for: Absolutely nothing.
The US trading partner has had some of a contentious relationship with Trump, even amid rising tensions on the Korean Peninsula.
However, that took a sharp turn after his speech, as they praised Trump's speech for its "brazeneness", Australian Broadcasting Corporation reported.
South Korean president Moon Jae-in released this statement after the speech: "We view the speech as portraying a firm and specific stance on the key issues regarding keeping peace and safety that the international community and the United Nations are faced with."
But for all the post speech joy, the basic calculus remains the same. War isn't "best for business" (unless the business you happen to be in is manufacturing weapons).
In August, Moon poured cold water on the Trump's administration's sabre-rattling, stating unequivocally that war would not break out on the Korean peninsula, claiming that Seoul would veto any US military action which responded to Pyongyang's nuclear and missile programme.
"All South Koreans have worked so hard together to rebuild the country from the ruins of the Korean War," Moon told a press conference marking his first 100 days in office. "I will prevent war at all cost," he added. "So I want all South Koreans to believe with confidence that there will be no war." One certainly hopes so.
Moon, before he represents his nation at the UNGA on Friday, will meet Trump on Thursday to speak about the North Korea situation, even as US officials scramble to ensure that Trump's harsh rhetoric doesn't accidentally spark a deadly conflict,  according to a report in The Financial Express.
Moon will likely continue the August rhetoric, tamp down the sabre-rattling and call for talks, not tussle.  
After all, can't we all just get along?
With inputs from agencies
Find latest and upcoming tech gadgets online on Tech2 Gadgets. Get technology news, gadgets reviews & ratings. Popular gadgets including laptop, tablet and mobile specifications, features, prices, comparison.
News & Analysis
In the image posted by the suspect account, Trump is shown playing golf in the shadow of a giant drone, with the caption 'Revenge is certain' written in Farsi.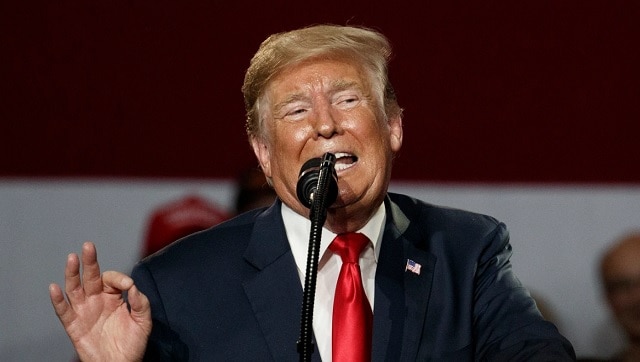 World
In the last two years, Trump has sought to exert pressure on Venezuelan president Nicolás Maduro to end what US officials call his illegitimate hold on power
World
In one sign of how much she may be involved in legislative campaigns, Harris has been in touch with mayors around the country to preview Biden's coronavirus relief package