Ukraine to erase all signs of 'Russification', purges millions of Russian books
In June last year Ukrainian education ministry proposed to ban around 40 authors, including Leo Tolstoy, Fyodor Dostoevsky, and Alexander Pushkin, as well as Boris Pasternak and Mikhail Sholokhov, both of whom won the Nobel Prize for literature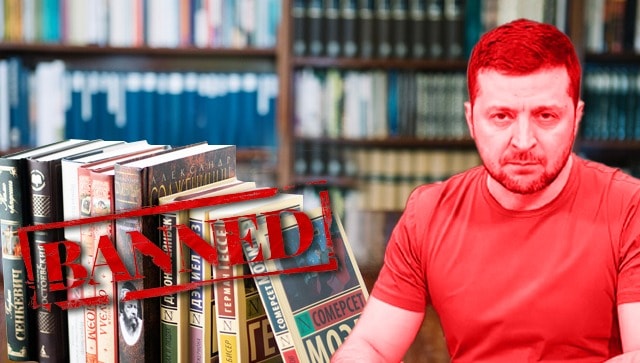 New Delhi: Ukraine has purged millions of Russian books off the library shelves to overcome what it calls 'Russification'.
Yevgeniya Kravchuk, a senior member of the country's parliament, on Monday said that they have removed millions of copies of Russian-language books from its public libraries.
The removal of Russian books is a part of the Ukrainian governments wider push to "overcome the consequences of Russification". The wider effort includes renaming streets and dismantling monuments to Russian historical figures including removal of certain literature off the school syllabi.
Around 19 million books been removed from Ukraine's public libraries, including 11 million in Russian, as of November, according to Kravchuk, the deputy chair of the Committee on Humanitarian and information Policy.
In the crosshairs are also the Ukrainian language books from the Soviet times.
"Some Ukrainian-language books from the Soviet times are being removed as well," Kravchuk said.
The MP noted that there was not enough literature available in the Ukrainian language.
"The ratio of books in the Russian and Ukrainian languages in our libraries is very disheartening. We are talking about the need to update the stocks more quickly and procure books in the Ukrainian language", she said.
The purges come despite the fact that Russian speaking people make a sizeable minority in the country and many Ukrainians are fluent in the language.
'Boycott' Russian culture
In June last year the Ukrainian education ministry proposed removal of over 40 books by Russian and Soviet authors from the syllabi.
The list of to be banned authors included the greats like Leo Tolstoy, Fyodor Dostoevsky, and Alexander Pushkin, as well as Boris Pasternak and Mikhail Sholokhov, both of whom won the Nobel Prize for literature.
In December last year, the country's Culture Minister Aleksander Tkachenko urged the world to "boycott" Russian culture. He argued that Moscow has been using it for propaganda.
Russian has been at the Ukrainian government's target since 2014, when the democratically elected pro-Russian government was pushed out of power following protests — which Moscow claims were "backed" by the US – and a pro West government took over power in Kyiv.
Eversince Kyiv has brought in several laws aimed at restricting the use of the Russian language in the public sphere.
Russia has responded to the measures as discriminatory.
Last year, Russian Foreign Minister Sergey Lavrov condemned "Kyiv's policy of aggressive de-Russification and forced assimilation."
Read all the Latest News, Trending News, Cricket News, Bollywood News,
India News and Entertainment News here. Follow us on Facebook, Twitter and Instagram.
Explainers
As the Kremlin intensifies its crackdown on free speech, social media platforms have become a more frequent target for punishment. The case of Olesya Krivtsova, a Russian student who ended up on its official terrorist list, has highlighted the perils of using social media to criticise the war
World
The soldiers were all wounded recently in fierce fighting in Ukraine's eastern Donetsk region, where Russian forces have been pressing advances
World
Medvedev also challenged Ukraine's sovereignty in comments that could reflect Moscow's plans to extend its gains