UK military running out of ammo but 'no new money' for defence: Report
The UK has signalled that there is no new money for defence despite recognising the urgent need to rearm in the wake of Russia's war in Ukraine, according to a report
New Delhi: The UK has signalled that there is no new money for defence despite recognising the urgent need to rearm in the wake of Russia's war in Ukraine, according to a report.
Unnamed defense sources told Sky News on Monday that Britain's self-defence is in jeopardy because the government is giving much of its remaining warfighting capabilities, including tanks and artillery guns, to the Ukrainian military to help in their offensive against Russia.
Sources said the war in Ukraine underlined the importance of these weapons and sufficient supplies and spare parts to sustain an operation.
"It is no good having a small number of high-end, exquisite platforms when you have not got capacity around it," the sources said.
Sky News last week revealed that a senior US general had told Defence Secretary Ben Wallace that the British Army is no longer regarded as a top level, or "tier one", fighting force following decades of cuts to its size and strength.
According to the report, defence sources are warning that Britain will be unable to "credibly" offer as many troops as NATO allies would expect to a major new force structure that is being drawn up by the alliance to bolster its defences in response to the war in Ukraine.
A senior European diplomatic source confirmed that the UK "is under-delivering".
Lord George Robertson, the last British secretary general of NATO, said he was concerned that the government did not fully appreciate the threat posed by Moscow and urged Sunak to act as a "wartime prime minister".
"The prime minister needs to wake up to the fact that Vladimir Putin has declared war on the West and we are the second military power in the West and we've got to live up now to the challenge that he (Mr Sunak) faces," Sky News quoted Lord Robertson as saying.
"That means by taking defence and security more seriously than it appears at the present moment and investing in the right kind of equipment, the right kind of capabilities in order to keep the country safe," Robertson added.
Prime Minister Sunak recently promised Ukraine 14 Challenger 2 main battle tanks and 30 AS90 artillery guns – the remainder of the British army's artillery stocks – leaving the home front vulnerable.
While Sunak inherited a "refresh" of defense policy formulated in 2021, prioritising investment in high-tech submarines and the development of a new fighter jet, the sources argued this plan ignores the military's immediate needs — a lack of ammunition, artillery, and missile defense systems.
The sources said they had already urged the Treasury to add £3 billion annually to the defence budget and ease restrictions on arms procurement, but Chancellor Jeremy Hunt was playing "hard ball."
With inputs from agencies
Read all the Latest News, Trending News, Cricket News, Bollywood News,
India News and Entertainment News here. Follow us on Facebook, Twitter and Instagram.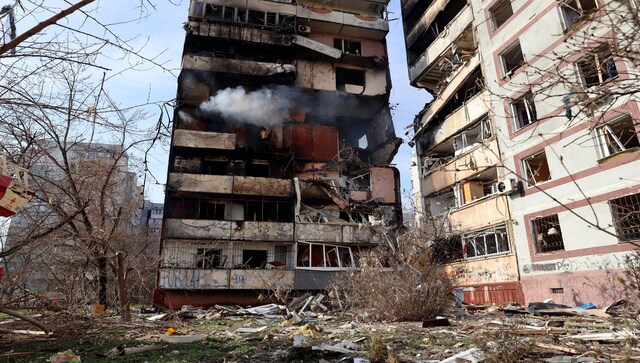 World
Russia has denied targeting residential areas even though artillery and rocket strikes hit apartment buildings and civilian infrastructure daily
World
The Belarusian KGB security agency said the alleged terrorist was killed in a shootout on Sunday in the city of Grodno, just east of the Polish border
Explainers
Russia has invested a lot in its destabilisation efforts in Moldova. While it may seem there has not been much return on this investment, this would be the wrong conclusion to draw. Moscow has found it quite simple to profit on the annoyances of common Moldovans by spreading a false narrative