Tunisians to vote in second round of poll for defanged parliament
A total of 262 candidates are competing for 131 seats from Tunisia's 161-member legislature, which was largely stripped of its powers following a series of extraordinary measures launched by President Kais Saied on 25 July, 2021
Tunis: Tunisia holds the second round of elections for a toothless parliament on Sunday, with voters preoccupied by economic woes and turnout seen as crucial in the politically divided nation.
A total of 262 candidates are competing for 131 seats from Tunisia's 161-member legislature, which was largely stripped of its powers following a series of extraordinary measures launched by President Kais Saied on 25 July, 2021.
Saied sacked the government and froze parliament before dissolving it and changing the constitution, abolishing the hybrid parliamentary system that had been in place since 2014.
The latest polls, whose first round in December saw just 11.2 percent of registered voters take part, are seen as the final pillar of Saied's transformation of politics in the birthplace of the Arab Spring.
The new legislature will have almost no power to hold the president to account.
"I don't plan to vote," said Ridha, a carpenter in the capital Tunis who declined to provide his surname. "I can't trust anyone anymore."
Analysts predict low turnout again among Tunisia's 7.8 million eligible voters for the second round as major parties including Saied's arch-rivals, the Islamist-inspired Ennahdha, hold a boycott.
Youssef Cherif, director of Columbia Global Centers in Tunis, said "this parliament will have very little legitimacy, and the president, who is all-powerful thanks to the 2022 constitution, will be able to control it as he sees fit."
'Dramatic' situation
Tunisians have a "lack of interest" in politics, Cherif added.
With inflation at over 10 percent and repeated shortages of basic goods from milk to cooking oil, Tunisia's 12 million people have been focused on more immediate issues.
Global ratings agency Moody's on Saturday downgraded Tunisia's credit rating to Caa2, citing "the absence of comprehensive financing to date to meet the government's large funding needs".
Lawyer and political expert Hamadi Redissi called the economic situation "dramatic".
"Along with soaring prices, we're seeing shortages and the president is pathetically blaming 'speculators, traitors and saboteurs'," he said.
More than 32,000 Tunisians are estimated to have emigrated irregularly over the past year, amid sluggish growth and rising poverty and unemployment.
The election takes place in the shadow of Tunisia's drawn-out negotiations with the International Monetary Fund for a bailout worth nearly $2 billion.
Cherif said the talks were stumbling over the United States' concerns for the future of Tunisian democracy and Saied's apparent reluctance to "accept the IMF's diktats" on politically sensitive issues, including subsidy reform.
Redissi meanwhile said there was a "blatant discrepancy" between Saied's rhetoric against the IMF and the programme his government proposed to the lender "on the sly".
"We have a president who opposes his own government," he said.
Read all the Latest News, Trending News, Cricket News, Bollywood News,
India News and Entertainment News here. Follow us on Facebook, Twitter and Instagram.
World
Tunisia has taken over from Libya as a main departure point for people fleeing poverty and conflict in Africa and the Middle East in the hope of a better life in Europe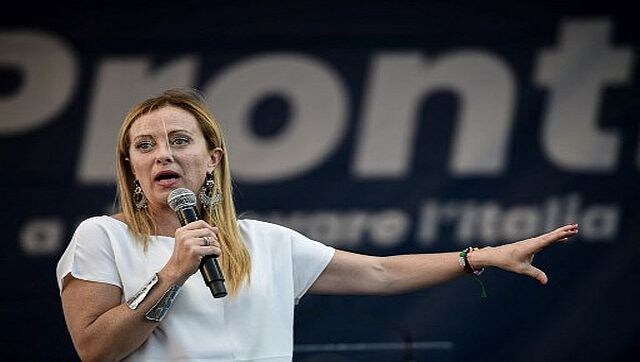 World
Meloni's government took office in October after elections in which her party promised to cut mass migration into Italy
World
More than 20,000 boat migrants have arrived in Italy so far in 2023, a trend that threatens the all-time record set in 2016 when 181,436 people reached the country, mostly in flimsy vessels. According to UN data, at least 12,000 of those who have reached Italy this year set sail from Tunisia