Three-toed dinosaur footprint discovered in ruins of 600-year-old Spanish convent
After closely examining the stone, the scientists drew a conclusion that this was a dinosaur footprint. The researchers believed that the footprint resembled those of theropods, a family of medium-sized carnivorous dinosaurs
There are numerous things carrying age-old secrets that still remain buried under the ground. Scientists are curious about finding instances of ancient species that were once part of the world and no longer exist among us. Thus, after digging out any ruins, researchers pay great attention to locate any sign of human or animal habitation to figure out more about the past. Recently, a team of archaeologists uncovered the crumbling stones of a convent in the picturesque countryside of Spain.
While excavating the site, they ended up finding a rare dinosaur footprint. According to a news release brought out by the Museum of Natural Sciences of the University of Zaragoza on 31 January, the Santa Catalina del Monte convent in Cariena was a flourishing institution from the 1400s to the early 1800s. However, with time, the structure started to fall apart and eventually turned into ruins.
In 2021, archaeologists under the supervision of Eduardo Diez de Pinos López started the site's excavation and restoration. While working, a certain stone caught Lopez's attention. A strange three-toed shape that resembled a footprint was indented on the enormous limestone block, giving it an odd appearance. Some photographs of the tan-coloured stone were dropped on Facebook by the Museum of Natural Sciences of the University of Zaragoza.
According to specialists, the stone was probably used to build a convent wall in the 17th and 18th centuries. However, the rock wasn't from the region and most likely, it was transported from Villanueva de Huerva, a town about 10 kilometres to the west where similar dinosaur footprints were discovered earlier.
Archaeologists decided to conduct additional research and invited some officials from the Museum of Natural Sciences of the University of Zaragoza to assist them in the process. After closely examining the stone, the scientists drew a conclusion that this was a dinosaur footprint. The researchers believed that the footprint resembled those of theropods, a family of medium-sized carnivorous dinosaurs. The stone where the footprint was imprinted is estimated to be 135–140 million years old.
The 600-year-old convent is still undergoing further restoration. While one wall is still standing, the rest of the building is completely in ruins.
Read all the Latest News, Trending News, Cricket News, Bollywood News,
India News and Entertainment News here. Follow us on Facebook, Twitter and Instagram.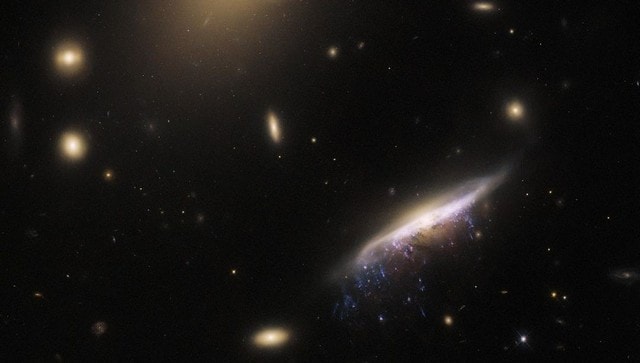 World
As per NASA, these images could aid astronomers in getting a better understanding of the star formation elsewhere in the universe
World
As the video plays, it shows the snow leopard stalking its prey carefully and then pouncing with the use of its lightning-fast reflexes to finally take down the Urial at the end
World
According to the Japan Times, cherry blossoms have started blooming in the country 10 days earlier than usual.