Severe recession likely next year, economy headed into a 'Bermuda Triangle' of financial crisis: Nouriel Roubini
Noted economist Nouriel Roubini said as central bankers continue to tighten monetary policy, the economy was risking another financial crisis
New York: A "severe recession" is likely next year, warned renowned economist Nouriel Roubini who predicted the 2007-2008 global financial crisis. Also known as Dr. Doom in Wall Street, Roubini alarmed the markets, saying that the economy is headed into a "Bermuda Triangle" of danger.
In a recent interview with the McKinsey Global Institute's Forward Thinking podcast, Roubini said as central bankers continue to tighten monetary policy, the economy was risking another financial crisis.
The US Federal Reserve, or Fed, on Wednesday, hiked interest rates by another 25 basis-points and have increased rates 475 basis-points over the last year to control inflation. Last week, the European Central Bank increased its policy rate by 50 basis points.
'Huge buildup of debt'
Roubini warned about the "huge buildup of debt" worldwide in recent decades. He said bankrupt "agents" or "zombies" — whether households, corporations, financial institutions, governments, or countries — were able to survive despite high debt levels due to low interest rates.
"Even institutions that were effectively insolvent and bankrupt could survive. And during the GFC, we bailed them out," the economist said.
Don't Miss: Indian rupee could be the new dollar, says 'Doctor Doom' Nouriel Roubini
He went on to say that they were bailed out again during the Covid crisis, where initially there was a massive backstop of every type of institution.
Central banks in 'lose-lose position'
Dr. Doom said the central banks are currently in a lose-lose position. He stated that increasing rates could shake the banking system as well as lead to greater instability, but lowering them could result in higher inflation.
"It's too late to find a solution that prevents a hard landing and prevents severe financial stresses," Roubini told Bloomberg TV earlier this week.
'Avoided debt crisis a couple of times'
In his interview to Forward Thinking, Roubini said: "We avoided the debt crisis a couple of times."
"We kicked the can down the road. We bailed out and backstopped a lot of people. But now the game is over because you have inflation and you have to raise interest rates… so that's where the risk of the mother of all debt crises occurs," he said.
Must Read: US dollar fast losing out to the Chinese yuan, says 'Doctor Doom' Nouriel Roubini
When will things break?
When asked if there's a particular trigger to watch for, Roubini highlighted a few factors.
First, he said, "For households and corporates, your income is falling. Households, because of falling real wages and potentially unemployment. For firms, because your profits are reduced if your revenues are falling. So that's your P&L, there's already stress."
He went on to say that asset prices saw a decline as companies have faced higher borrowing costs and reduced liquidity. "Even cash gave you a negative real return because of inflation," Roubini added.
The economist said that a highly leveraged household or company have a shock to debt servicing capacity.
'Bermuda Triangle' of danger
Linking the danger to the Bermuda Triangle, Roubini said: "You have a hit to your income, to your asset values, and then to the burden of financing your liabilities. And then you end up in a situation of distress if you're a highly leveraged household or business firm."
Also Read: 'Doctor Doom' Nouriel Roubini makes an example out of SVB, spells doom for crypto space
"If such distress is widespread enough, you end up with a systemic crisis in household and corporate debt, with defaults and delinquencies," he said, adding that he sees the situation coming to real soon.
Read all the Latest News, Trending News, Cricket News, Bollywood News,
India News and Entertainment News here. Follow us on Facebook, Twitter and Instagram.
also read
Explainers
The repercussions of a first-ever default on the US federal debt would quickly reverberate around the world. Experts say that 'no corner of the global economy would be spared'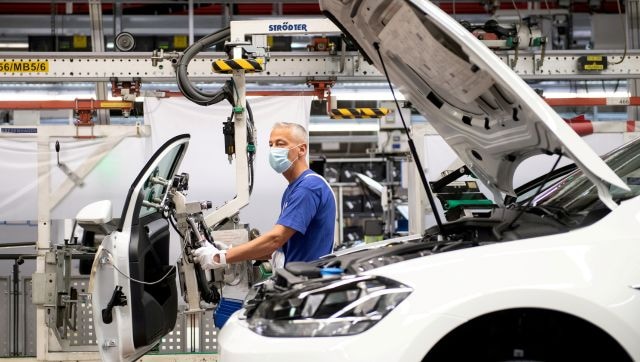 Explainers
Germany's GDP fell .3 per cent in the first quarter of 2023 following a .5 per cent decline in the last quarter of 2022. Though Chancellor Olaf Scholz described the outlook for the economy as 'very good' experts say this is a rude awakening for the country and the entire continent
World
British gross domestic product now looks set to grow by 0.4% in 2023, said the IMF said . In April, it forecast a contraction of 0.3%, the weakest outlook of any major economy.