Pakistani rupee plunges to all-time low against US dollar
The rupee shed 24.11 in the official interbank market on Thursday, falling as low as 255.43 rupees to the dollar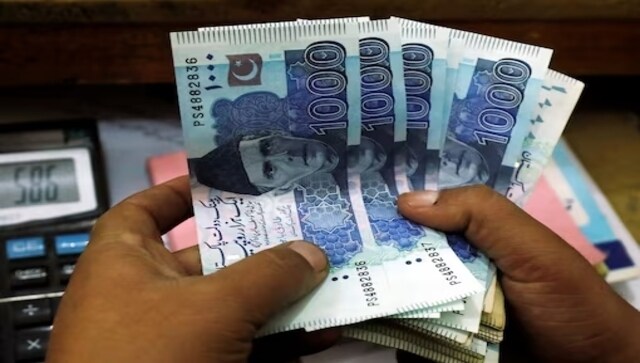 Karachi: The Pakistani rupee dived to an historic low against the US dollar on Thursday after an exchange cap was lifted as Islamabad campaigns to unlock a vital bailout from the IMF.
Pakistan is in dire economic straits, with shriveling foreign exchange reserves only enough to pay for around three weeks of imports amid an endless effort to service external debt.
The rupee shed 24.11 in the official interbank market on Thursday, falling as low as 255.43 rupees to the dollar, according to multiple sources.
The 9.6 per cent decline of the rupee is the second-biggest drop in a single session, brokerage Topline Securities said.
The previous official low of 240 rupees was recorded in July 2022, when Pakistan's long-struggling economy was further weakened by political chaos and devastating floods.
In 2019, the government of former prime minister Imran Khan brokered a multi-billion-dollar loan package from the International Monetary Fund (IMF).
But the economy slid backwards when Khan reneged on his promise to cut subsidies and market interventions that had cushioned the cost-of-living crisis.
Prime Minister Shehbaz Sharif, who ousted Khan in a no-confidence vote last spring, has also been reluctant to meet loan conditions amid falling popularity.
Exchange Companies Association of Pakistan President Zafar Paracha told AFP the cap was lifted on Wednesday "in consultation with the state bank".
Mohammad Sohail, the CEO of Topline Securities, told AFP: "Inflation is bound to rise further."
Pakistan is drastically short on forex reserves owing to persistently rising demand for the dollar.
Thousands of shipping containers packed with raw materials for industry, foodstuffs, and medical equipment are being held up at Karachi port because banks have refused to guarantee importers' dollar transactions.
Pakistan also suffered from a nationwide electricity outage earlier this week, linked to a cost-cutting measure, estimated to have cost the textile industry alone $70 million.
Read all the Latest News, Trending News, Cricket News, Bollywood News,
India News and Entertainment News here. Follow us on Facebook, Twitter and Instagram.
World
China overtook the US in 2009 to become Brazil's largest trading partner. Beijing accounts for more than a fifth of all imports in Brasília
World
The dollar fell as low as 130.51 yen, and was last off 0.29 per cent at 131.2 as the Japanese currency rose
World
The Fed on Wednesday raised interest rates by 25 basis points, as expected, but took a cautious stance on the outlook because of banking sector turmoil even as Fed Chair Jerome Powell kept the door open on further rate increases if necessary