Pakistan: Unprecedented surge in suicide rate, post-traumatic stress disorder put Balochistan on edge
In recent times, Balochistan has witnessed a drastic surge in the suicide rate owing to the lack of proper mental health counselling facilities to deal with physical and economic stress as well as the undeniable trauma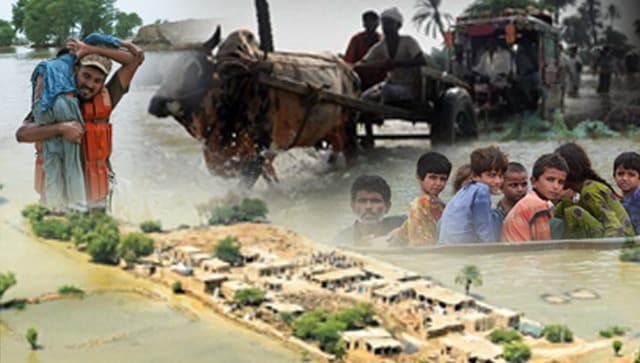 Islamabad: Months have passed since the deadly floods wreaked havoc in Pakistan, pushing its cash-strapped economy into recession, thereby forcing the Shehbaz Sharif-led government to plead for international aid. While those in power remain engaged with the International Monetary Fund (IMF) for financial package, post-traumatic stress disorder (PTSD) has now come to haunt the locals, especially the ones in Balochistan, as little was done for their mental healthcare and well-being.
In recent times, Balochistan has witnessed a drastic surge in the suicide rate owing to the lack of proper mental health counselling facilities to deal with physical and economic stress as well as the undeniable trauma, said psychologist Imrana Imdad in a write-up in Dawn. She works with Peoples Primary Health Initiative, and conducts field visits in Balochistan's Lasbela to provide mental health counselling to flood survivors.
2022 Pakistan floods
Starting July 2022, the deadly floods adversely affected 32 out of 35 districts of Balochistan, forcing nearly 1.3 million people of the province to relocate in desperate need of shelter and emergency relief.
As many as 64,000 houses were washed away during the floods, while another 185,000 were partial damaged, according to the provincial government of Balochistan.
On the other hand, almost 500,000 livestock were killed across Balochistan and thousands of acres of cultivated land was destroyed due to floods. In Lasbela alone, over four-fifths of homes, crops, and livestock were washed away by floods, Dawn reported.
Meantal health problem in Balochistan
Imrana Imdad wrote that nearly all women she spoke to informed her that they were "experiencing stress, anxiety, or trauma as they thought about the future — the safety of their families and means of livelihood."
"Men face similar mental health issues, but they have the option of discussing their problems with friends over tea or dinner," she wrote, adding that mental health taboo and stereotyping restricts women from doing this. while lack of proper counselling continues to exacerbate suffering.
She went on to add, "Psychological damage from nearly two decades of conflict and violence in Balochistan — where families of missing persons struggle to find their loved ones and others have lost theirs to bombings. But the mass mental health challenge brought about by the 2022 floods was unprecedented even for me."
Victims of tragedy
A 70-year-old man from Lasbela's Lakhra village said that he "never saw this sort of flooding in my living memory," which "displaced thousands of people".
The long list of flood survivors also includes a 38-year-old woman, who suffers sudden panic attacks and anxiety today, after she lost "three minor children when the rooftop of their fell".
Her husband and mother-in-law were injured in the accident, while three of her children died on the spot, causing severe mental and physical health issues for her, including disruption in her menstrual cycle, Dawn reported.
As the Shehbaz Sharif-led government is holding talks with the International Monetary Fund (IMF) for financial aid, it is yet to be seen whether this money would reach the flood-affected victims in Balochistan.
"(The) flood destroyed everything we had. So far, we only have sorrows, sad memories, and depression. We are optimistic some help will come to us one day," a local said.
Balochistan's economic turmoil
With each passing day, Balochistan's economic crisis only tends to get worse as in the past three months it has not received its share of rehabilitation and reconstruction of infrastructure in flood-ravaged regions.
Balochistan has been experiencing financial difficulties for the past few months as it has not received its fair part of PKR 11 billion from the National Finance Commission (NFC) award, officials said.
Besides bearing the brunt of terror attacks and terror-related activities in Pakistan, Balochistan as well as Khyber Pakhtunkhwa are in the throes of a crippling economic crisis.
(With inputs from agencies)
Read all the Latest News, Trending News, Cricket News, Bollywood News,
India News and Entertainment News here. Follow us on Facebook, Twitter and Instagram.
World
A letter, addressed to the Pakistani prime minister, is circulating on social media in which one "FBR officer" said that he is planning and fully convinced that he must engage in corruption, so that he can earn more money to fulfill his basic needs
World
Shehbaz Sharif said that President of Pakistan's letter to him was "blatantly partisan in nature" and supports Imran Khan-led PTI's "one-sided and anti-government" views
World
Islamabad Police said a total of 316 PTI supporters have been arrested till date for allegedly attacking police officers and causing chaos outside the Federal Judicial Complex (FJC) on March 18 when Imran Khan appeared there for a court hearing