Pakistan ranks 140 in Transparency International's corruption index
The CPI ranks countries and territories by their perceived levels of public sector corruption on a scale of zero (highly corrupt) to 100 (very clean).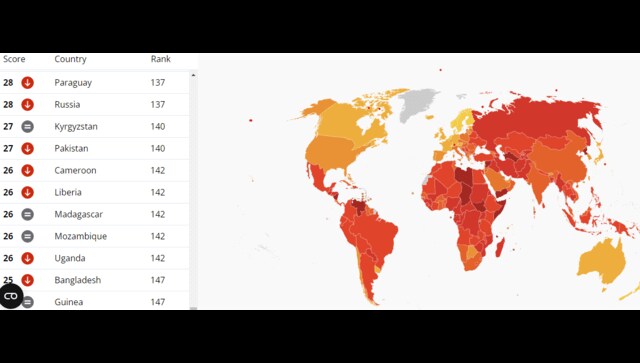 New Delhi: Political unstable and financially ailing Pakistan has once again failed to improve its performance on the Corruption Perceptions Index (CPI) in 2022 as the country ranked 140 out of 180 countries.
In a report released by 'Transparency International' on Tuesday, it revealed that Pakistan's rank was dropped to 27 from 28 last year. While, there was no change in India's score. Bangladesh's dropped to 25 from 26 last year.
The CPI ranks countries and territories by their perceived levels of public sector corruption on a scale of zero (highly corrupt) to 100 (very clean).
Under the PTI government, the ranking of Pakistan gradually slid. In 2019, it was 120 out of 180 countries, in 2020, it was 124, in 2021 it worsened further to 140. However, the PTI government lost power through a parliament vote in April 2021, paving the way for a new coalition government with representation from major political parties — the PML-N and the PPP, a Pakistan-based publication Down reported.
Notably, Pakistan's ranking was 117 out of 180 countries in 2018 during the PML-N government.
Ilham Mohamed, Asia Regional Advisor of Transparency International said:
"In some of the world's most populous countries, corruption is worsening and governments are restricting basic rights and freedoms that allow the people to hold those in power accountable. Leaders across Asia Pacific must acknowledge that inclusive growth must come with efforts to curb corruption. With elections coming up across the region in 2023, it's time for public voices to be heard and governments to recommit to stopping the rot of corruption everywhere."
The Asia Pacific average holds at 45 for the fourth consecutive year, and over 70 per cent of countries rank below 50, according to report.
The Index scores 180 countries and territories around the world based on perceptions of public sector corruption, using data from 13 external sources, including the World Bank, World Economic Forum, private risk and consulting companies, think tanks and others. The scores reflect the views of experts and business people.
Denmark topped the index this year, with 90 points, followed by Finland and New Zealand with 87 points each. Somalia, Syria, and South Sudan are at the bottom of the chart with 12, 13, and 13 points, respectively.
Read all the Latest News, Trending News, Cricket News, Bollywood News,
India News and Entertainment News here. Follow us on Facebook, Twitter and Instagram.
World
Pakistan has been supplying weapons, ammunition and artillery shells to Ukraine since the early days of the invasion by Russia. However, this will be the first time tanks will be supplied to Ukraine by a country other than its western allies
World
The programme to help the people will be implemented soon and a comprehensive strategy is being formulated on the issue
World
The issue was highlighted during a briefing given to Divisional Commissioner Liaquat Ali Chatha during his visit to Adiala Jail on Friday morning. The divisional commissioner visited the jail to inspect the condition of the prison and its inmates.