Pakistan may soon join Sri Lanka in default as petrol shortage adds to economic crash
Serpentine queues of cars and two-wheelers were seen in most parts of Khyber Pakhtunkhwa after a reduction in supplies by oil marketing companies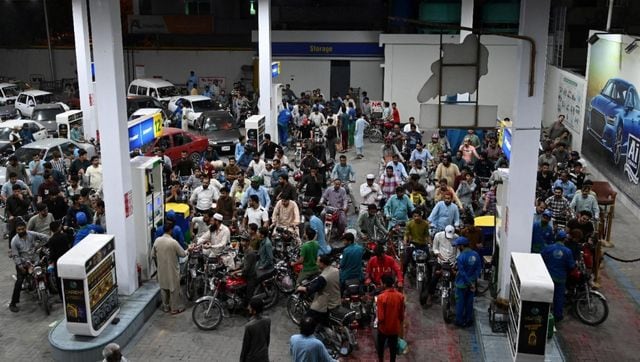 Islamabad: Economic situation in Pakistan is gradually becoming akin to that of Sri Lanka with the country speeding towards an oil crisis. Islamabad is facing acute shortage of foreign currency that has made difficult for businesses to thrive.
Serpentine queues at petrol pumps in Khyber Pakhtunkhwa 
According to a report by Dawn, long queues of cars and two-wheelers were seen in most parts of Khyber Pakhtunkhwa after a reduction in supplies by oil marketing companies.
The report quoted drivers saying that most of petrol pumps in Peshawar were closed, while long lines of vehicles were a common sight at the filling stations run by the Pakistan State Oil and Shell.
Petrol shortage in Pakistan
Oil stocks in most petrol pumps in Pakistan are on verge of exhaustion.
The Dawn report quoted a manager of a petrol station in Peshawar saying, "There is no electric supply due to a major power breakdown, so we cannot take the risk of being robbed in the darkness by continuing selling oil."
Motorists have claimed that they have to wait for an hour at petrol pump and many found out that after reaching near the filling machine, oil supply have exhausted at the station.
Demand for petrol has also risen after the Khyber Pakhtunkhwa CNG administration on December 31 closed all CNG stations in the provincial capital for a month to ensure the supply of natural gas to domestic consumers.
Pakistan gas crisis to worsen
Gas prices in Pakistan is expected to worsen in February as a Liquefied Natural Gas (LNG) trading company – ENI – has backed out from of the LNG cargo which was scheduled to reach the country around February 7, a report by the News International quoted a senior official of the Energy Ministry as saying.
Pakistan economic crisis
As on January 13, Pakistan's foreign reserves stood at USD 4.6 billion. The International Monetary Fund (IMF) estimates the country's total external debt to be around USD 138 billion by the end of the current fiscal year in June, with about USD 21 billion worth of repayments due this year.
The overall situation has risen fears that Pakistan could possibly join its South Asian neighbour Sri Lanka in default.
Don't Miss: Imran Khan fears 'Sri Lanka-type situation' in Pakistan
For the unversed, a lack of foreign reserves in Sri Lanka triggered massive shortages of essential goods and eventually led to a default in May last year.
No dollars with buyers
According to Pakistan's central bank, shipping containers full of goods are piling up at port in the country as buyers are not being able to secure the dollars to pay for imports.
As per reports, associations for airlines and foreign companies have warned that they have been blocked from repatriating dollars by capital controls imposed to protect exhausting foreign reserves.
Pakistan power outage
On Monday (23 January), Pakistan witnessed a nationwide power outage that lasted for about 16 hours. The government said the blackout was caused by a technical glitch in the transmission system.
However, a government official who spoke on condition of anonymity, drew an indirect connection of the power outage to dwindling fuel supplies.
"The government turns off the power plants at night to save fuel. When they tried to resume them on Monday morning, the system tripped, and it created a crisis-like situation," a report by Nikkei Asia quoted the government official as saying.
Blame game
The economic crisis in Pakistan comes at the time when the country gears up for elections that are scheduled to take place this year – sometime in August.
The main challenger for Pakistan's prime minister Shehbaz Sharif is his predecessor and Pakistan Tehreek-e-Insaf (PTI) chairman Imran Khan who was ousted last year but remains highly popular.
Both Sharif and Khan have been blaming each other for the economic predicament with the former premier making all efforts to force early polls.
Read all the Latest News, Trending News, Cricket News, Bollywood News,
India News and Entertainment News here. Follow us on Facebook, Twitter and Instagram.
World
Imran Khan said he would happily step aside if the establishment tells him they have a plan. "I know what the programme is there is no programme," he added
World
Pakistan is no stranger to economic crises - this is its fifth IMF bailout since 1997 - but economists say the latest measures, which include higher taxes and fuel costs, are hurting educated professionals. Many say they are cutting down on necessities to make ends meet
World
The programme to help the people will be implemented soon and a comprehensive strategy is being formulated on the issue