Occupied Ukrainian regions to ask Russian President Vladimir Putin to take over them
Russian-installed officials in occupied regions of Ukraine are asking President Vladimir Putin to incorporate them into Russia after the seven-month war.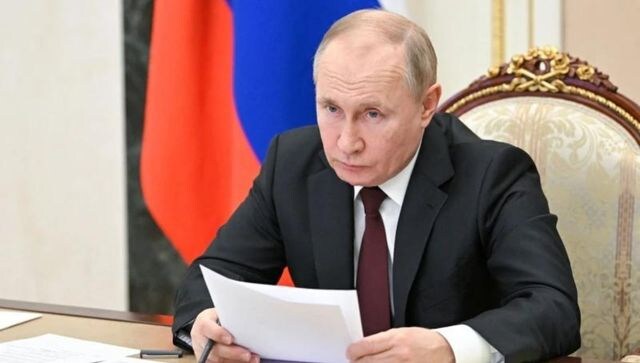 A day after claiming that their residents overwhelmingly supported such a move in Kremlin-orchestrated votes widely regarded as illegitimate, Russian-installed officials in occupied regions of Ukraine said Wednesday they would ask President Vladimir Putin to incorporate them into Russia. The predetermined result opens the door to a risky new stage in Russia's seven-month war, during which the Kremlin has threatened to send in more troops and possibly use nuclear weapons.
Beginning on September 23, residents in the four occupied southern and eastern Ukraine regions had the opportunity to vote in referendums on whether they wanted to join Russia. Frequently, armed officials canvassed homes to collect votes.
Pro-Moscow officials in the eastern Luhansk region and the partially occupied southern region of Zaporizhzhia said they will make the request on Wednesday. The Russian-backed administration of the neighbouring occupied Kherson region said such a request to Putin will be made "in the coming days."
Ukrainian President Volodymyr Zelenskyy, speaking by video link Tuesday to the U.N. Security Council, said that "any annexation in the modern world is a crime, a crime against all states that consider the inviolability of border to be vital for themselves."
Separatist officials in the Donetsk region, large swaths of which still remain under Ukrainian control, are also expected to follow suit. According to Russian-installed election officials, 93% of the ballots cast in the Zaporizhzhia region supported annexation, as did 87% in the Kherson region, 98% in the Luhansk region and 99% in Donetsk.
Kyiv and its Western allies dismissed the votes as a sham. Zelenskyy said Russia's attempts to annex Ukrainian territory will mean "there is nothing to talk about with this president of Russia." As the Kremlin paved the way for the annexation of the occupied lands, its troops continued to shell other areas of the country.
Authorities in the southern Ukrainian city of Nikopol say Russian rockets and artillery have pounded the city overnight. The city, across the Dnieper River from Russian-occupied territory, which includes the Zaporizhzhia nuclear power plant, saw 10 high-rises and private buildings hit, as well as a school, power lines and other areas, said Valentyn Reznichenko, governor of the Dnipropetrovsk region.
Reznichenko said there were no immediate casualties reported from the attacks. In the eastern Ukrainian region of Donetsk, which is partially occupied by Moscow, Russian fire killed five people and wounded 10 others over the past 24 hours, said Donetsk governor Pavlo Kyrylenko.
Read all the Latest News, Trending News, Cricket News, Bollywood News, India News and Entertainment News here. Follow us on Facebook, Twitter and Instagram.
World
The engineers, who typically go unseen and unsung in peacetime, often work around the clock to maintain or restore phone service, sometimes braving minefields to do so
World
The pledges of support in Romania's capital, Bucharest, came as U.S. Secretary of State Antony Blinken met with NATO foreign ministers on Tuesday to drum up urgently needed support aimed at ensuring that Moscow fails to defeat Ukraine as it bombards vital energy infrastructure
World
Ukraine had been under Moscow's spiritual leadership since at least the 17th century, but part of the Ukrainian Orthodox Church broke with Moscow in 2019 over Russia's annexation of Crimea and support for separatists in Donbas