Mexico intercepts over 50 unaccompanied children from Guatemala in migrant truck
There were 67 migrants from Guatemala travelling in the truck, including 57 unaccompanied children, mostly boys, aged between 14 and 17, pointing to large-scale human trafficking, according to a statement by Mexico's National Institute of Migration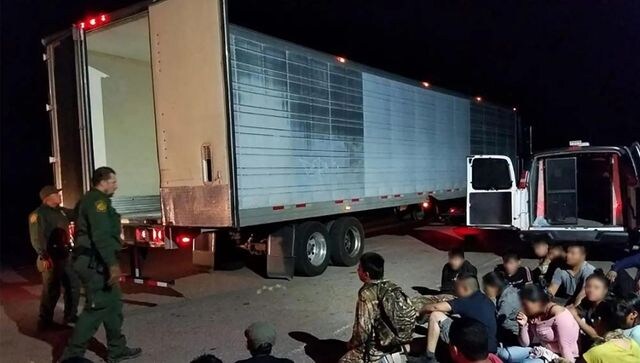 Mexico City: A crowded truck transporting nearly 70 migrants from Guatemala, mostly unaccompanied children, was intercepted by Mexican authorities on Thursday, the country's National Institute of Migration (INM) said in a statement.
The INM said federal Mexican agents spotted the truck at a checkpoint in Mexico's northern Chihuahua state, which shares borders with the United States.
There were 67 migrants from Guatemala travelling in the truck, including 57 unaccompanied children, mostly boys, aged between 14 and 17, pointing to large-scale human trafficking, according to the INM statement.
The group also included a mother and daughter, it added, all without proper migration permits.
The truck driver was referred to Mexico's Attorney General's Office, it added, while the family and unaccompanied children will be handed over to state authorities for the protection of children and teenagers.
Earlier in January, Mexican immigration agents had found three unaccompanied Salvadoran children stranded on an islet on the Rio Grande, which straddles the US-Mexico border.
Last year, December saw a near record number of apprehensions at the border, according to US Customs and Border Protection, though this number plummeted in January in the wake of new migrant restrictions imposed by US President Joe Biden.
Read all the Latest News, Trending News, Cricket News, Bollywood News,
India News and Entertainment News here. Follow us on Facebook, Twitter and Instagram.
World
The advisory comes a week after four Americans were kidnapped shortly after crossing the Mexican border. Citizens who still decide to go to Mexico for spring break are encouraged to register their names with an embassy or consulate before they travel
World
Images on social media showed a group that included many women and children running towards the border, shouting "to the USA."
World
The teenager, who has not been named, was being patted down as part of a search for weapons when he produced a handgun and began shooting, police said in the western US state said