Laptop Saga: Hunter Biden's lawyer calls officials close to family to probe those who leaked info
One to officials the lawyer wrote to for a probe was even on Hunter Biden's email inbox on the laptop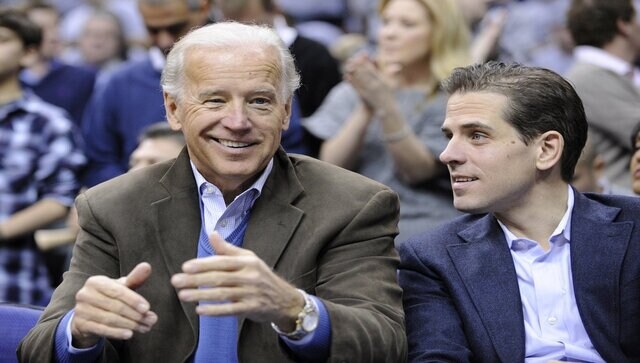 New Delhi: Hunter Biden's lawyer has demanded an investigation against the people who 'illegally' made his client's data public. However, the officials he wrote to for the investigation turn out to have deep ties with the Biden family, reported the New York Post.
Hunter's lawyer Abbe Lowell, on Wednesday in a 14-page-letter to the Delaware Attorney General Kathy Jennings claimed that Hunter's laptop was 'illegally' accessed by the owner of the repair shop where the laptop was given to be fixed. He accused the shop ownwer of working with Rudy Guillani, former president Donald Trump's lawyer, to use the incriminating data against Joe Biden.
The laptop had emails proving that Hunter arranged a meeting between his father ­­– who at the time was the Vice President and Obama administration's chief of policy on east Europe ­­­– and an official from Ukrainian natural gas firm Burisma. Hunter at the time was engaged in business with Burisma.
A year after the meeting referred to in the emails, a Ukrainian investigator probing corruption at the firm was fired. Later Biden had boisterously said that he warned Ukrainians to withhold critical aid until they remove the investigator.
Officials' Biden links
Delaware Attorney General Jennings, who is a Democrat, has close relations with the Bidens.
In 2011, she was nominated as prosecutor in the Delaware state Department of Justice by none other than Beau Biden — US President's late son, who at the time was the State Attorney General.
In 2019, she endorsed Biden's candidature even when many in the Democratic party had reservations against his presidential run.
"I've known Joe, Jill, and the Biden family for most of my life. Joe is one of the kindest and most genuine people I've ever known . . . I'm choosing Joe because nobody understands more what it means to heal, and right now that's what America needs", she wrote on Facebook at the time.
Her chief deputy, Alexander Mackler, is even closer to the family.
He served as Joe Biden's press secretary during his final months as a Senator, managed his late son Beau's campaign to be elected Delaware Attorney General in 2010, and was the senior Biden's chief counsel while he was the Vice President.
Mackler even was in Hunter's email inbox on the laptop.
"Now that I have a chance to breathe, was wondering how life is on your end. Last you told me you were out in LA. Gimme a call sometime we can catch up. Love you brother", he wrote in a mail to Hunter according to the New York Post.
Hunter's lawyer also wrote a similar letter to Matthew Olsen, assistant Attorney General for National Security.
Before being nominated by Biden as national security AAG in May 2021, he has held a number of positions in Obama-Biden administration, including NSA general counsel and director of National Counterterrorism Center before leaving government in 2014.
His nomination was also reportedly on party lines.
Senator Marco Rubio, on this appointment to the office said Olsen "no longer has the credibility necessary to fill this important role given the partisan nature of his post-government writings."
After a couple of years of denial and deflection, on Wednesday Hunter had for the first time admitted that the laptop belonged to him. His lawyer had even demanded an enquiry on people behind making the data on the PC public.
This demand had come just a week before the US Congress is set to open an investigation into the Hunter Biden Laptop affair.
Republican leaders, and those accused in the letter had called it a "desperate attempt" to shift the focus and defer the probe.
Read all the Latest News, Trending News, Cricket News, Bollywood News,
India News and Entertainment News here. Follow us on Facebook, Twitter and Instagram.
World
Biden's highlighting of the Uyghurs, who the US government says are being subjected to genocide by the Chinese communist authorities, came at a time of strong tension between Washington and Beijing
World
The announcement comes after TikTok said this week the Biden administration demand its Chinese owners divest their stake in the company or it could face a potential U.S. ban.
World
Biden wants the Federal Deposit Insurance Corporation to be able to force the return of compensation paid to executives at a broader range of banks should they fail, and to lower the threshold for the regulator to impose fines and bar executives from working at another bank.