Indian banks 'overcautious' in Rupee-Rouble trade settlement owing to US restrictions: Russian envoy
Denis Alipov affirmed that restrictions on Russia's use of SWIFT will not be lifted in the near future. He added that India and Russia 'need to invent something new' to continue their economic relations and trade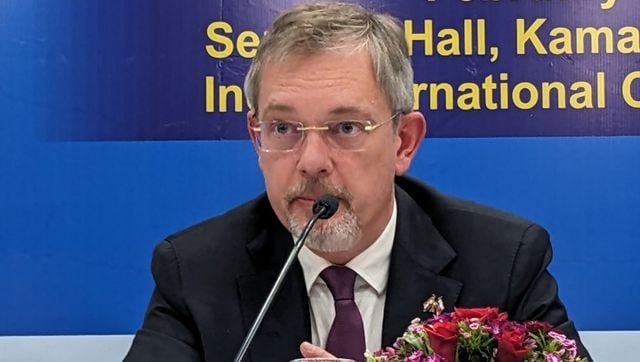 New Delhi: Russia says Indian banks are cautious about using a rupee-rouble payment system for trade settlement because of concerns about "secondary restrictions" from the US.
The remark was made by Russian ambassador Denis Alipov at an event in New Delhi to mark the 30th anniversary of the Indo-Russian Friendship Treaty of 1993.
The statement by the Russian envoy came amid reports of problems in Indian rupee trade settlement using special vostro accounts opened by Russian banks in India to fight out the impact of sanctions imposed by the West.
Indian banks 'over-cautious'
"The vostro accounts have been opened. The mechanism of rupee-rouble trade has been established. It is now a matter for the banks to use it," Alipov said, adding that the Indian banks, however, continue to be "over-cautious" due to concerns that using the rupee-rouble mechanism could invite "secondary restrictions from the US".
Don't Miss: Russia starts foreign trade settlements in rupee, more countries to join
The Russian envoy further said, "That's the fear. The banks would like to be on the safe side. It will take some more time for the knowledge that it is not at all detrimental for the Indian banking system to sink [in]. We are going to see an absolutely positive and expansion of the usage of this mechanism."
'Need to invent something new'
Alipov affirmed that restrictions on Russia's use of SWIFT will not be lifted in the near future. He added that India and Russia "need to invent something new" to continue their economic relations and trade.
As per reports, Russia has suggested opening of an India-based financial institution with Russian ownership to get solution to problems with payments for bilateral trade. Such an institution will enable Indian firms to use Russia central bank's SPFS system as an alternative to the SWIFT financial transfer system.
Russia trade with India touches record high
Despite sanctions by the US and its allies, Russia trade with India touched a record of $30 billion in 2022. There was a whopping 36-fold increase in supplies of Russian oil to India, Alipov said.
Russia has now become the largest supplier of crude to India, accounting for 25 per cent of imports to the country.
Must Read: Why trade settlement in Indian rupee is important for Russia?
India's central bank – Reserve Bank of India, or RBI – in July last year set up India's rupee trade settlement mechanism to attract interest from more countries.
The RBI, in November, allowed Russian banks to open nine vostro accounts in IndusInd Bank and UCO Bank.
Not restricted from using dollar or euro
Alipov said India and Russia are not restricted from trading in the US dollar or euro with non-sanctioned Russian banks or using currencies of third countries for bilateral trade.
'India-Russia ties under stress'
Alipov said the ties between India and Russia at present are under stress "as we face tectonic geo-political shifts that have been underway for quite some time, but accelerated last year by crossing the red lines in Europe; not by us, but by the so-called collective West led by the US, (which is) by far the most arrogant and belligerent."
Also Read: Indian rupee going global? After Russia, 35 countries show interest in INR trade settlement mechanism
"When I spoke about stress, I specifically meant economic relations. The sanctions that interfered… they disrupted the transaction mechanisms and the logistics mechanisms," he said.
He further said that on all the issues, both India and Russia are in "very close dialogue". "They are very precise and concrete suggestions and a very professional exchange of ideas and proposals from both sides." Alipov said.
Read all the Latest News, Trending News, Cricket News, Bollywood News,
India News and Entertainment News here. Follow us on Facebook, Twitter and Instagram.
World
The detained psychologists and therapists are questioned about their political views and were forced to give information about pro-Ukrainian clients by breaching client-doctor confidentiality
World
Two projectiles were fired five minutes apart at around 4:45 pm (1445 GMT) on a road at the southern edge of Chasiv Yar leading to nearby Bakhmut, as seen by AFP journalists
World
The mass strikes on targets far from the front were the first such wave since mid-February and shattered the longest calm since Moscow began an air campaign against Ukraine's civil infrastructure five months ago