Imran Khan's oath-taking ceremony: No foreign dignitaries to attend; Sunil Gavaskar, Kapil Dev among those invited, says PTI
The oath-taking ceremony is scheduled to be held on 11 August, announcement of which was made by Imran Khan during an interaction with PTI members of provincial assembly in Khyber-Pakhtunkhwa on Monday.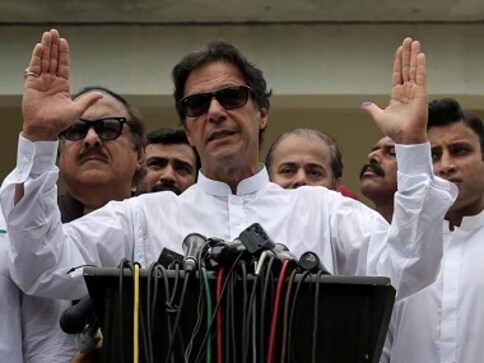 The Pakistan Tehreek-e-Insaf has invited some prominent former Indian cricketers to prime minister-in-waiting Imran Khan's oath-taking ceremony in August, party spokesperson Fawad Chaudhry said on Wednesday. Chaudhary also confirmed that no foreign dignitary will attend the ceremony.
Chaudhry said that they had sought advice from the Foreign Office but due to the shortage of time, it will not be possible. However, he said that close friends like Indian cricket players and actors earlier named would attend the event.
Speaking to the media outside Pakistan's Supreme Court, Chaudhry on Wednesday said that former cricketers Sunil Gavaskar, Kapil Dev, and Navjot Singh Sidhu have been invited, along with Bollywood actor Aamir Khan.
The oath-taking ceremony is scheduled to be held on 11 August, the announcement of which was made by Imran during an interaction with party members of provincial assembly in Khyber-Pakhtunkhwa on Monday. The PTI had decided to hold the ceremony before 14 August, which is Pakistan's Independence Day.
Although the PTI emerged as the single largest party in the National Assembly after the 25 July polls, the party is still short of numbers to form its government independently, according to the final results issued by the Election Commission of Pakistan.
According to the results, the PTI has bagged 116 general seats, which is 22 short of a simple majority.
However, Chaudhry claimed on Monday that the PTI has acquired required number of seats to form government at the Centre and in Punjab. Addressing the media, he said that PTI has acquired the support of 168 members in Centre and 188 in Punjab with the support of Pakistan Muslim League-Quaid (PML-Q) and Independent candidates, The News International reported.
The PTI leadership reportedly approached the Muttahida Qaumi Movement-Pakistan (MQM-P), the Grand Democratic Alliance (GDA), and the Balochistan Awami Party (BAP), apart from PML-Q and Independents.
The author is a journalist based in Lahore, Pakistan
Find latest and upcoming tech gadgets online on Tech2 Gadgets. Get technology news, gadgets reviews & ratings. Popular gadgets including laptop, tablet and mobile specifications, features, prices, comparison.
World
As per Pakistan's Election Act, a person can be given a six-month jail sentence and/or fine of Rs 1,000 for not casting their vote in secrecy.
World
Polling is finally over, and counting of votes has begun in what is likely to be one of the most controversial general elections in Pakistan. What remains to be seen is who'll have the last laugh — the voter or the "agriculture department"
World
The polling ended at its scheduled time despite calls by several major parties, including Pakistan Muslim League-Nawaz (PML-N), Pakistan Peoples Party (PPP) and Pakistan Tehreek-e-Insaf (PTI), to extend the polling time by an hour.