Can't wait to try GPT-4? Here's how to get GPT-4 powered ChatGPT 2.0 and skip the waiting list
People are desperately looking for ways to get their hands on ChatGPT2.0, powered by GPT-4, without having to wait for a long time. But, unlike the original ChatGPT, which was released last November, the GPT-4 version is not exactly a free tool.
On Tuesday, the world was introduced to OpenAI's newest offering. GPT-4, the next-generation large language model that succeeded ChatGPT in taking the globe by surprise, is now available.
We have seen numerous examples of how people have been using the new GPT-4 enabled ChatGPT. During one of the demos one engineer at OpenAI got GPT-4 to make a website, by just using a roughly drawn sketch of how he would like to website to look and do. 
Also read: Code Comfort: Man draws website idea on a napkin, shows GPT-4, AI bot codes it in seconds
Naturally, people are desperately looking for ways to get their hands on the latest and greatest version ChatGPT, also called ChatGPT 2.0, without having to wait for a long time. 
But, unlike ChatGPT, which was released last November, this isn't just a free online tool.
What exactly is GPT-4?
If you're wondering how we got to number four so quickly, given that ChatGPT only came out late last year, here's some clarification: Since 2018, OpenAI has been publishing GPT language models. 
Also read: GPT-4 outperforms, outclasses and outscores 90% of humans in world's toughest exams
When ChatGPT, its chatbot product, was launched in 2022, GPT-3, the third such version, was the most sophisticated model. GPT-4 is Open AI's most recent and effective big language model, but if you only have free access to ChatGPT, you'll still be engaging with the GPT-3 or rather the GPT-3.5 model.
How do I use ChatGPT+ to gain entry to GPT-4?
You will need a paid membership to ChatGPT+, the premium edition of ChatGPT, if you want to create text easily with the GPT-4 model.
Also read: Here are 5 ways the new GPT-4 absolutely spanks the current version of ChatGPT
As stated on OpenAI's GPT-4 announcement website, GPT-4 is the model used by ChatGPT, but only if you are a premium user with access to ChatGPT+ (sometimes styled "ChatGPT Plus"). If you're signed in to your OpenAI account, clicking the ChatGPT icon on that screen will take you straight to ChatGPT, and if you're a paying ChatGPT+ user, that's all there is to it.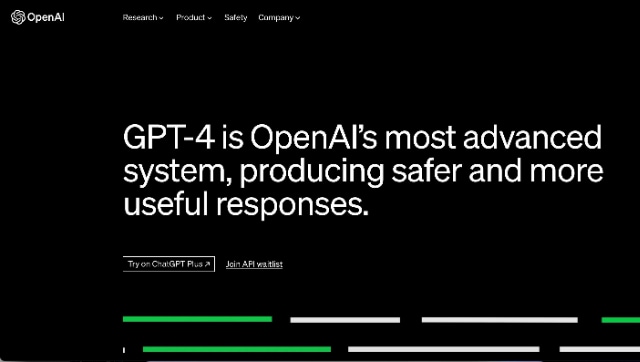 If you have a free account, you will need to update. In the left option, click the "Upgrade to Plus" icon.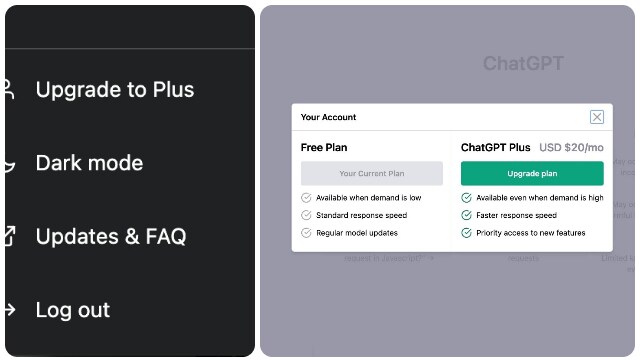 The green "Upgrade Plan" button will take you to a regular e-commerce checkout page, where you'll need to input the usual purchase information and pay $20 per month.
When you become a paying client, you will have instant access to the new GPT-4 enabled ChatGPT. 
When you initiate a new chat, a pulldown menu will appear, giving you the choice of using one of the older versions or GPT-4.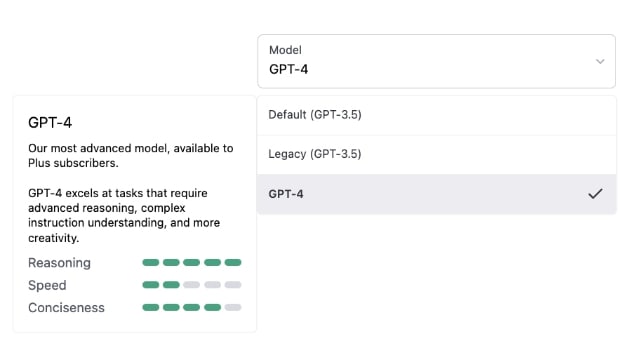 If you're already subscribed to ChatGPT, you may be asked to transition to GPT-4. If you do, a text bar will appear in the centre of your current chat, stating, "This conversation's prior model is no longer accessible. We've updated the preset model for you." Old GPT-3-powered outputs will have the old, green OpenAI insignia to the left, while GPT-4-powered outputs will have a new, black badge.
How to Get Free Access to GPT-4
The free edition of ChatGPT does not presently support GPT-4.
Millions of Bing users, on the other hand, can already use the GPT-4 enabled Bing chatbot, although in a limited manner. Microsoft has verified that GPT-4 is already enabling your chatbot conversations if you are part of that limited group.
And soon, you may soon have no choice but to use GPT-4 in your everyday life, because according to OpenAI's blog post about its uses, GPT-4 is already being put to use by clients as diverse as Khan Academy, Stripe, Morgan Stanley, and the government of Iceland. In other words, whether you like it or not, you're going to be dealing with GPT-4 shortly.
Read all the Latest News, Trending News, Cricket News, Bollywood News,
India News and Entertainment News here. Follow us on Facebook, Twitter and Instagram.
also read
World
A TikTok video by Goefft explains how ChatGPT can enhance the interviewing process. In the video which has approximately 2 million views, she says it 'Works for every single job'
World
Apple has been conspicuously missing from the Generative AI scene, while Microsoft and Google have made some major headways into AI and what it has to offer. That is now set to change as Apple has started hiring top AI engineers and Generative AI experts
World
Sam Altman, the founder CEO of OpenAI and the creator of ChatGPT has signed a statement along with some of the world's top most AI researchers, claiming that AI is more dangerous that nuclear war and pandemics, and therefore needs to treated as such