Guinness World Record: 30-year-old Bobi becomes oldest dog in world
Bobi was born on 11 May 1992 and spent his entire life in the remote Portuguese village of Conqueiros with the Costa family
Only two weeks after declaring Spike- a little Chihuahua from Ohio- the oldest dog living, the Guinness World Records on 2 February announced another name for the achievement and it's Bobbi- a 30-year-old Portuguese dog. A purebred Rafeiro do Alentejo, Bobi now also holds the record of the oldest dog ever as the authority recorded its exact age as 30 years and 226 days as of 1 February. Interestingly, the usual lifespan of this particular breed is around 12 to 14 years. The previous record holder for the oldest dog was Australia's Bluey, who passed away in 1939 at the age of 29 years and five months.
Bobi was born on 11 May 1992 and spent his entire life in the remote Portuguese village of Conqueiros with the Costa family. Bobi's birthdate, which was recorded in the municipality of Leiria in 1992, was verified by the Serviço Medico-Veterinário do Municpio de Leiria (Veterinary Medical Service of the Municipality of Leiria) and SIAC, a pet database recognised by the Portuguese government.
View this post on Instagram

Bobby was never shackled or tethered to a leash, according to his owner Leonel Costa. He always likes to explore the nearby fields and woodlands. As reported by BBC, Leonel claims that one of the reasons why Bobi is special is because observing the animal makes him think of family members who, sadly, are no longer with him, such as his father, his brothers, or his grandparents who have already passed away.
Leonel recalled that his family had several dogs during their childhood. Due to the sheer number of pets they had, his father decided that the family would not keep the puppies born from their dog Gira. When the puppies were taken by his parents, Leonel and his brothers had been unhappy, but they had also noticed Gira, who lived to be 18 years old, continue going back to the outbuilding where she gave birth. They once followed Gira and found that their parents had unintentionally left one of the puppies behind, while gathering the others.
Bobi, who as a puppy blended in with the woods, was kept a secret by Leonel and his brothers. When Bobi's existence was revealed to the elder Costa's, it was too late; he had already become a member of the family. Leonel believes that living in a "quiet, peaceful atmosphere" far from cities has contributed significantly to his long life.
Read all the Latest News, Trending News, Cricket News, Bollywood News,
India News and Entertainment News here. Follow us on Facebook, Twitter and Instagram.
Entertainment
Celebrities including Deepika Padukone, Ranveer Singh, Amitabh Bachchan along with his family, Kiara Advani, Janhvi Kapoor, Kangana Ranaut, Allu Arjun, Kartik Aaryan, Karan Johar, among others shared videos of themselves as they clanged 'thalis'
India
Not everyone was convinced that the leopard's poses were similar to yoga. Some individuals wrote that even other animals stretched in a similar manner.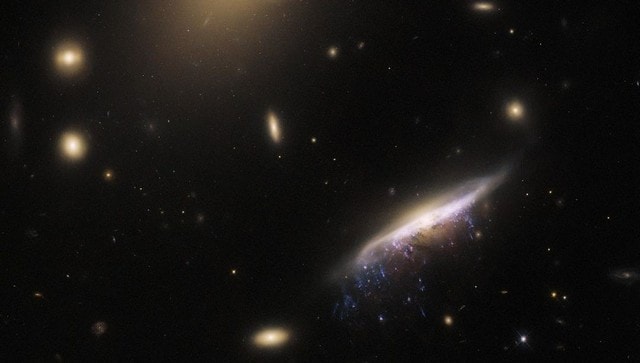 World
As per NASA, these images could aid astronomers in getting a better understanding of the star formation elsewhere in the universe