The AI War: Google officially announces Bard to take on ChatGPT, shows off their AI bot in search
Google's CEO Sundar Pichai formally announced Google's answer to OpenAI's ChatGPT, called BardAI. BardAI will be made available to the public in a phased manner, and will curtail a lot of the issues that plague ChatGPT.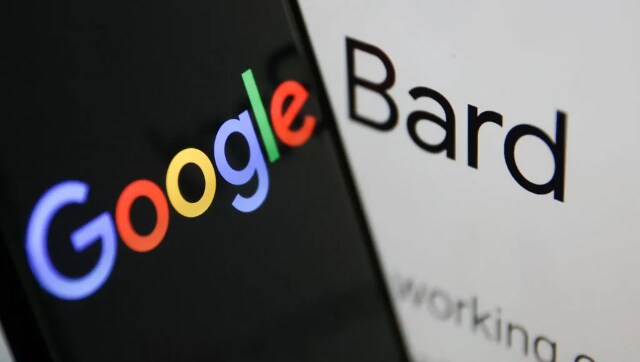 Google is scrambling to join the newfound craze for conversational AI, fueled by OpenAI's ChatGPT's widespread popularity. The company's new artificial intelligence bot, Bard, intends to "combine the richness of the world's information with the strength, intellect, and creativity of our massive language models." Google, clearly is not short on ambition.
The service, or AI chatbot, in whatever manner one wishes to describe it, was announced in a blog post by CEO Sundar Pichai. He specifically mentions Google's recent focus on AI, as well as the fact that the most impactful concept (the Transformer) was produced by the company's researchers in 2017.
"It's a really exciting time to be working on these technologies as we translate deep research and breakthroughs into products that truly help people," Pichai writes. It's difficult for fans of Google not to wonder how Google managed to be so decisively outpaced by OpenAI, the latter of which is now associated with the technology pioneered by the former.
The simple answer is that while Google produced paper after paper trying to figure out how to incorporate AI into its existing business strategy, OpenAI concentrated on producing the best models and letting users work out their own applications. The thing is tech moves fast whereas tech companies, especially established tech companies move slow, especially if they have a legacy, reputation, and more importantly stockholders to consider.
Bard depicts Google following suit, offering a "lightweight" version of the model for testing reasons. The model employs Google's proprietary LaMDA (Language Model for Dialogue Applications) to enable a conversational AI that can also access online data. 
The blog article does not specify how it accomplishes this, although it appears to stay somewhat updated.  "Help[s] explain fresh NASA's James Webb Space Telescope discoveries to a 9-year-old, or learn more about the finest strikers in football right now, and then receive workouts to enhance your talents," says Bard.
Google, of course, keeps the most up-to-date record of online material on the planet, and no doubt Bard will use that knowledge to its advantage, but how it processes and presents that information for you and your nine-year-old will be evident until people start using it.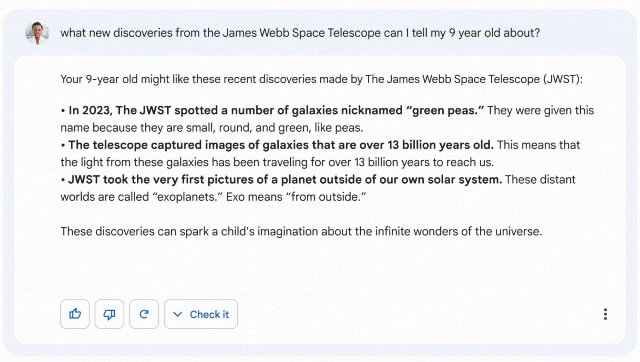 You can also use Bard to "organise a friend's baby shower," "compare two Oscar-nominated movies," and "arrange a trip to Ecuador," according to the site. One may see an AI model performing any of these things utilising the numerous search results and data firehoses Google has access to, but this experiment will most likely be confined to informing you information rather than creating deep integrations with things like your calendar or airlines.
Of course, every conversational AI will confront the inevitable (and now virtually immediate) attempts to lure it into saying something derogatory, dumb, or humiliating. Google will almost certainly record user chats "to ensure Bard's replies satisfy a high threshold for quality, safety, and groundedness in real-world knowledge." The latter is certainly a shot over OpenAI's and Microsoft's bows, given the former's models don't identify their sources and the latter's Galactica notoriously invented them.
Bard will be coming to Google Search more directly in the form of numerous new capabilities "which can assist synthesis ideas for issues when there is no one right answer. Soon, you'll see AI-powered Search capabilities that reduce complicated material and different points of view into easy-to-digest forms, allowing you to rapidly see the big picture and learn more from the web," the business stated in a separate email. 
While no doubt people will ask it variations on the Trolley Problem, the example provided is someone asking "Is piano or guitar easier to learn and how much practice does each need?"
Not an ethically charged question (for most), but also not one with a straightforward answer. However, if there is some type of consensus on the difficulty in a hundred articles comparing the various learning rates of instruments, with numerous caveats and advice also common, Google may just suck those up and shove them to the top of the search results.
Read all the Latest News, Trending News, Cricket News, Bollywood News,
India News and Entertainment News here. Follow us on Facebook, Twitter and Instagram.
World
The chatbot could be used to access information on how to use vehicle features normally found in an owner's manual, program functions such as a garage door code or integrates schedules from a calendar, GM Vice President Scott Miller said.
World
Apple's underutilised digital assistant, Siri, is going to get a major makeover. Apple is working on its own Natural Language Processing capabilities, which would give Siri ChatGPT-like abilities.
World
While many were very impressed by the performance of GPT-4, some users said that its poem can't be compared to Shakespeare's original works