From 'kutta' to absurd poverty remark: Here are this century's 15 most ridiculous statements
Here's a list of some of the most ridiculous things we heard in the last 15 years from world leaders and celebrities who should've known better.
Mankind has seen a lot in the last 15 years.
From the huge advancements made in technology, internet and social media to living in a post-9/11 world which is struggling with terrorism, there have been memorable achievements as well as setbacks that shouldn't have taken place.
Speaking of setbacks, there were quite a large number of downright stupid or ridiculous things we heard world leaders, politicians and celebrities say. And the advent of social media made sure that it was all the more easy to remember those ridiculous quotes.
This, of course, creates a minor problem while trying to list out the most absurd statements made between from 2001 to 2015. Due to the ease of accessing quotes made possible by the internet, there are a lot of stupid quotes you'll find in the last decade and a half.
However, almost everyone will agree there are some few precious quotes that deserve to be pointed out if we're reminiscing about the last decade-and-a-half.
Here are some of the most ridiculous things we heard in the last 15 years:
1. Abhijeet's 'kutta' tweet (2015)
"Kutta rd pe soyega kutte ki maut marega, roads garib ke baap ki nahi. (If a dog sleeps on the road, he will die like a dog on the road. The roads don't belong to the poor man's father.)" A lot of Bollywood celebrities came out in support of Salman Khan after he was sentenced to five years in jail in the 2002 hit-and-run case. (The Bombay High Court later acquitted Salman of all charges.)
But nobody was as cheap and full of contempt for the poor as singer Abhijeet Bhattacharya. "Roads are meant for cars and dogs not for people sleeping on them... Salman Khan is not at fault at all... Mumbai ke road Aur footpath pe sone ka shauk hai ?? Y not at your village no vehicles to kill u?" Abhijeet had also tweeted.
For us, these statements deserve a place right at the top of the list of most ridiculous things said.
2. Mulayam Singh Yadav's thoughts on rape (2014, 2015)
If some of our Bollywood celebrities are good at making stupid remarks, our politicians are never far behind, especially when it comes to making sexist and misogynistic remarks. Although there are a lot of Indian politicians who have made such remarks, we feel the worst of the lot is Mulayam Singh Yadav.
According to the SP chief, gangrape is not "practical". "One commits rape and then four more are names. Kabhi aisa ho sakta hai kya? Aisa practical hi nahin hai. (Can such a thing happen? It is impractical," he had said. "Ladkiyan pehle dosti karti hain. Ladke-ladki mein matbhed ho jata hai. Matbhed hone key baad usey rape ka naam dey deti hain. Ladko sey galti ho jati hai. (Girls first befriend boys. Then, there is disagreement between the girl and the boy. After that disagreement, the girl calls it rape. Boys, naturally, will make mistakes.)" These are Mulayam's thoughts on sexual assault.
3. Arnold Schwarzenegger's definition of gay marriage (2003)
Stupid remarks are not limited to India, of course. One of the most absurd things we heard in the last 15 years was when Hollywood actor and former Governor of California told us what he thought gay marriage should be.
"I think gay marriage should be between a man and a woman," Schwarzenegger had said in 2003. The Terminator star really must've let his fans down when he basically thought that apples should be like oranges.
4. When George W Bush forgot about the Second World War (2002)
This is a really tough one. There are so many absurd things which George W Bush, the 'misunderestimated' former President of the US, has said that there is actually a Wikipedia page on the term 'Bushisms', which "are unconventional words, phrases, pronunciations, malapropisms, and semantic or linguistic errors in the public speaking of former President of the United States George W. Bush."
However, our favourite has to be when Bush in 2002 forgot all about the Pearl Harbour attack, the Second World War and atomic bombings of Hiroshima and Nagasaki and said, "For a century and a half now, America and Japan have formed one of the great and enduring alliances of modern times."
5. Rahul Gandhi's take on poverty (2013)
What would the country be without Rahul Gandhi? He is definitely one of the most entertaining politicians in India. From his fascination with the escape velocity of Jupiter to his promise of giving the people a "kurta-pajama sarkar", the Congress vice-president has made sure that politics never gets too serious.
However, the most ridiculous Rahul Gandhi quote has to be the following: "Poverty is just a state of mind. It does not mean the scarcity of food, money or material things. If one possesses self-confidence, then one can overcome poverty."
So all the people starving in India should just become confident. Problem solved.
6. Donald Trump's extremely creepy remark about his daughter (2006)
Donald Trump is one of those people in the world whose statements are so ridiculous that you can't even make fun of them. The US Republican presidential aspirant recently used the word 'schlonged' when saying something about Hillary Clinton. He has also called for a ban on Muslims in the US.
But Trump redefined creepy when, in a 2006 episode of The View, he said this:
Be afraid. Be very afraid.
7. When Rimi Sen used racism to praise Rohit Shetty (2006)
When a statement that was meant to be nothing but an innocent compliment turns into a blatantly racist remark, it certainly deserves a place in the list of the most ridiculous quotes in the last 15 years.
In 2006, in an interview in which Bollywood actress Rimi Sen was talking about her film Golmaal, she had said, "I play a sweet and beautiful girl in the film. The best thing that I like about the film is that though it has four heroes, I am the only heroine. Rohit Shetty is amazing as a director. He can make even a black African look pretty."
We wonder if Sen was even conscious of the fact that she had made a racist remark when she was trying praise Shetty. And more importantly, we really wonder what, according to Sen, is the definition of 'pretty'.
8. Sarah Palin claiming she reads every newspaper/magazine she had ever heard of (2008)
When you are the Governor of Alaska and the Republican Party nominee for Vice President in the US presidential elections, the most obvious assumption would be that you read a fair amount of newspapers and magazines to keep yourself updated wit current affairs, right?
Well, Sarah Palin, the ninth Governor of Alaska and the Republican Party nominee for Vice President in the 2008 US presidential elections, had claimed in an interview in 2008 that she read not one, not two, but all the newspapers and magazines she had ever heard of.
We're really not sure whether Palin actually didn't read a lot of newspapers and magazines, or whether she hadn't heard of any. Either way, this was probably one of the reasons why she and John McCain lost the 2008 elections.
9. If Bush forgot about Second World War, Dana Perino was confused about 9/11 (2009)
Former US president George Bush might have forgotten about the US-Japan hostility during the Second World War. However, former White House Press Secretary Dana Perino, serving under Bush, either forgot about or chose to ignore one of the worst terror attacks in the world or thought that it happened much before than when it actually happened.
In a panel discussion on Fox News in 2009, Perino said, "We did not have a terrorist attack on our country during President Bush's term."
There's just one tiny detail Perino forgot about. The infamous 9/11 attacks, in which almost 3000 people were killed, took place on 11 September, 2001, when George Bush was, in fact, President of the US.
10. When PM Modi took his teleprompter a bit too seriously (2015)
Remember how embarrassing those awkward moments got in a social situation when you forgot or mispronounced someone's name? Now, imagine if that happens during matters of international diplomacy.
It wasn't the best moment for Prime Minister Narendra Modi back in February when, while greeting visiting Sri Lankan President Maithripala Sirisena and his wife (who were on a visit to India), Modi committed quite a gaffe, by calling the visiting first lady "M. R. S. Sirisena".
Moral of the story: Et tu, teleprompter?
11. Paris Hilton claiming she has faced all the tragedies in the world (2011)
Let's do an exercise. In five seconds, name some of the tragedies which a person can face in life.
Your answers might have included one or more of the following: Death, poverty, starvation, disease, war, illiteracy, crime, torture, natural disaster. And these are just some of the problems we thought a person could face when we spent five seconds thinking about it. It is probably not even humanly possible to list out all the possible tragedies a person can face in life.
Yet, in 2011, Paris Hilton, an American celebrity involved in a lot of controversies, had said, "everything bad that can happen to a person has happened to me."
Of course, this doesn't mean that Hilton didn't face any hardships in life. But maybe she should have realised the fact that things can always get worse.
12. Kiran Bedi saying, "I haven't lost" after losing in Delhi polls (2015)
Just days after joining BJP in January this year, Kiran Bedi had concluded that she was just one of the stars revolving around the "world's most beautiful face" of PM Narendra Modi. "BJP has got the world's most beautiful face with it, ie Narendra Modi and his leadership. After that we are just stars who are revolving around him," PTI had quoted Bedi as saying.
And after losing in the Delhi polls, Bedi had an even more profound thing to say. "I haven't lost. I would've lost if I hadn't given my best," she had said, adding that this was BJP's loss. But earlier, Bedi, in the same speech had said, "I am a defeated candidate today." We wonder if Kiran Bedi thought 'lost' and 'defeated' are two different things.
Maybe Kiran Bedi was trying to tell us that she is Baazigar. (Kyunki haar kar jeetne waale ko Baazigar kehte hain.)
13. When Lalu Prasad, as Railway Minister, said Indian Railways was God's responsibility, not his (2004)
It's almost a crime to have a list of absurd quotes and not have one of Lalu Prasad's remarks in that list. Apart from calling Amit Shah a narbhakshi (cannibal), the former Bihar CM, during his tenure as Railway Minister in 2004, had made it clear that the Indian Railways was not his responsibility.
"Indian Railways is the responsibility of Lord Vishwakarma. So is the safety of passengers... It is His duty, not mine. I have been forced to don His mantle," The Times of India had quoted him as saying. "I keep telling Him whatever accident or incident takes place on the tracks is His responsibility," he had further said.
A Railway Minister who said Railways wasn't his concern: That's Lalu Prasad for you, folks. Deal with it.
14. Varun Dhawan and Alia Bhatt telling us who they thought was the President of India (2014)
Something very unfair about Alia Bhatt getting criticised for not knowing the name of the President of India was that Varun Dhawan, even though equally at fault, didn't get as much criticism.
On an episode of Koffee With Karan, when Karan Johar asked Sidharth Malhotra, Alia Bhatt and Varun Dhawan who the President of India was, it was Varun Dhawan who first said, "Manmohan Singh" before Alia Bhatt followed with "Prithviraj Chauhan" (not Prithviraj Chavan, the former Maharashtra CM).
At least Alia showed us all she could take a joke aimed at her when she acted in a video parodying her wrong answer.
And what has Varun Dhawan done since his legendary "Manmohan Singh" answer? Well, he recently compared Dilwale to Inception.
15. Sanjay Dutt's "dedication" for Samajwadi Party (2009)
In 2009, Sanjay Dutt had been appointed as the national general secretary of the Samajwadi Party, according to PTI. After his sudden entry into politics, Dutt had said, "I would work for the party with utmost dedication... I am very happy."
Three years later though, that "utmost dedication" was gone as Dutt in 2012 claimed that joining SP was a mistake. "It was a mistake on my part to join Samajwadi Party. Inside my heart I am a Congress man... always with the Congress," Dutt had said.
Well, at least he proved that he has the skills required to be a successful politician.

(Check out Firstpost's collection on how the past 15 years transformed sports, entertainment, technology and more in F.Rewind.)
Find latest and upcoming tech gadgets online on Tech2 Gadgets. Get technology news, gadgets reviews & ratings. Popular gadgets including laptop, tablet and mobile specifications, features, prices, comparison.
India
Congress leader Rahul Gandhi tweeted that the removal of the document from the website would 'not change facts.'
World
The error, coming just days after Trump mispronounced Yosemite National Park's name as "Yo Semites", resulted in much mockery and mirth on social media.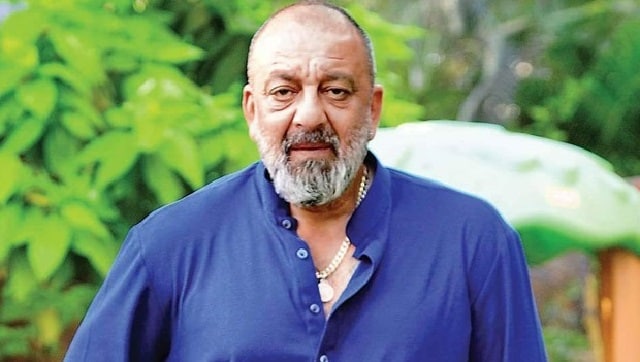 Entertainment
Sanjay Dutt was taken to Mumbai's Lilavati Hospital on 8 August for a full check-up, where he was also tested negative for COVID-19.