France to implement big jump in military spending amid Ukraine war
The Loi de programmation militaire (LPM) covers the period 2024 to 2030. The bill proposes the allocation of around €413 billion to the defence budget of France until 2030 amid a rise in global geopolitical tension amid the Ukraine war
France may see a big jump in its defence budget with President Emmanuel Macron pushing for a substantial surge of 30 percent in military spending.
This heightened defence budget, which is to be implemented within the next seven years, will see France's military spending climb to $450 billion.
The Loi de programmation militaire (LPM) – the French military budget bill – was tabled in France's Assemblée Nationale on May 22 after months of deliberation and several delays.
The Loi de programmation militaire (LPM) covers the period 2024 to 2030. It is expected to be put through two weeks of intense discussions and deliberations. The bill proposes the allocation of around €413 billion to the defence budget of France until 2030 amid a rise in global geopolitical tension amid the Ukraine war.
The government of France has urged the French parliament to implement an accelerated process in order to expedite the Loi de programmation militaire (LPM).
If the military is put though an expedited process, it will see just one reading in the lower and upper houses of the French parliament. French President Emmanuel Macron reportedly wants to see the military bill being passed before France's national day celebrations on July 14.
The bill also calls for the modernization of the French military and places special emphasis on improving nuclear deterrence abilities.
Read all the Latest News, Trending News, Cricket News, Bollywood News,
India News and Entertainment News here. Follow us on Facebook, Twitter and Instagram.  
also read
World
Asked before a meeting with US President Joe Biden in Japan if the city was still in Ukraine's hands after the Russians said they had seized it in its entirety, Zelenskiy told reporters, "I think no"
World
Ruzinski ordered Russian troops to breach the Ukrainian state border and capture Kharkiv Oblast. He and more than 4,000 Russian soldiers from the Balakliya occupation group, occupied areas in the Kharkiv, Chuhuiv, and Izium districts of Ukraine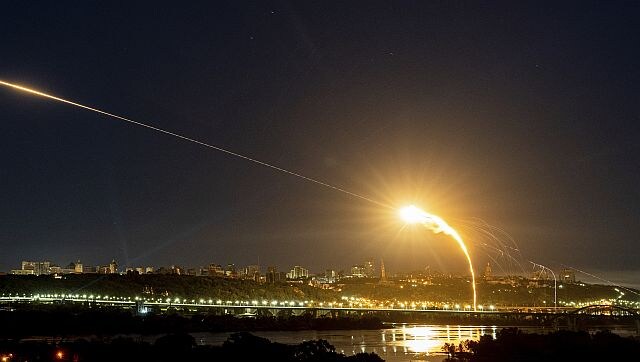 Explainers
The drone war has now become a numbers game. In recent months, invading Russian troops have sent waves of Iranian-made Shahed explosive drones at Kyiv and other major cities, while Ukraine has launched unmanned attacks of its own in Crimea and Russian border region Belgorod