EU extends Iran sanctions to judges, clerical council
The individuals, including clerics, judges and a broadcaster, are accused of playing leading roles in Iran's brutal crackdown on anti-government protests
Brussels: European ministers agreed on Monday to add eight Iranians and one of the Tehran government's most powerful bodies to EU sanctions lists, alleging human rights violations.
The individuals — including clerics, judges and a broadcaster — are accused of playing leading roles in Iran's brutal crackdown on anti-government protests.
The EU said it was in particular "sanctioning members of the judiciary responsible for handing down death sentences in unfair trials and for the torturing of convicts".
The government institution, the Supreme Council of Cultural Revolution, was said to have "promoted several projects undermining the freedom of girls and women and discriminating against minorities".
Brussels' latest listings bring to around 150 the number of individuals, companies and agencies targeted by EU asset freezes and travel bans over the crackdown.
Europe made the decision as UN expert Javaid Rehman told the United Nations Human Rights Councils that Iran's actions in the six months since protests erupted could amount to crimes against humanity.
Demonstrations erupted after the death in custody of 22-year-old Mahsa Amini, who had been accused by religious authorities of violating Iran's women's dress code.
The sanctions decision was made at a meeting of foreign and defence ministers in Brussels, as thousands of Iranian exiles protested outside in support of the uprising against the Tehran government.
The protesters, many of them supporters of the exiled opposition group the National Council of Resistance, demanded the Islamic Revolutionary Guard Corps (IRGC) be blacklisted as a terrorist group.
Some EU capitals are also pushing for this measure, which would target the paramilitary armed wing of Tehran's Islamic revolution, which is deeply embedded in the Iranian economy.
But European officials say it is proving complicated to demonstrate the legal basis for such a blanket designation of the entire group, as opposed to units or commanders involved in specific attacks.
Read all the Latest News, Trending News, Cricket News, Bollywood News,
India News and Entertainment News here. Follow us on Facebook, Twitter and Instagram.
also read
World
Among the sanctions targets are the China-based firm Zhejiang Qingji, which has allegedly sold centrifuges and other materials to an Iran-based firm affiliated with the nation's defence ministry.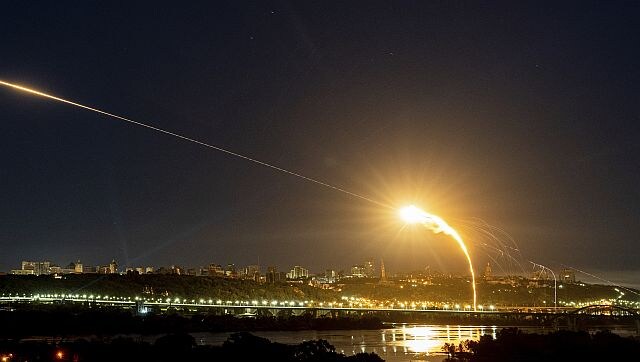 Explainers
The drone war has now become a numbers game. In recent months, invading Russian troops have sent waves of Iranian-made Shahed explosive drones at Kyiv and other major cities, while Ukraine has launched unmanned attacks of its own in Crimea and Russian border region Belgorod
World
The EU has imposed a record-breaking fine of $1.3 billion on Facebook's parent organisation, Meta Platforms, for illegally sending data mined form EU residents to the US, and possibly sharing it with US intelligence agencies, without informing users.