Earthquake of magnitude 5.7 strikes eastern Turkey region
The quake was at a depth of 46 km (28.58 miles), according to the European Mediterranean Seismological Centre.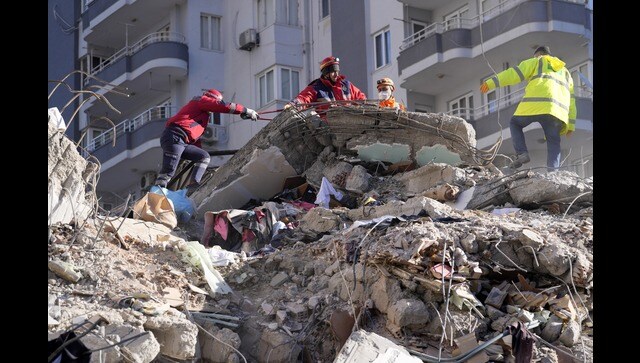 Turkey: An earthquake of magnitude 5.7 struck eastern Turkey on Tuesday, the European Mediterranean Seismological Centre (EMSC) said.
The quake was at a depth of 46 km (28.58 miles), the centre added. The quake struck the region early on Monday, killing more than 4,800 people in Turkey and Syria, injuring thousands and leaving many more without shelter in the bitter cold.
Rescuers raced Tuesday to find survivors in the rubble of thousands of buildings brought down by a 7.8 magnitude earthquake and multiple aftershocks that struck eastern Turkey and neighbouring Syria, with the discovery of more bodies raising the death toll to 4,983.
Soon after Turkey sounded a 'level 4 alarm' many countries around the world dispatched teams to help in the rescue efforts. Attempts to reach survivors were also impeded by temperatures below freezing and close to 200 aftershocks, which made the search through unstable structures perilous.
With inputs from agencies.
Read all the Latest News, Trending News, Cricket News, Bollywood News,
India News and Entertainment News here. Follow us on Facebook, Twitter and Instagram.
World
The February 6 earthquakes were the worst natural disaster to strike modern-day Turkey with more than 56,000 people killed in Turkey and neighbouring Syria. The European Union and member country Sweden on Monday hosted the conference to drum up support
World
An earthquake measuring 6.5 on the Richter scale rattled Afghanistan's mountainous Hindukush region, bordering Pakistan, killing 11 people in both countries. Tremors were felt as far as North India, where people ran out of their houses. But what causes Afghanistan to see so many temblors?
Explainers
Not one but two volcanoes on the same island in Alaska are showing signs of unrest. A swarm of earthquakes occurring since late February 2023 has intensified, a possible indication of an impending eruption