'Don't take pictures with protestors, arrest them', UK Home Secretary Suella Braverman tells police
Suella Braverman said that the police should ignore all "politically correct distractions" and focus on "getting the basics right" and tackle crime and keep people safe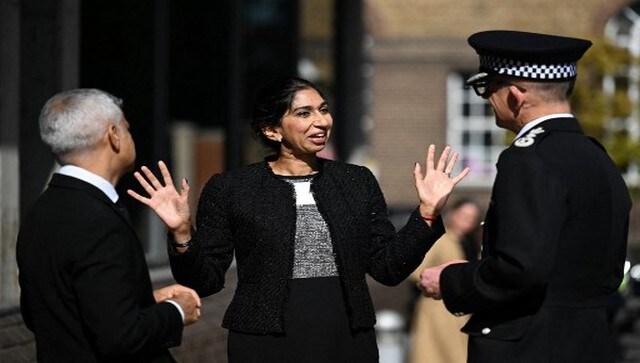 London: UK Home Secretary Suella Braverman has ordered police officers not to pose for pictures with protestors but to arrest them.
The country has been witnessing one of its worst strikes in decades as teachers, train workers and others have taken to the streets to demand pay hikes in the midst a cost-of-living crisis.
Braverman said that the police should ignore all "politically correct distractions" and focus on "getting the basics right" and tackle crime and keep people safe.
She said, "I will give the police all the powers and resources they need to combat anti-social behaviour and crime." She also mentioned that every force has committed to attend every house burglary and a resolve to launch new legislation to deal with the protests that has virtually shut down UK.
"This, rather than non-crime hate incidents, is what police should focus on," Braverman said in an article for ConservativeHome.
The Home Secretary added that she had authorised the use of stop and search to bring down the rate of violent crimes.
"I've also sent a clear message that there should be no politically correct distractions and that officers should arrest protesters who cause chaos, not stand around posing for photos with them," according to The Telegraph.
Police to be given new powers
The House of Lords is currently reviewing The Public Order Bill which seeks to give more power to the police to take a more "proactive" approach to approach the protests that have disrupted lives in the country.
Under the bill, any protestor found to be interfering with infrastructure like the railways, airports and oil refineries will be branded as a criminal.
Moreover, protestors accused of "locking on" to buildings, objects and people would face up to six months in prison or unlimited fines.
The Bill will also allow police officers to curb slow-walking protests and broaden the legal definition of "serious disruption".
What's happening in UK?
Thousands of schools in the U.K. closed some or all of their classrooms, train services were paralyzed and delays were expected at airports on the biggest day of industrial action Britain has seen in more than a decade, as unions stepped up pressure on the government Wednesday to provide better pay amid a cost-of-living crisis.
The Trades Union Congress, a federation of unions, estimated that up to a half-million workers, including teachers, university staff, civil servants, border officials and train drivers, went on strike across the country.
More walkouts, including by nurses and ambulance workers, are planned for the coming days and weeks.
Months of strikes have disrupted the daily routines of Britons as a bitter dispute between unions and the government over pay and working conditions drags on. The simultaneous strikes across multiple industries on Wednesday marked an escalation of the unions' protest actions.
With inputs from AP
Read all the Latest News, Trending News, Cricket News, Bollywood News,
India News and Entertainment News here. Follow us on Facebook, Twitter and Instagram.
World
The study comes after Child Q, a black schoolgirl on her period who was mistakenly suspected by police of carrying cannabis, underwent a "traumatic" strip search
World
A Sikh family in Britain was bullied by masked gangs belonging to religious group who gave rape and death threats to them
World
The Casey Review, published by Baroness Casey and commissioned by the Met, looks into the standards of Britain's biggest police force. This year's report disclosed practices of mismanagement within the police force