BRICS Summit 2018: Narendra Modi likely to bring up cross-border terror; trade war risk to dominate meet
Narendra Modi left for his Africa tour on Monday, which began from Rwanda and culminate in South Africa, where he will attend the 10th BRICS Summit.
Prime Minister Narendra Modi left for his three-nation tour of Africa on Monday, which began from Rwanda and will culminate in South Africa. He will attend the 10th BRICS Summit in Johannesburg from 25 to 27 July and is also likely meet Chinese president Xi Jinping on the sidelines of the summit.
The theme of the summit this year is 'BRICS in Africa: collaboration for inclusive growth and shared prosperity in the 4th Industrial Revolution'. According to the Ministry of External Affairs, BRICS leaders are expected to discuss "global hotspot issues, international peace, and security, global governance, trade issues during the restricted session".
The issues before the 10th BRICS Summit broadly include: multilateralism, global governance, health and vaccines, socio-economic empowerment of women, peacekeeping, network of science, parks and technology, inclusive growth, sustainable development, infrastructure.
For the first time, a BRICS leaders' retreat is being organised wherein leaders will deliberate and take stock of BRICS cooperation during the decade and on its future prospects, MEA press release said.
Other than the BRICS summit, Modi will also participate in Outreach with Leaders from Africa and Outreach with Leaders from Global South summit. In the BRICS Africa Outreach, the invited countries include Rwanda, Uganda, Togo, Zambia, Namibia, Senegal, Gabon, Ethiopia, Angola, and the African Union Chair.
With regards to the prime minister's agenda, he is likely to bring up cross-border terrorism. According to The Times of India, National Security Advisor (NSA) Ajit Doval travelled to Durban for a BRICS security meet ahead of the summit where he underscored India's contention that not enough has been done to check cross-border and state-sponsored terrorism.
India is also likely to push BRICS nations to define terrorism, according to Hindustan Times, which further said that Indian officials have already taken up the matter with their counterparts in the other BRICS members.
The idea of BRICS rating agency will also be taken up during the summit, confirmed Secretary Economic Relations in MEA, TS Tirumurti. India had pressed the BRICS nations to set up an independent rating agency of the five-member group during the first meeting of the BRICS finance ministers and Central bank governors which was held on the sidelines of the IMF/World Bank spring meetings in April this year.
Speaking at the informal meeting of the BRICS leaders on the sidelines of the G20 Summit last year, Modi had also said that expeditious action should be taken to establish the BRICS credit rating agency while asserting that the BRICS group has to be a voice of stability, reform, progress and governance at the world stage.
In 2016, BRICS nations agreed to set up an independent credit rating agency based on market-oriented principles as part of efforts to further strengthen global governance architecture.
Trade war risk to dominate summit
The threat of a worsening global trade war will top the agenda of BRICS Summit 2018. Russian economy minister Maxim Oreshkin said ahead of the Johannesburg meeting that "this summit is about the context – we are at a time when the US and China announce new measures almost every week".
He said much of the discussions with China would likely focus on what is happening with the United States. "This is a trade war, so leaders' discussions are particularly important in coordinating our positions," said Oreshkin.
Analysts say US trade policy could give the group some renewed momentum. "Trade agreements between associations of countries like BRICS have become increasingly important given the self-seeking, and ultimately short-sighted, barriers to trade that are being instigated by the US," Kenneth Creamer, an economist at Johannesburg's Wits University, told AFP.
China pledges to boost cooperation with BRICS nations
China has pledged to boost cooperation with fellow BRICS countries in response to soaring frictions with the US, as it seeks to cultivate alliances to help it weather a bruising trade war.
China will enhance coordination on macroeconomic policies with fellow BRICS members Brazil, Russia, India and South Africa in response to the "challenges posed by the changing policies of certain developed countries," said assistant foreign minister Zhang Jun.
The summit might also see the five nations hit out against US president Donald Trump's protectionist trade policies, while norms on greater financial integration and investment facilitation may be discussed, according to Business Standard.
At the meeting of the BRICS finance ministers earlier this year, the BRICS nations agreed to "fight against trade protectionism together". Chinese finance minister Liu Kun had said, "The BRICS should "firmly support economic globalisation and multilateralism and unequivocally oppose unilateralism and protectionism in any form."
BRICS Summit 2017
The five-nation economic grouping, for the first time, named Pakistan-based terrorist outfits Jaish-e-Mohammed (JeM) and Lashkar-e-Taiba (LeT) in its joint declaration, while asking all states to prevent terror activities from their soil and curb terror financing.
The joint declaration, which was issued at end of the Plenary Session of the BRICS Summit in China's Xiamen, called upon the international community to establish a "genuinely broad" international counter-terrorism coalition.
It reaffirmed that those responsible for committing, organising, or supporting terrorist acts must be held accountable and sought expeditious finalisation and adoption of the Comprehensive Convention on International Terrorism (CCIT) by the United Nations. The BRICS also called upon all states to prevent financing of terrorist networks and terrorist actions from their territories.
Four documents, including on economic and trade cooperation, were signed by all the five BRICS countries with an aim to deepen commercial ties among the grouping's members. Apart from the action agenda on economic and trade cooperation, the three other documents signed in the presence of BRICS leaders were action plan for innovation cooperation (2017-2020), strategic framework of BRICS customs cooperation and Memorandum of Understanding between the BRICS Business Council and the New Development Bank on strategic cooperation.
With inputs from agencies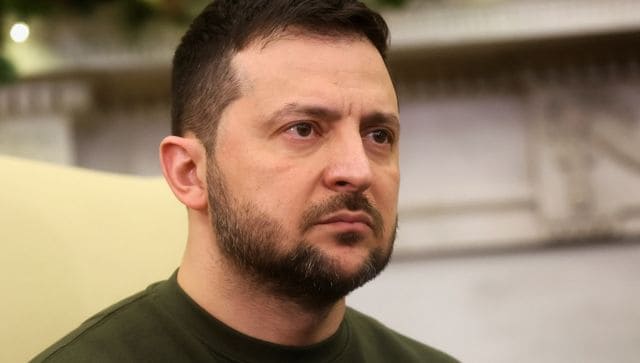 World
Ukraine is fighting two wars, one is against corruption. It has now launched a campaign to tackle the entrenched problem. But are dismissing ministers and raids on high-profile figures enough?
World
State power utility Eskom has scheduled power cuts every day this year, after a record number of days with outages last year. On Tuesday, it ramped up power cuts to the highest level on record
World
Africa's most industrialised nation has been hit by crippling blackouts, pushing thousands of consumers to take to the streets in protest this week. Mounting anger has led to several protests in recent days and lawsuits against the authorities