Brexit deal: Theresa May's no-confidence win was expected; need for 'Plan B' ensures uncertainty continues
May's win was expected as her own Conservative MPs and allies in Northern Ireland's Democratic Unionist Party led the charge against her Brexit deal and they did not want a Labour government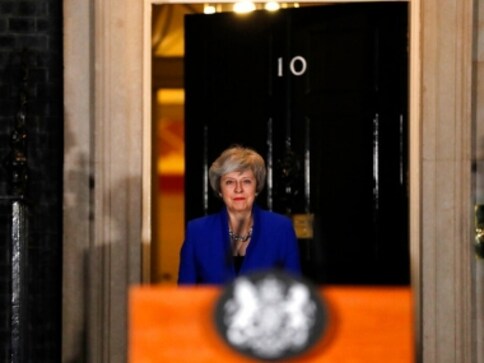 May's no-confidence win was expected as her own Conservative MPs and allies led the charge against her Brexit deal

Britain is grappling with how, or even whether, to exit the European Union

May has to chalk out an alternative plan that can win the support of Labour, Scottish National Party, or Liberal Democrat members of Parliament

Whether May compromises and changes her "red lines" to meet the demands of the opposing MPs will make all the difference
Prime Minister Theresa May won a confidence vote in the UK Parliament on Wednesday, just 24 hours after suffering a crushing defeat over her Brexit deal. After the victory, May said she believed the UK Parliament had a duty to find a solution that delivered on the 2016 Brexit referendum result.
May's win was expected. Even as her own Conservative MPs and allies in Northern Ireland's Democratic Unionist Party led the charge against her Brexit deal, they did not want a Labour government. But the political crisis looms, with the clock ticking down to 29 March: the date scheduled for Brexit.
Britain is grappling with how, or even whether, to exit the European Union (EU). The uncertainty surrounding Brexit remains elevated, at least for now, as the lawmakers are deadlocked on the way forward.
What next?
After the confidence vote, May appealed to lawmakers from across the political divide to come together to try to break the impasse on the Brexit divorce agreement. "Now (that) the MPs have made it clear what they don't want, we must all work constructively together to set out what the Parliament does want," she said in a statement.
May is now holding delicate negotiations as she searches for a compromise with her political adversaries that will deliver a Brexit deal.
She met several party leaders on Wednesday, but she needs to chalk out an alternative plan that can win the support of Labour, Scottish National Party, or Liberal Democrat lawmakers.
The main Opposition leader, Labour Party's Jeremy Corbyn, has refused to hold talks unless a no-deal Brexit was ruled out, while hardline Conservative Brexiteers and the Northern Irish party will not countenance a deal that keeps close ties with the EU.
Though British ministers have expressed that Britain would not leave the EU without a transition deal, considering all the developments, the United Kingdom could still face a disorderly "no-deal" Brexit (also known as Hard Brexit), a delay to Brexit, or even another referendum on the EU membership.
An official word on the UK government's decision will only come out once the negotiations end. May has until Monday to return to the Parliament with a Plan B for Britain's EU exit.
Because of Tuesday's rejection of May's deal, there's a great chance of a disorderly Brexit. This will have repercussions on Britons and EU nations.
Diet change for Britons
London has begun planning what to do about food supplies if Britain leaves the EU without an agreement with Brussels, The Times reported, citing plans revealed to the newspaper.
Although officials do not think there would be a general food shortage, perishable goods, such as vegetables from the Netherlands or fruit from Spain, could be held up at the border, if tough checks are imposed or the EU limits trade, said the report. The Zizzi and ASK restaurant chains will be switching from Italian to British mozzarella suppliers.
Meanwhile, businesses including Premier Foods, Quorn, and London's plush Fortnum and Mason emporium have said they will stockpile some products in case of delays at the border.
Return of The Troubles?
Concerns about a hard border in Ireland is increasingly likely. If UK leaves EU without a deal, it will spell trouble for locals along the Irish border. Brexit could disrupt the easy movement, negatively affecting lives, businesses, and the peace process.
Locals further worry that the border checks would be more than just an inconvenience. For residents, they are also an ominous reminder of three decades of sectarian conflict known as "The Troubles", when Republicans fought unionists and British troops over the status of Northern Ireland.
The conflict had ended when the border was rendered invisible by the 1998 Good Friday Agreement. "I lived through that and I saw both sides of it," 50-year-old Maria Cartwright told AFP.
"It was an absolute nightmare," she recounted — lamenting that Irish border communities were being "sucked into" the morass of British factional politics.
Much of the stated opposition to May's divorce deal with the EU is centred on the "backstop" provision. If the backstop is ever triggered, fish from Britain could also face customs tariffs on entry to Northern Ireland. BBC quoted a spokesperson for the Department of Environment, Food and Rural Affairs as saying: "Consignments of fish originating in England, Wales and Scotland that are moved to Northern Ireland would be subject to tariffs."
Cost of living to go up in Irish households
Prices of products like meat, sugar, coffee, tea, and mineral water are likely to increase by 20-30 percent, reported Irish Times. Along with the price hikes, there will be shortages as many products will have to take a long route to Ireland or be blocked entirely.
The overall effect of these changes would increase the average cost of living for Irish households by 2-3.1 percent which, in cash terms, means an annual cost of €892-€1,360 per household.
IT skills shortage to hit security, economy
According to research by Northumbria University and UCL, there will be a shortage of IT professionals after Brexit which will compromise the UK's economy, security and competitiveness in global markets. The research included a global survey of more than 250 professionals and academics working within the sector.
The researchers warned that the UK could see a huge shortage of IT skills and knowledge in education, business and wider society due to lack of a clear list of priorities by the government. They suggested actions like IT education in schools, and support to the development and funding of ICT research, development and innovation.
Hassle for UK citizens
About 1.3 million UK-born people are resident in EU countries. BBC noted that the current withdrawal deal would allow them to keep their current freedom of movement and other EU citizenship rights, until 31 December 2020 — when the Brexit transition period ends.
In case of a no deal, there is no clarity on what it will mean for UK residents living in France, Spain, Germany and elsewhere.
Most Britons will prioritise registering themselves as residents in the EU country. However, they will have to deal with the rules of the country they want to settle in.
Finnish prime minister Juha Sipilaa told Finnish news agency STT on Wednesday that the temporary permit will be issued so that the 5,000 Britons currently living in the country of 5.5 million can continue their stay if Britain exits the European Union without a deal.
Association of British Insurers (ABI) also warned UK motorists they will be breaking the law if they drive in the EU without special proof of insurance after 29 March, if politicians fail to strike a Brexit withdrawal deal.
A no-deal Brexit would have profound economic consequences. The Confederation of British Industry has warned the GDP will shrink by up to 8 percent, putting thousands of jobs at risk.
Leaving the EU without a deal could also lead to a recession in the UK. Bloomberg reported that the pound could fall as much as 25 percent and house prices could take a 30 percent hit in a "no-deal" situation. In case of a no-deal Brexit, The Guardian said quoting an Enders Analysis report, that the UK will witness its first advertising recession in 10 years, with spending expected to fall by nearly £1.4 billion in 2019 alone.
May faces the responsibility of bringing the UK out of the crisis. She can't insist on too many preconditions, neither can she risk going ahead without seeking consensus. She has to be open to several options like ruling out a no-deal exit, delaying Brexit, and finding a way to effectively eliminate the backstop problem. Whether she compromises and changes her "red lines" to meet the demands of the opposing MPs will make all the difference.
With inputs from agencies
Explainers
With inputs from agencies Read all the Latest News, Trending News, Cricket News, Bollywood News, India News and Entertainment News here. Follow us on Facebook, Twitter and Instagram.
Explainers
Mike Pompeo's book 'Never Give an Inch' is a memoir of his time as Donald Trump's top diplomat and CIA chief earlier. Let's take a closer look at the biggest bombshells
Explainers
Edgardo Greco, a convicted killer with links to Italy's most powerful organised crime group, the 'ndrangheta, was caught in Saint-Etienne. Living under an assumed name, he even opened a restaurant and was featured in a local newspaper piece that described him as Italian by birth but a local by heart