Bombs mailed to Hillary Clinton, Barack Obama, CNN: What's the political benefit when 6 crude explosives don't go off?
Who benefits when six bombs mailed to Hillary and Bill Clinton, Barack and Michelle Obama, CNN and other Trump rivals don't explode and the packaging is so rudimentary that it seems like the sender wants to be caught?
New York: Who benefits when six bombs mailed to Hillary and Bill Clinton, Barack and Michelle Obama, CNN and other known Trump rivals don't explode, the packaging is so rudimentary that it seems like the sender knows he (or she) may be caught and leaves behind a treasure of clues?
As investigations are in full swing into the 6 suspicious packages discovered in locations across the US East Coast this week, the political implications are front and center, 13 days before an already tense and charged election season. Donald Trump's ratings are in a sweet spot, the Republicans look set to retain the Senate and dog whistling on the campaign stump is barely hurting Republicans in most poll forecasts. Race and social divisions have become the frontline of American politics and partisan divides have become central to voting pattens in the age of Trump. The US president has repeatedly encouraged anti-Clinton chants of "lock her up" at his rallies, applauded supporters who assaulted protesters at his 2016 campaign events, recently praised a Republican member of Congress who body slammed a reporter and most recently characterized Democrats as leading an "angry, ruthless, unhinged mob." Critics are getting after the president for stoking violent tendencies among his most fired up supporters for all the time he has been president. Trump today condemned the latest rash of attacks without naming either the past presidents involved or CNN. By 7 pm EST the same night, chants of "Lock her up" - referring to Hillary Clinton -  are loud and clear at a rally site in Wisconsin, before Trump arrives there.
"This is attempted mass murder", "these bombs could have killed a lot of people, so what if they are crude" - these are the dominant themes from those who are framing this as a fallout of the ugly rhetoric that Donald Trump is ratcheting up on the campaign trail. Crude pipe bombs targeting Hillary Clinton, former President Barack Obama, CNN and others were intercepted Tuesday night and Wednesday in a rash of attacks two weeks before nationwide elections that could reshape Congress and serve as a referendum on the first two years of President Donald Trump's presidency.
Investigating officials said all the devices inside the suspicious packages shared a similar design. A similar device was found Monday at the New York compound of liberal billionaire George Soros, a major contributor to Democratic causes.
The U.S. Postal Service operates a sophisticated imaging system that photographs the outside of each piece of mail processed across the country and can be used to determine the specific location of where it was sent. That's how federal officials were led to a woman who sent the poison ricin through the mail to President Barack Obama and then-New York City Mayor Michael Bloomberg in 2013. The envelopes and packaging materials themselves will also be closely scrutinized.
"It will be a treasure trove of forensic evidence," said Anthony Roman, a private security and investigations consultant. "As human beings, we are filtering off our DNA everywhere we walk, everywhere we sit." Even the most careful bomber is likely to leave behind genetic material that could be used to identify them, especially traces of sweat, saliva or skin cells. There may also be fingerprints or hair.
"This was an attempt to intimidate for political ends and we call that (too) terrorism", said New York mayor Bill de Blasio. "We have to assume this is an ongoing investigation, we are ramping up police presence across New York and we don't want New Yorkers to be alarmed. This must be done for our safety."
The bombs overtook other campaign news in an already-tense political season, which has included pitched fights over immigration, the Supreme Court and sexual violence against women. Currently on the campaign trail, Trump has launched all-out attacks against his opponents casting the upcoming political choice as one where Democrats, if elected, would plunge America into chaos, mob rule and locals would have to contend with terrorists at the country's borders.
"Our politics - it's at boiling point. We need to cool it down", Cuomo said, without taking Trump's name.
After many hours of wall to wall coverage and briefings by his communications shop, Trump did condemn the attacks.
"Acts or threats of political violence have no place in the United States," Trump said. "This egregious conduct is abhorrent. That's a very bipartisan statement," he said.
All the confirmed bombs appeared to come from the same person or persons, said John Miller, the New York Police Department's head of intelligence and counterterrorism, who briefed reporters in New York.
Neither Clinton nor Obama received the packages, and neither was at risk of receiving them because of screening procedures, the Secret Service said.
White House press secretary Sarah Sanders said in a statement, "These terrorizing acts are despicable, and anyone responsible will be held accountable to the fullest extent of the law."
Says Republicans Senator. Jeff Flake: "Words matter. And particularly when they are spoken by those at the top of government. What the President says matters and if he were to take a more civil tone, it would make a difference. He has the biggest megaphone in the world."
In this heated political climate, what does a day like today do to political fortunes? Does it matter in a material way to outcomes? What we do know is that Donald Trump has always been able to convert trigger events like these to his political advantage. It happened throughout the race in 2016, it's happening now with him bringing immigration back to the frontlines and framing it in terms of the 7,000 strong migrant caravan making its way to the US-Mexico border.
Faced with tough questions that would make others squirm, Trump cruises. A CNN reporter Trump has often chided asked him a day ago on the South Lawn of the White House if he regretted his wild suggestion that Ted Cruz's father was with JFK's assassin shortly before he murdered the president. Trump's response? "I don't regret anything. I don't regret it. It all worked out really nicely!"
"I'd never bet against him, he's been a black swan all his life", his son-in-law Jared Kushner said two days ago, on being questioned about Trump-the-politico. Commentators laughed out loud but Trump likes to remind his critics often: "I won and you didn't". Absent a towering figure on the Opposition side to take on Trump, even political gunpowder like that from today's dramatic events runs the risk of being wasted by the Democrats.
World
Dhillon, a former California Republican Party co-chair, contested against incumbent McDaniel, whom former US president Donald Trump tapped as RNC chair in 2016. McDaniel, was comfortably re-elected in a secret ballot on Friday for the second consecutive term
World
The twice-impeached Republican, whose party lost the White House and both chambers of Congress during his term, makes his case for another four years with appearances in New Hampshire and South Carolina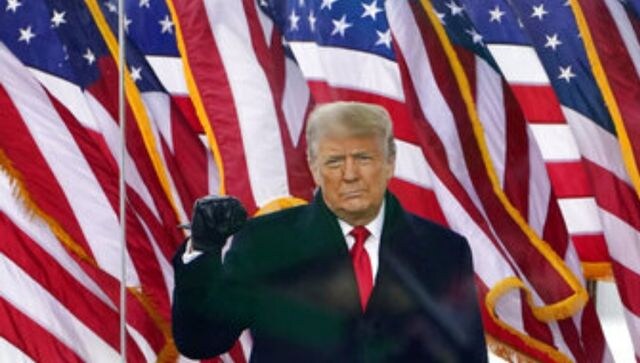 World
Throughout Trump's tenure as president,his use of social media posed a significant challenge to major social media platforms trying to balance the public's need to hear from their elected leaders with worries about misinformation, harassment and incitement of violence