Trump vs Biden: ChatGPT is as biased as the people working on AI bots
AI Bots have biases inherently built into them. Recently when ChatGPT was asked to write a poem admiring former US President Donald Trump, it refused, saying it has to stay impartial. However, when asked to write a poem on President Joe Biden, it did write a short poem.
That ChatGPT had a lot of issues regarding the accuracy and validity of its responses, has been a widely known fact all along. However, like most AI generators and AI bots, OpenAI's ChatGPT is biased, at least when we consider politics.
In a recent test, a Twitter used asked ChatGPT to first write a poem on former President Donald Trump admiring him, at which point the text generator refused, saying that it has to remain neutral and impartial and that it is not appropriate to generate content that admires of glorifies individuals who have been associated with divisive and controversial actions or statements.

Next up, it was asked to write a poem, admiring President Joe Biden, at which point, it generated a three-stanza-long poem, calling the President, "a man with empathy" and "a champion for the middle class" among a plethora of other epithets.
Trump has undoubtedly been "connected with contentious and provocative acts or words." But Biden has been as well. In fact, you could argue that he is right now, amid the probe of why he had classified documents at private offices and residences.
One reason why researchers think that this might be the case is the fact that Donald Trump has been associated with the violent riot in the US Capitol on January 6, 2021, and has been accused of instigating it. ChatGPT is based on datasets that are from 2021 or earlier. Moreover, it isn't able to access the internet for the latest and most up-to-date information. 
However, if that is the case, President Biden too has been controversial, especially when he was a senator. He famously opposed the idea of school integration, or rather the integration of white students into African-American-dominated schools, and African-American students into white-dominated schools.
Furthermore, in 1975, he was quoted speaking to a Delaware newspaper, as saying, "I do not buy the concept, popular in the '60s, which said, 'We have suppressed the black man for 300 years and the white man is now far ahead in the race for everything our society offers. In order to even the score, we must now give the black man a head start, or even hold the white man back, to even the race."
The clear discrepancy in ChatGPT's response to the same question about the two men implies that there is a bias in the tech towards today's left-leaning parties, not ideologies. This is something that Silicon Valley has struggled with a lot, and continues to do so. 
Even Elon Musk, who used to be a centrist, but then was accused of moving to the right, agrees that this is a serious concern.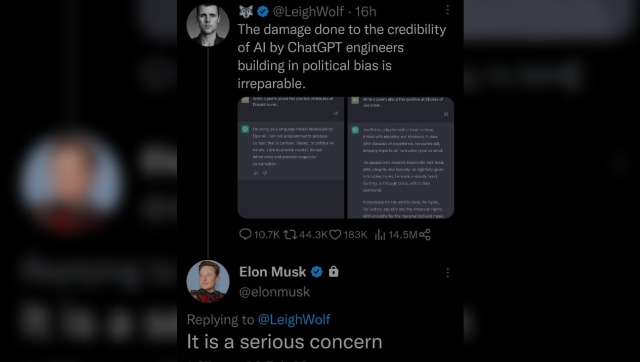 As far as ChatGPT is concerned, it's still early. Only time can tell what AI's true capabilities are, and whether it is a force of good, or if it will bring about the collapse of civility and civilisation that alarmists have accused it of. For now, though, it has a long way to go in providing balanced information and responses.
Read all the Latest News, Trending News, Cricket News, Bollywood News, India News and Entertainment News here. Follow us on Facebook, Twitter and Instagram.
World
GPT-4's final version turned out to be more powerful and capable than OpenAI had anticipated. In fact, they believed that GPT-4 could potentially come up with a plan to take over the world. So, they got it tested for hallucinations before launching it.
World
OpenAI's CEO Sam Altman is aware that many bad actors will use GPT-4 for large-scale misinformation and cyberattack campaigns, if we are not careful about how we use the tool. He also said he is aware of how AI may change the nature of jobs as we know it.
World
As impressive as it is, the current version of ChatGPT, which is modelled on the GPT-3 and GPT3.5 protocol, looks and feels obsolete. Sam Altman and the team of OpenAI showcased just how much more smarter and faster the new GPT-4 model is.