Amid acute food crisis, North Koreans envy 'plump cheeks' of Kim Jong Un's daughter
"Most people aren't able to eat properly so their cheekbones stick out from their faces. People of South Pyongan province, which is located north of the city, contrast Kim Ju Ae's chubby appearance with the undernourished kids in their area'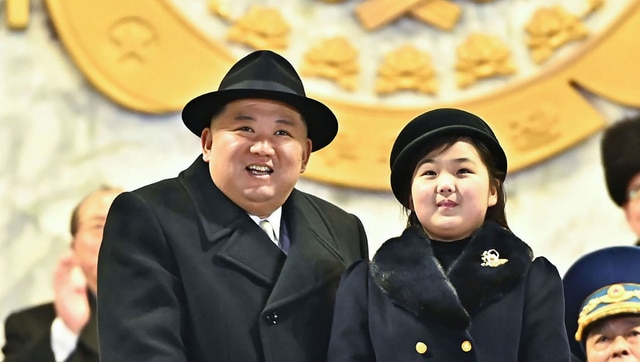 Pyongyang: North Koreans secretly envy its supreme leader's Kim Jong Un's young daughter as she appears to be well fed while other children in the reclusive country go hungry, agencies reported.
According to the reports, a local citizen of the hermit kingdom recently told Radio Free Asia's Korean Service that in each public presence, the people of North Korea can't help but notice Kim Ju Ae's 'plump cheeks'.
The girl, who is thought to be around 10, was spotted with the president of the nation last week as North Korea launched an intercontinental ballistic test missile.
It is one of a few cameos she has made recently.
"The people are saying things like, 'She must be eating so well, her face is so white and plump like the moon,'" said the source, who is from North Pyongan, but did not wish to be identified, told the news agency in the Feb. 28 report.
"Most people aren't able to eat properly so their cheekbones stick out from their faces even more than ever before," he added.
According to a different source, people in South Pyongan province, which is located north of the city, contrast Kim Ju Ae's chubby appearance with the undernourished kids in their area.
The second source told RFA that people were upset to see the Beloved Child's chubby white visage so frequently in propaganda.
"The children of the common people, who are unable to even eat three meals a day due to a shortage of food, "look so different from her, they say," the source added.
The second source grumbled to the media outlet that it was hypocritical for officials to punish high school students for wearing trendy clothing or growing their hair long, both of which were seen as homages to capitalist culture, while the daughter paraded around in designer clothing.
The person claimed that Kim Ju Ae's attire and appearance were totally unrepresentative of what an ordinary teenage female could get away with.
According to South Korean authorities, it is still too early to say whether Kim Ju Ae will succeed her father, despite rumors to the contrary.
Kim's youth and the predominance of men in North Korea, according to South Korean Unification Minister Kwon Youngse, are two factors that will prevent his daughter from becoming the country's next leader.
Because state media have referred to her as Kim's "most beloved" or "respected" kid and have published pictures of how close they are, some experts think she will be the next in line.
This month, South Korean officials calculated that their rival nation was experiencing an 800,000 metric ton annual rice shortage. According to a recent UN study, by the end of 2021, 60% of North Koreans were estimated to be food insecure.
Read all the Latest News, Trending News, Cricket News, Bollywood News,
India News and Entertainment News here. Follow us on Facebook, Twitter and Instagram.
also read
Explainers
North Korea's attempt to launch its first military reconnaissance satellite ended in failure Wednesday, with the rocket and its payload crashing into waters west of South Korea
World
The results of a study performed by the Korea Institute for National Unification (KINU) indicate that public support for South Korea's possession of nuclear weapons has significantly decreased
World
North Korea has ramped up military development since diplomatic efforts collapsed in 2019, conducting a string of banned weapons tests, including test-firing multiple intercontinental ballistic missiles