Oppo, of late, has been pushing the boundaries of smartphone design, and that trend isn't stopping with the F9 Pro. It was just a few weeks ago that we saw the truly bezel-less Find X smartphone arrive. With its 93.8 percent screen-to-body ratio and its pop-out camera module, it was an exciting new design that suddenly made every other flagship smartphone just feel old. At a time when there's no escaping the notch, the Find X was a breath of fresh air. The Oppo F9 Pro, while it doesn't have that fun little pop-up camera, does at least push the boundaries of design with yet another exciting new glass back and an unusual "waterdrop notch". Right off the bat, you notice its exquisite screen with minimal bezels, thanks to that notch, and the blue-black shimmering rear with its diamond pattern. That back is breathtaking to look at from any angle.
After having used the Oppo F9 Pro for a week, I felt it had a lot going for it: stunning design, great display, great camera, average performance and decent battery life. It seemed like a recipe for success.
But then it happened. Xiaomi launched the Poco F1.
Suddenly all recommendations about the F9 Pro stand challenged. As I stare befuddled at what the Poco F1 is offering, I'm wondering if any other phone in the price range is worth bothering with. At Rs 20,999 Poco F1 offers the most powerful chipset on an Android phone, the Snapdragon 845, and this is paired with 6 GB of fast LPDDR4X RAM and 64 GB of UFS 2.1 memory. The F9 Pro, which costs Rs 23,999, suddenly seems extremely feeble in comparison now doesn't it? And it isn't just the F9 Pro, going purely by the specs on the Poco F1 (our review is coming soon) and its price point, all phones between the Rs 18,000 and Rs 35,000 price bracket will now suffer the presence of the Poco F1.
Why bother with the F9, then? Well, it's just so pretty!
As powerful as the Poco F1 is, the last thing you'd do is call the phone elegant. The F1 is a phone with a plastic back, massive bezels and a notch to match. The Oppo F9 Pro is a phone with an exquisite glass back and a more elegant notch. To put it simply, the Oppo F9 Pro is a delight to look at.
If looks matter to you, and you are looking for a big, beautiful display within a budget of Rs 25,000, you should definitely pick the F9 Pro. Throw in a decent camera to match those looks and you end up with a phone that you won't regret buying. Now let's talk about the phone in more detail.
Build and Design: 8.5/10
Just like the Oppo Find X before it, the Oppo F9 Pro has a commendable screen-to-body ratio of 90.8 percent (the iPhone X's ratio stands at a paltry 82 percent). The F9 Pro does have a notch, which the Find X didn't have. However, the notch is so tiny that it barely seems to exist. It's a tiny drop on a very pleasing screen.
The back of the phone is more mesmerizing than the front. A shimmering blue-black diamond design which shifts between the two colours at different angles, it is lovely to look at.
The dual-camera sits at the top-left in a horizontal layout, along with an LED-flash. The fingerprint scanner blends in with the gradient colour and would have been indistinguishable from the back if it weren't for those physical grooves.
At the bottom, we see a 3.5 mm headphone jack along with a micro-USB 2.0 port. On the left side of the phone is the volume rocker and on the right side is the power button. Both the sides have blue and black colour gradients as well.
With a glass-backed phone, I'd automatically recommend a cover, but I don't think I want to in this case. It would be a criminal waste to hide that stunning gradient and pattern. However, if you have butter fingers, then a transparent protective case is advisable.
Features: 7.5/10
The Oppo F9 Pro has a 6.3-inch IPS FHD+ LCD display with 2340 x 1080 pixels and Corning Gorilla Glass 6 for protection. The tiny notch on the top and small chin gives the phone a 90.8 percent screen-to-body ratio. The earpiece sits on top of the notch at the very edge where the display meets the top frame.
As far as hardware goes, the F9 Pro has an Helio P60 chipset along with 6 GB of RAM, and 64 GB of internal storage. The storage can be expanded to 256 GB using a microSD card. The phone has the Android 8.1 Oreo on it with Oppo's ColorOS UI running on top.
In the camera department, we see that the Oppo F9 Pro has a dual camera system with a 16 MP primary sensor with an f/1.8 aperture along with a 2 MP depth sensor and an f/2.4 aperture. On the front we see a 25 MP front facing camera along with an f/2.0 aperture.
All the usual connectivity options are present, such as dual-SIM 4G VoLTE SIM slots, Wi-Fi 802.11 a/b/g/n/ac, dual-band, WiFi Direct, hotspot, Bluetooth 4.2, GPS and also a 3.5 mm headphone jack. The phone has a microUSB 2.0 OTG port and the entire setup is powered by a 3,500 mAh battery. More importantly, the phone has Oppo's proprietary SuperVOOC charging technology, which was also seen in the Lamborghini Edition Oppo Find X. In other words, it can charge really fast and we'll get into that in more detail in the battery section.
Display: 8/10
There's a small chin and a drop-like notch. The rest is just 6.3-inches of display, and a very good one at that. Apart from a slight issue of brightness, I don't think that I could have any complaints regarding the colours or the quality. I liked how the earpiece is just a slit on the top and how Oppo has managed to optimise that notch space for the earpiece speaker as well as the camera. The Essential phone had impemented the very same design, although the notch was more of an unsightly slit than an elegant water-drop. Thumbs up to Oppo for that.
In my day to day usage, this drop-like notch becomes nearly invisible even when videos are being played. Although for people who absolutely detest the notch, that slight hindrance might also be a problem. But know this, the F9 Pro's notch is as small as it can get unless you can afford the pop-up camera-sporting, notch-less Vivo NEX or Oppo Find X, then it's a different matter.
On doing a comparison between the Nokia 7 Plus, Honor Play and the Oppo F9 Pro, I found that the F9 Pro had the brightness screen and the best colours. My colleagues felt that it was a bit too saturated, but to my eye, colours on the F9 Pro looked better than on the Honor Play or the Nokia 7 Plus. If you like punchy colours as I do, you'll be happy with the F9 Pro.
Initial comparisons with the Poco F1 revealed that the F1's display had nearly the same contrast and colours as the F9 Pro. However, the big notch and the big chin put a damper on things, making F9 Pro the champion.
Software: 7/10
As I've mentioned before in my earlier reviews, if it's not stock Android or near stock Android (read Oxygen OS) then the proprietary OS shouldn't at least be full of bloatware. Oppo's Color OS 5.2 UI which runs on Android 8.1 Oreo is quite similar to Vivo's FunTouch, Xiaomi's MIUI or Samsung Experience in terms of bloatware
What is bloatware you ask? It is that constant "Sign in to Your Oppo ID" on top of the settings menu even though I really don't want to sign in. It's those Music, Gallery and Phone Manager icons that I don't use and also can't move from their fixed positions on the home screen. It's that irritating smart assistant that will always remain there on the home screen and can't be disabled.
All of this is not an issue when you use a stock Android UI such as the one in the Nokia 7 Plus or the Mi A2.
Obviously, it does come down to personal preference, and there might be some of you who might be a fan of the features on Color OS. Nonetheless, there are few things that I'm not a fan of, including how ColorOS is more than inspired by iOS.
One thing that bugs me is the notification system on ColorOS. For instance, when you get a notification, you cannot remove them by just swiping. You have to swipe them and then press the bin icon to remove the notification. Why is there an extra step for removing a notification? I have no clue.
There's no app drawer which is always a bummer for me (a personal choice). The gesture's on the F9 Pro are not as good as the Oppo Find X and I found myself shifting back to the on-screen navigations.
However, there is a cool feature called Full Screen Multitasking lets you open an app as a floating window and chat over a video when in landscape mode. Only a few apps support this feature right now, but I hope that more follow suit.
You might like the ColorOS for its…. let's say colourfulness, but overall, it seems to me that Oppo is just forcing a lot of its unrequired features down the user's throat. A clean and responsive OS would really go hand-in-hand with this otherwise wonderfully designed smartphone.
Performance: 6/10
Here, I've not choice but to hand it to the Poco F1 for its mind-boggling Snapdragon 845 SoC at a price of Rs 20,999. This has completely disrupted the mid-range price segment, at least in terms of performance. In no way is the Mediatek Helio P60 powering the Oppo F9 Pro in any way a competitor to the most powerful chip in the Android world. The Hello P60, by the way, is the same chip that powers the Rs 9,000 Realme 1.
The following benchmarks ably demonstrate this point.
Benchmarks are not an accurate indicator of real-world performance in day-to-day use, but they are an indicator of relative performance in a standardised test environment.
The performance difference might seem scary, but we must remind ourselves that the Oppo F9 Pro is not a performance or gaming phone and hence must not be treated as one. The phone's USP is the elegance of its design. Nobody in their right mind will ever consider an Oppo phone for gaming.
Comparing the phone's benchmarks to notable competitors with similar chipsets, we see that like the F7 before it, the F9 also has nearly the same results as before.
Editor's note: We'd like to point out that Oppo has been caught cheating on benchmarks on several occasions, most recently with the Oppo F7, which uses the same P60 chip. Since the F9 Pro's performance matches that of the F7, one can assume that something similar is happening here. For its part, Oppo has claimed that the artificially boosted performance in certain benchmarks is a result of its "AI" engine at work.
As a gamer, I cracked a couple of rounds of PUBG on the phone and unsurprisingly I had to run it on minimal settings to get a steady frame rate. The result was the same with Asphalt 9. In other words, heavy gaming is a no-no on the F9 Pro.
In terms of audio, the phone retains a headphone jack and gets a thumbs up from my side. The single speaker on the phone's bottom, though loud, sounds hollow and crackles.
The phone's face unlock and fingerprint mechanism are lightning fast, and at par with the OnePlus 6. Voice quality via the phone's slit of an earpiece also seems to be good enough
Camera: 7.5/10
The F9 Pro houses a very good camera. Its 16 MP + 2 MP setup can take great photos, they're colourful and bright. The camera has a slightly faulty exposure calibration mechanism, but I really don't mind it that much. As a matter of fact, for those who are casual mobile photographers, this difference won't even be visible unless pointed out.
The same is true for saturation levels in each photo. While the phone's rear cameras have good dynamic range, they tend to make colours more vibrant than necessary. For example, plants may appear greener than they are or the sky appears a deeper blue than it really is. As a reviewer, this bugs me, but I'm an insignificant minority. Yes, the colours are pumped up, but I don't think most people will care. They look nice and vibrant and are great for social media.
Just FYI, there is also some Vivid Mode feature in the camera app which will make the already saturated photos even more saturated and unrealistic. I highly recommend you turn that feature off.
Surprisingly, the phone performs quite decently at night, which is not what I can say for the Honor Play or the Nokia 7 Plus. Exposure in low light is quite commendable for the F9 Pro and so is the colour reproduction. In fact, I was so impressed that I went ahead and tried to compare it with the OnePlus 6. The fourth comparison result below will explain why Oppo is Oppo and OnePlus is OnePlus.
The video recording capabilities on the phone are average at best. There is obviously no OIS or EIS so the video is quite shaky. Also, 1080p and 720p are the only modes in which you can shoot videos. On the Nokia 7 Plus, you at least have the option of shooting 4K video, and it also has EIS. The Oppo F9 Pro is certainly not meant for the best video shooting experience.
Coming now to the front camera, it comes as no surprise that the 25 MP front-facing camera takes extremely good selfies. Oppo has long established its selfie chops and the F9 Pro is no different in that regard. However, by comparison, the Nokia 7 Plus did take better selfies while the Honor Play's selfies are not even worth mentioning.
For high-resolution images clicked from the Oppo F9 Pro, check the Flickr album below
The Oppo F9 Pro takes great, social-media-worthy images. For better images and video quality, you want the Nokia 7 Plus.
Battery: 7/10
The 3,500 mAh Li-Po powerhouse in the F9 Pro lasted me a full day and by the end, I still had about 10-12 percent battery left. I would have easily gotten up to 4 hours of screen on time, which is decent enough on large display such as the F9 Pro. Also, the battery does not heat up during processor-heavy tasks.
However, when I ran the standard PC Mark 2.0 Battery test on the phone, it did not work. I have faced the same problem with the Honor Play as well.
What is more impressive is that the phone has VOOC fast charging technology which directly rivals OnePlus' Dash charging technology. I did a small comparison between the OnePlus 6 and the Oppo F9 Pro by charging both phones from 25 percent to 75 percent while on airplane mode. Oppo does not show a battery graph so I had to install a third-party app on both devices to get a good representation. The F9 Pro and OnePlus 6 charged from 25 to 75 percent in 29 and 28 minutes resepectively, which is quite good. Thumbs up for that.
Verdict and Price in India
Buy this phone for:
The best display at its price
Vivid and colourful photos
VOOC charging
Amazing rear panel design
Avoid this phone if:
You're into gaming
You love the clean, stock Android experience
You shoot a lot of videos
As I've repeated multiple times in my review, the Oppo F9 Pro is gorgeous. This is the phone that will get you those 'oohs' and 'aaahs' when you whip it out in public.
It's not the fastest phone and neither does it have the best camera. It is, however, fast enough for regular use, as is the camera. And you can't really argue against that great display.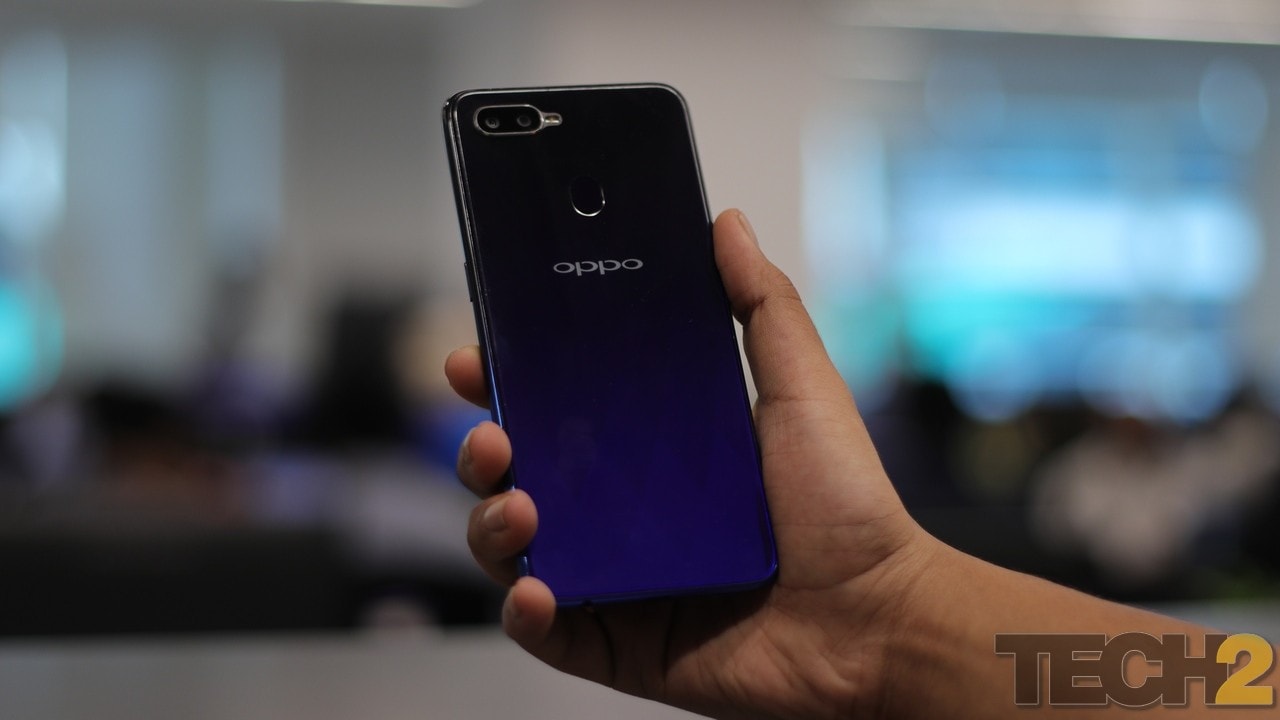 If you do want a more pleasant software experience, a more accurate screen and amazing photos, it's definitely worth shelling out a couple of thousands more for the Nokia 7 Plus, which, by the way, looks stunning as well.
If you are into heavy, performance-related tasks (such as playing PUBG), then the F9 Pro is not the ideal choice. I mean sure, the game would look great on the screen, but it won't run all that great.
The Poco F1 is the very definition of a powerhouse, but it's for people who know they want that power, for people who can appreciate the performance benefits of the Snapdragon 845. The Oppo F9 Pro is not that phone.
The Oppo F9 Pro is available now for Rs 23,990 as a Flipkart exclusive. The phone comes in two colours, Twilight Blue and Sunrise Red, both of which look stunning.
Find latest and upcoming tech gadgets online on Tech2 Gadgets. Get technology news, gadgets reviews & ratings. Popular gadgets including laptop, tablet and mobile specifications, features, prices, comparison.