Shomik Sen BhattacharjeeNov 14, 2018 13:56:02 IST
The Mi Band kickstarted the trend of affordable fitness trackers and its successor, the Mi Band 2 came loaded with a bunch of upgrades. But that was back in 2016. It took Xiaomi two years to launch the Mi Band 3 and though the fitness band market isn't as convoluted yet, there are options from the likes of Lenovo and Fastrack that offer fair competition.
Having spent a month with the Mi Band 3, the band doesn't offer a lot more when it comes to features if you're coming from a Mi Band 2. Everything is a bit more refined but given the limitations of a fitness band, it still isn't perfect. But if you are looking for a fitness band that fits a budget of Rs 2,000, then there's still no looking past the Mi Band 3. Read on to find out why.
Build and Design: 8/10
The band has a curved OLED display that makes it look more premium than what you pay for. As was the case with the Mi Band 2 and the original Mi Band, the new Mi Band 3 also has a design that feels very nimble on the wrist. It weighs just 20 grams and can be worn throughout the day without a worry. We got the black strap with the unit for review, but you can opt for blue and red straps as well if that's your fancy.
The capsule-shaped central module sits tightly inside the thermoplastic elastomer casing and is not going to pop out even if you are sprinting, swimming or working out in the gym. Xiaomi also says that the latching mechanism on the new band is better as compared to Mi Band 2 and will not degrade over time. The latch itself, however, looks pretty much the same when compared to its predecessor.
Having used the Mi Band and then progressed to the Mi Band 2 and the Mi Band HRX edition later, I've never had an issue with the latching mechanism as such. What I do have an issue with is the silicon band itself. With rough everyday use, the band has worn on me every time after a period of 5-6 months and getting a replacement band isn't the easiest of things given the demand for these bands. The general quality feels no different with the Mi Band 3 and the longevity of the silicon band itself will differ depending on how roughly you use it.
Display: 8/10
The Mi Band 3 comes with a 0.78-inch monochrome OLED display which is a jump from the tiny 0.42-inch display on its predecessor. The biggest difference this time though is that you now get a touch-responsive display which lets you see and do a lot more than before. In my experience though, the addition is a double-edged sword.
While it does help you see and do a lot more things on the display, if you do happen to be sweaty or if the surface of the display has any water droplets on it, the touchscreen immediately begins to misbehave. But again, no other fitness band at this price point lets you have a touch-enabled display.
Xiaomi also keeps the button which was your only mode of navigation on the Mi Band 2. The button is more recessed this time but it still is an important component in getting things done on the device.
The display also fairs quite poorly when it comes to visibility under direct sunlight. Looking at the Mi Band 3 and my older Mi Band HRX edition side by side does reveal that the new band is a tad bit brighter, but it's still not good enough. That said, it still is the best display you can get for the price since its direct competitor, the Lenovo HX03 has a display with comparatively poorer brightness.
Features and Performance: 8/10
As a health tracker, the Mi Band 3 can do a lot. It can track calories, count steps, monitor your heart rate and register sleep data just as its predecessor would. The heart rate monitoring seems fairly accurate and consistent even when compared to readings from a Samsung Gear Sport which costs ten times its price. Xiaomi also lets you choose the intervals at which you would want the band to automatically read your heart rate. You can choose between one, 10 and 30-minute intervals for heart rate monitoring. Having the automatic heart rate sensing feature on though does hamper battery life, something on which I will touch upon later.
The sleep tracking is basic but accurate. You basically just get the total time spent sleeping, along with how that time was divided between light and deep sleep. But this again is something the Mi Band 2 and the Mi Band did as well. Sleep detection is still automatic, so you won't need to remember to tell the Mi Band that you're going to bed.
This may come across a little strange but I did go to sleep with both the Band 3 and HRX edition band on my wrist to check for any difference in readings. While both returned with identical deep sleep readings, the Band 3 was able to pick up minor intervals when I woke up to check notifications on my phone and went back to sleep. This was quite impressive since I moved quite a little while doing so.
The Mi Band 3 only has four activity profiles — outdoor running, treadmill running, walking and cycling. If you plan to lift some weights or track yourself while taking a swim, then you're out of luck. The same goes for pretty much any other kind of activity. You can time yourself with a stopwatch that can be triggered by the band itself which is a standard feature on most fitness bands.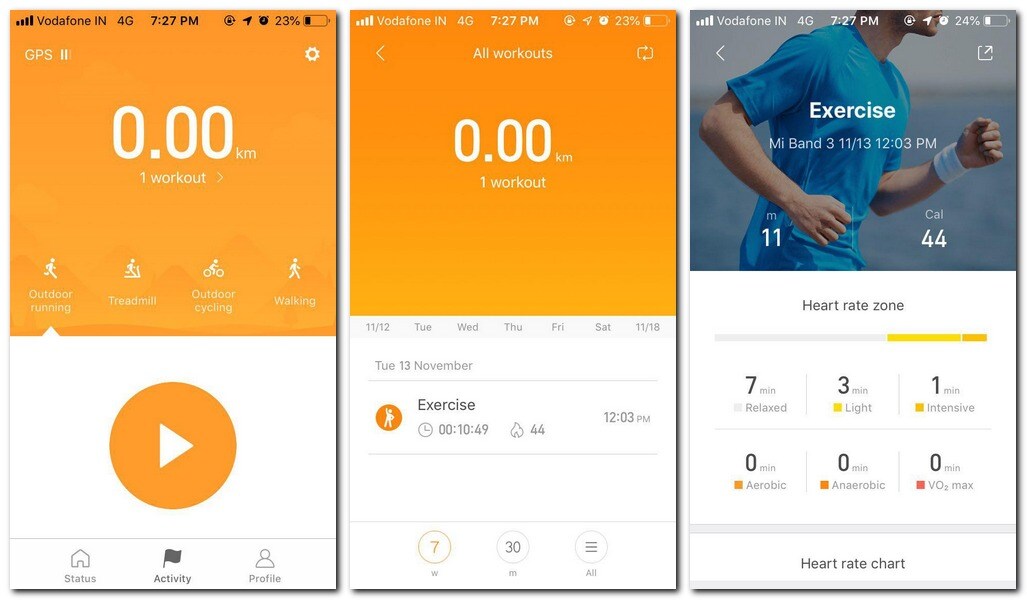 The other half-baked idea that Xiaomi decided to add here is the ability to see who's calling you and also take a peek into your SMS and WhatsApp messages. Why I see this as a half-baked idea is because the tiny display lets you barely read three-four words at a time after which you'll anyway have to use your other hand to swipe to the next page. This may be helpful during a walk or run to see who's messaged you but beyond that, I found the feature quite unnecessary. You can also reject calls by holding on to the button on the band when someone calls you which can be handy if you receive a lot of unnecessary spam calls during the day.
You can also keep a track of the weather on the Mi Band 3 which again is handy if you're in your apartment and not quite sure about the weather outside. Beyond that I barely found myself using the information on my band to check on the weather.
The other underrated feature for me had to be the 'Find my phone' feature which lets you find your phone if it is within Bluetooth range. Talking about Bluetooth range, I had my band connected to both an iPhone and an Android device and did not have an issue with range. The pairing mechanism for iOS devices is a little cumbersome, but once you're paired, you should have no issues with connectivity. The Mi Fit app is also identical on both Android and iOS so there's no fear of losing out on functionality either.
The Mi Band 3 also features a 5 ATM IP rating which means that the band is fully protected for use in a shower or taking it for a dip in the pool. As long as you don't plan on scuba diving with the Mi Band 3, water resistance shouldn't be a problem at all.
Software and Firmware Updates
As far as updates go, I received one firmware update over my four weeks of use. The update process is quite simple and all you have to do is sync your band with the Mi Fit app and the rest is taken care of. The update added an exercise feature onto the band which counts calories and tracks heart rate over the number of minutes you spend exercising. I wasn't quite sure what Xiaomi meant by 'exercise' here so I went for a short jog. It only recorded minutes, calories, break down of heart rate zones and a heart rate chart with maximum and average heart rate readings. A Reddit thread also saw users quite confused about what exactly is referred to as 'exercise' here.
The update arrived just two days prior to me penning this review, so I will have to find out more on what this feature caters to. I have also written to Xiaomi regarding this and will be updating this section once I hear from them.
Battery Life: 8/10
The battery unit on the Mi Band 3 has been bumped up marginally to 110 mAh from the 90 mAh unit on the Mi Band 2. But does that essentially mean more battery life? Well, no.
The larger display and the automatic heart rate sensor are definitely the key factors here. With the heart rate tracking set to one minute, the battery life is roughly two days. That is quite impressive, but certainly something to keep in mind if you're switching from previous Mi Bands, which consistently offered weeks of battery life. Of course, they did not feature heart rate tracking. With 30-minute tracking, the Band 3 can impressively last for a couple weeks which is more than enough juice for most people.
To sum it up, the battery has consistently been one of the major upsides of Xiaomi's Mi Band series and the Mi Band 3 is right up there with its predecessors.
Verdict and Price in India
The question that needs addressing first is this: Is the Mi Band 3 truly an upgrade over the Mi Band 2?
Yes, it is. Right from the design to how the trackers have been improved on the band, it is a testament to how much effort Xiaomi has put in to refine a budget-oriented fitness band and still managed to keep the price down to Rs 1,999. The Band 3 also has a number of new features which certainly need more polishing but are nifty additions.
As long as you aren't a serious athlete, you'll probably get everything you need from this device. From notifications on your wrist to in-depth heart rate monitoring the Mi Band 3 offers it all. The stellar battery life and good build quality for the price also make it hard to beat.
You can shell out an additional Rs 200 and get the Lenovo HX03F Spectra which offers a colour LED display but you do get vastly fewer features in comparison. The same goes for the Lenovo HX03 Cardio which offers far less for the same price.
You can also pick up the Mi Band 3 on any of Xiaomi's offline Mi Home stores which solves the problem of e-commerce sites like Flipkart having to replenish their stock from time to time.
Find latest and upcoming tech gadgets online on Tech2 Gadgets. Get technology news, gadgets reviews & ratings. Popular gadgets including laptop, tablet and mobile specifications, features, prices, comparison.