22:11 (IST)
Google Pixel 3: Specs and availability
OS: Android 9.0 Pie
RAM: 4 GB
Storage: 64/128 GB
SoC: Qualcomm Snapdragon 845
Battery: 2,915 mAh, 18 W fast charger included, Qi support
Colours: Clearly White, Just Black, Not Pink
Pre-orders begin 11 October
Devices to be available from 1 November.

​Pixel 3, 64 GB: Rs 71,000
Pixel 3, 128 GB: Rs 80,000
Pixel 3 XL, 64 GB: Rs 83,000
Pixel 3 XL, 128 GB: Rs 92,000
21:46 (IST)
Your own personal Google
Designed from the inside out to offer your own personal Google, says Osterloh.
We're taking user wellbeing very seriously.
All devices are available on store.google.com.
And that seems to it. A rather quick and low-key event for products that deserved more.
21:42 (IST)
Google Pixel 3 prices
Google Pixel 3: $799, arrival on 19 October
Pixel Stand: $79
For now, these are US launch dates and prices.
21:41 (IST)
Pixel Stand
The phone will provide a totally different experience when charging. Introducing: The Pixel Stand.
The stand changes the way you interact with the phone. The UI changes to be visible from across the room. The alarm is also more thoughtful. The screen, for example, will brighten more slowly.
21:38 (IST)
Google Pixel stand with Google Assistant announced
21:37 (IST)
Flip to Shush!
You can flip the Pixel to shush all the notifications.
21:36 (IST)
No more pesky spammers
Just tap "Screen Call" when you get a call and the phone will automatically answer the call and ask who's calling and why. The conversation is transcribed in real-time on the screen. You can then simply ask Google to send a quick reply or mark the call as spam. You can, of course, answer the call if you feel like it.
This is game-changing!
21:36 (IST)
When is Google Duplex coming though?
The highly anticipated #GoogleDuplex feature is going to come to Pixel devices this month... or maybe next month. Google ain't sure.

— Tech2 (@tech2eets) October 9, 2018
21:34 (IST)
Google Lens
Google Lens support is integrated into the phone. Google's calling such features "superpowers".
Motion AF will continuously track moving objects and maintain focus. Other features will track smiles and take pictures automatically only when you're smiling.
A whole suite of such features will enhance your Google experience.
21:32 (IST)
21:32 (IST)
AR also comes to Pixel
Google has partnered with Marvel, and even Childish Gambino to bring AR stickers to Pixel devices. This feature will also be rolling out to older Pixel phones.
21:31 (IST)
21:30 (IST)
Group selfies come to Pixel
The phone's dual front cameras can capture "group selfies", i.e. wide-angle photos. Yay!
21:29 (IST)
Night Sight: You'll never need a flash again
Versus the iPhone XS, the Pixel 3 camera seems worlds apart! Images are brighter and cleaner, though this is a Google demo.
The feature is coming to older Pixels as well.
21:29 (IST)
Haha! We see what you did there Google!
21:28 (IST)
Top Shot: Smiles instead of sneezes
Cue compilation of the worst possible photos we've ever taken.
Top Shot will skim through the burst of photos it captures for every shot you want to take and pick the best image for you, images with smiles, open eyes and everything else that makes an image great.
21:26 (IST)
The camera is "generations" ahead
Pixel captures a burst of photos and combines them algorithmically. This is "generations" ahead of the competition, says Google.
Pixel Core, the AI that drives Pixel's camera, is now integrated into Pixel 3.
21:25 (IST)
21:25 (IST)
Google Pixel 3 announces a partnership with Annie Leibovitz
21:23 (IST)
The smartest camera gets even better
Google is partnering with Annie Leibovitz. She will travel the world and take photos with it.
Other top photographers have shot magazine covers using the phone.
21:22 (IST)
Finally, the phone
Google has finally decided to start talking about the phone.
The phone features a matte-finished glass back. It'll be available in 3 colours, black, white and pink.
The display is a 6.3-inch unit and is a flexible OLED.
The speakers are 40% louder, it seems. Pixel 3 owners will get 6 months of free YouTube Music.
21:22 (IST)
21:20 (IST)
Prices of the Google Pixel Slate, the Pixel Slate keyboard and the Pixelbook Pen announced
21:19 (IST)
Pixel Slate pricing
Google Pixel Slate: $599
Google Pixel Slate Keyboard: $199
Google Pixelbook Pen: $99
21:18 (IST)
Pixel Slate vs iPad Pro: What do you prefer?
Pixel Slate runs ChromeOS, which also runs Android apps. Has front facing speakers and a crispy 3Kx2K display, and an optional Pixel Pen and keyboard. Basically saying "come at me, iPad Pro" pic.twitter.com/mgUHIVlzJu

— Marques Brownlee (@MKBHD) October 9, 2018
21:18 (IST)
Where's the phone, Google?
Yes, the Hub is awesome, and so is the Slate, but where's the Pixel 3? We need more, Google! Hurry it up, please.
21:16 (IST)
The Pixel Slate has a detachable keyboard.
21:16 (IST)
Pixel Slate Keyboard
Pixel Slate supports a keyboard in a folio case. It's full size and is backlit. There's also a trackpad.
The folio stand is completely adjustable and you can lay the device flat or at any angle.
Why couldn't Apple have bothered to design their iPad Pro keyboard like this?
21:15 (IST)
ChromeOS on Pixel Slate actually looks nice
Unlike regular Android tablets, the Pixel Slate runs ChromeOS, which seems surprisingly useful in tablet mode. It's no longer about blowing up a phone UI.
The power button is a fingerprint sensor.
21:13 (IST)
21:12 (IST)
Pixel Slate supports Portrait mode
The 8 MP camera units on the front and back support single-camera portrait mode, just like on the Pixel.
21:12 (IST)
Chord cutters ahoy
Pixel Slate buyers will get three months of free YouTube TV.
21:11 (IST)
Google announces the all-new Pixel Slate
It also comes "with surprisingly bug sound" for a great entertaining experience
21:11 (IST)
Pixel Slate
Slate is a completely new experience. It's not a laptop trying to be a tablet or a phone trying to be a tablet.
The Pixel Slate features a 290 ppi display, that's fractionally higher than that of the iPad Pro.
It features dual front-firing speakers that deliver "surprisingly big" sound. AI has apparently helped fine-tune the audio output as well.
21:10 (IST)
21:08 (IST)
21:08 (IST)
ChromeOS brings together the best of Google
Security, speed and usability, says Osterloh, is the promise of ChromeOS.
He then goes on to talk about the usefulness of the device and app support, which was added last year.
This is probably a lead up to the Pixel Slate.
21:08 (IST)
The Google Home Hub has been launched at $145
It goes on sale on 22 October in US, Australia and UK.
21:05 (IST)
Pricing and availability
Google Home Hub will go on sale at $149 in the US, UK and Australia on 22 October.
21:04 (IST)
Best foot forward
AI will ensure that only your "best" photos are visible. Blurry photos, for example, will not be visible.
21:03 (IST)
The world's best photo frame
If you're not using your Hub, you can have all your embarrassing photos on display for all to see. #cringe
21:01 (IST)
Home View for Hub
It's a dashboard that gives you a quick overview of your home. Information like Wi-Fi status, temperature, etc. will be available.
Most of this is irrelevant for India though. We don't have access to half as many compatible smart home devices yet.
21:00 (IST)
20:59 (IST)
Hub supports recipes, wake up routines and more.
The UI is quite nice for recipes, with each step being shown as a slide.
The YouTube experience: YouTube Music is supported. The UI is also optimised for a touch screen and features large buttons and other prominent elements. YouTube Premium will be available for free for 6 months on purchase of a Home Hub.
Peace of mind: Hub features filters and other controls to help parents limit time spent with the device. There are also options to control notifications.
20:59 (IST)
Mark Spates demos how the Google Home Hub works
Hub also comes with 6 months of premium YouTube access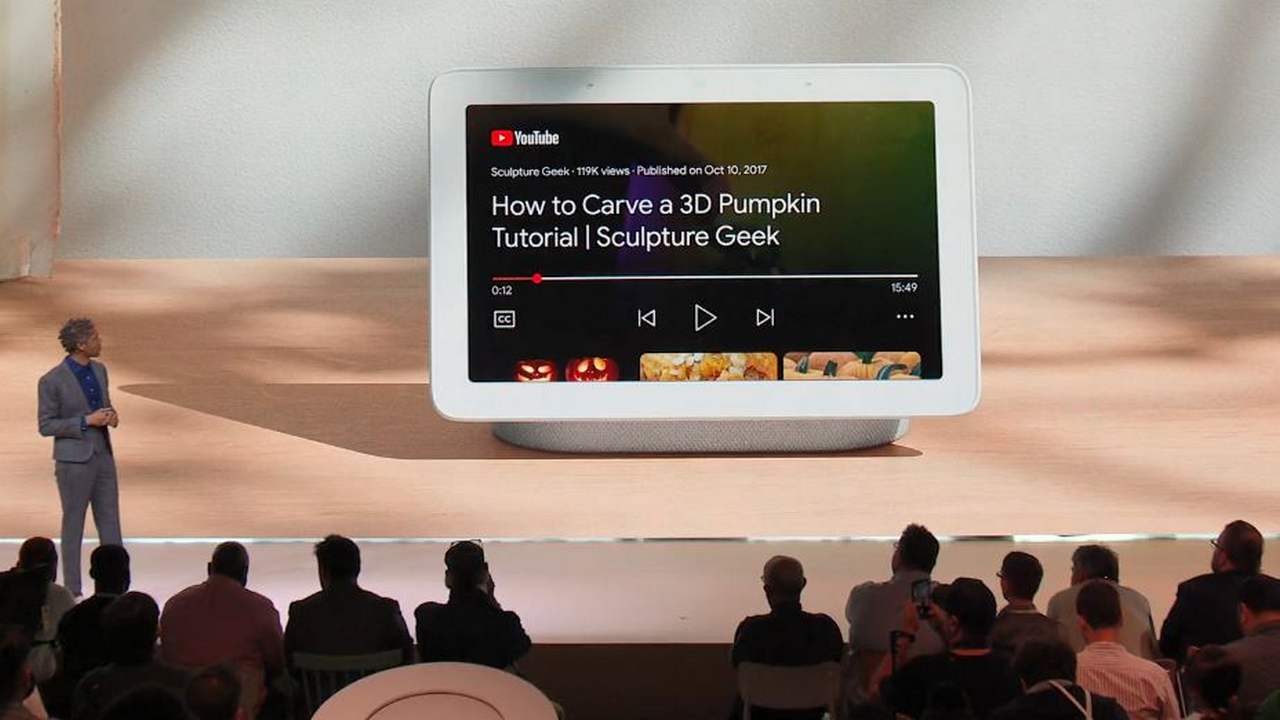 20:58 (IST)
20:56 (IST)
How Hub works
Mark Spates is on stage to tell us about Hub. He's certainly the coolest looking Google exec we've seen so far. Spiky hair, woollen tux, Unexpected.
20:56 (IST)
Diya Jolly, Google Vice President Product Management introduces the Google Home Hub
20:55 (IST)
20:55 (IST)
Ambient EQ
Like Apple's TrueTone display, Home Hub will analyse the light around you and match the colour tone of the display.