tech2 News StaffMay 09, 2018 15:23:02 IST
Google News has been around for a while, and is one of the most convenient ways to keep up with what's happening around us. However, as announced at the Google I/O 2018, Google News is getting a complete overhaul, along with a more AI-led algorithm.
At its annual developers conference, Google announced that it is refreshing the service to bring all its news products into one experience.
The new Google News app will have a customised news feed, which will begin with a For You section. This section will have a brief of five top stories that Google will pull for you based on your usual online searching and reading habits. These stories will be a mix of global headlines, local news, and new developments on stories that you've been following.
You can also switch over to Headlines to see top stories from around the world. Apart from that, similar to the pattern now, the redesigned Google News will also have additional sections like sports, business, science and technology, among others.
The highlight of this redesign though is a new visual format called newscasts, which uses natural language understanding to give you a collection of articles, videos, and quotes on a single topic. Which means, newscasts will give you the basics of a story by browsing different sources so you can decide if you want to look further into a story.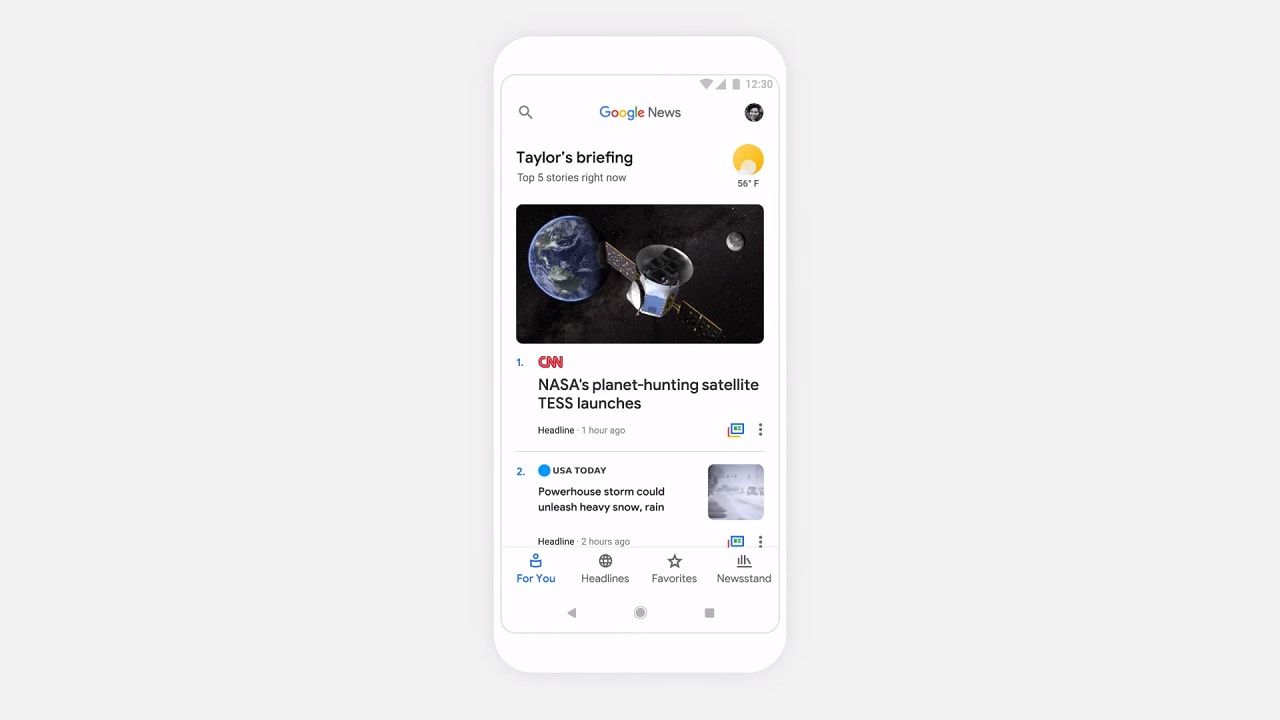 And if you do decide to dig deeper, then there is a corresponding feature for that called 'Full Coverage'. This feature allows you to understand a story with a wider perspective. Google News will show you stories from different sources, tweets and videos related to it, and a timeline of the event that has played out over time.
Google News will now also have something called Google Subscription, which will suggest you content from your paid publications, per your search.
The overhauled Google News will also have a Newsstand tab, which will let you follow the sources you trust, as well as browse and discover new ones. You can also access more than 1,000 magazine titles in a mobile-optimised reading format.
While Google per se did not address the issue of fake news at the event, the revamped Google News comes with a new fact-check section. Pichai stressed on the fact that we are living in an age where we are bombarded with information which can get overwhelming for a lot of people. With the new Google News app, the idea is to simplify the information and present all angles of a particular story to you, if you are interested. The appealing visual layout and the promise to put trustworthy sources and publications up front, is Google's way of ensuring that fake news does not thrive on its platform. We will see how this plays out. But apart from the app revamp, Google has already earmarked $300 million along with partnering with The Trust Project, Local Media Consortium and First Draft to combat fake news.
Facebook, on the other hand, has promised to employ various "AI-led tools", to fight fake news. In comparison to Google's new feature announcements last evening, Facebook's announcement at F8 2018 with regards to fighting fake news, pales in comparison.
The Google News 5.0 app is available on APK Mirror, so you will have to sideload it if you really want to try out the app.
The official app is expected to roll out in a few weeks on Android and after a few months on iOS.
Find latest and upcoming tech gadgets online on Tech2 Gadgets. Get technology news, gadgets reviews & ratings. Popular gadgets including laptop, tablet and mobile specifications, features, prices, comparison.