tech2 News StaffApr 10, 2018 22:01:14 IST
In the aftermath of the Cambridge analytica data scandal, Facebook earlier today mentioned that it will begin notifying users if their data has been swept up in the data breach. But before that gets underway, Facebook has already announced a tool which lets users check if their data was harvested by Cambridge Analytica.
The tool released by Facebook lets users manually check whether they or their friends logged into the 'This Is Your Digital Life' quiz, which was responsible for the data breach. Found and revealed by The Next Web, the tool can be accessed here. Users can also find the tool by typing the word "cambridge" into the search bar under Facebook's Help Centre tab.
As reported earlier, Facebook's 87 million users who might have had their data shared with Cambridge Analytica are supposed to get a detailed message on their "News Feed".
In addition to this, Facebook will also send all of its 2.2 billion users a notification titled 'Protecting Your Information,' which contains a link to let users see what apps you use and what information you have shared with them.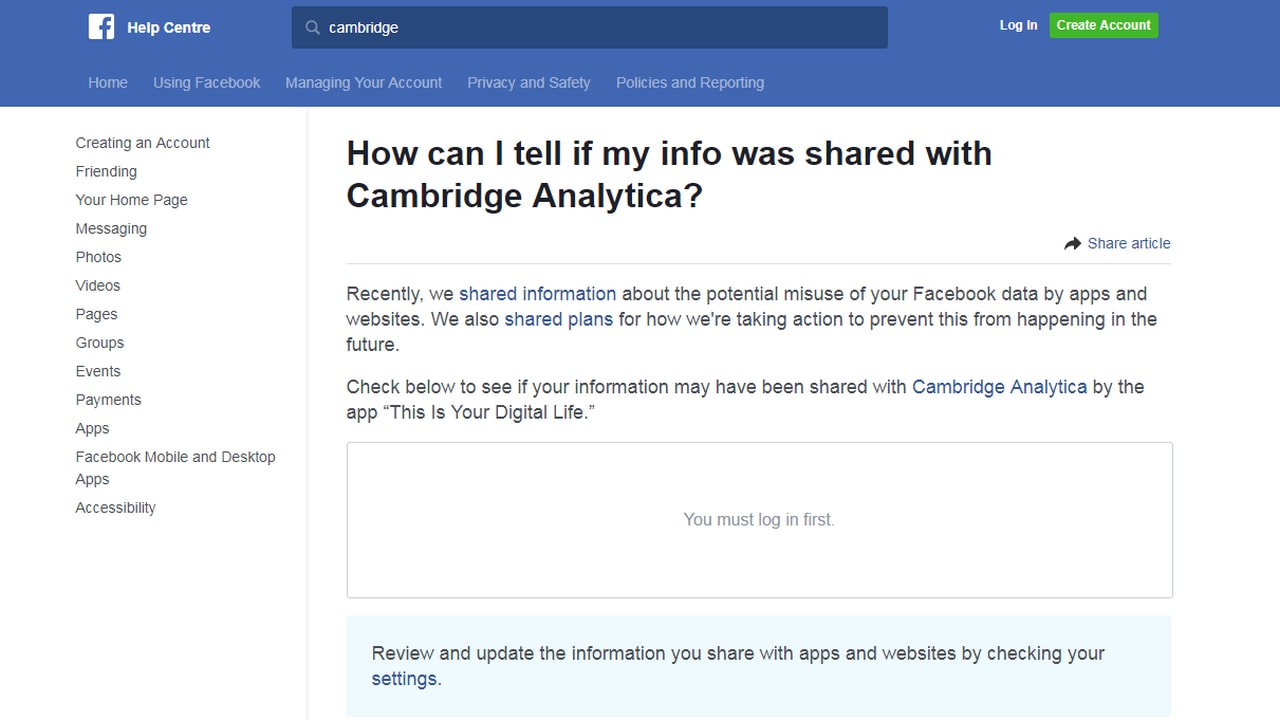 Facebook last week also introduced a new app removal tool which lets users select third-party apps in bulk in order to stop sharing information with them.
Reeling from its worst privacy crisis in history, Facebook is in full damage-control mode. CEO Mark Zuckerberg acknowledged that he made a "huge mistake" in failing to take a broad enough view of what Facebook's responsibility is in the world. Zuckerberg's set to testify before Congress on Tuesday and Wednesday. Here is his testimony released by the US Congress ahead of tomorrow's hearing.
Find our entire collection of stories, in-depth analysis, live updates, videos & more on Chandrayaan 2 Moon Mission on our dedicated #Chandrayaan2TheMoon domain.