tech2 News StaffApr 04, 2018 11:01:56 IST
As a part of Facebook's damage control activity following the Cambridge Analytica data scandal, the social media website has introduced a new app removal tool which lets users select third-party apps in bulk in order to stop sharing information with them.
Until now, users have had to navigate their way into Facebook's privacy settings to remove third-party apps so that they no longer had access to personal data. The process had to be repeated for every third-party app being removed which made it a time-consuming process. However, Facebook's new bulk app-removal tool makes it much easier for users to review which apps they want to stop sharing data with.
Facebook's bulk app removal tool in settings is now live! Thanks @finkd @boztank @mosseri @facebook pic.twitter.com/Dq4YlF35Uc

— Matt Navarra (@MattNavarra) April 3, 2018
Facebook did not officially state a roll-out of the new tool but it was Matt Navarra, the director of Social Media for The Next Web who found that the tool had gone live. While Navarra confirmed that the tool was out for the App, we at Tech2 can also confirm that the tool is available for desktop users as well.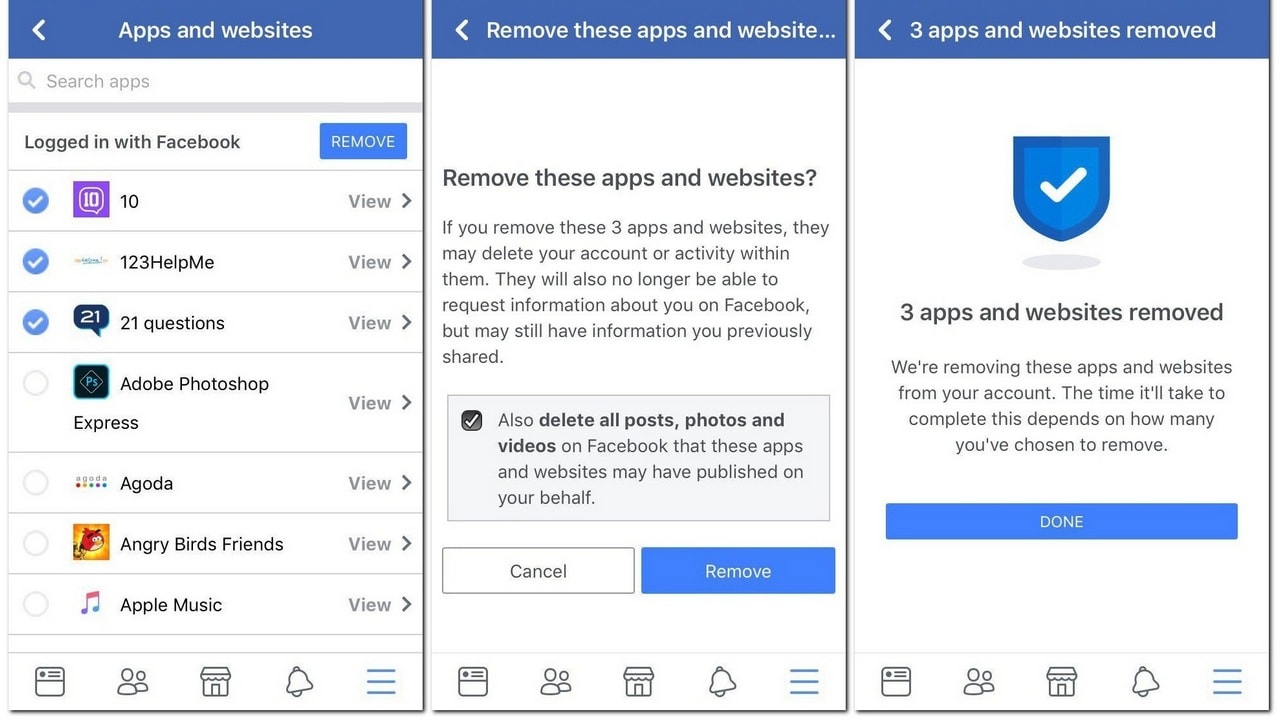 Now, the tool is not as accessible as Facebook makes it sound but at least it won't take users an hour to delete all apps. To find the tool on the Facebook Android or iOS app, head over to the last button on the app which is generally used to access one's profile. Then, scroll down to find the 'Settings and Privacy' menu where you select Account Settings. Once the Account Settings menu is open, head lower to find 'Apps' and then select the 'Logged in with Facebook' option. This opens the bulk app removal tool where users can simply go ahead and select the apps to be removed.
Facebook in a blog on 28 March stated that it was going to make privacy tools easier to find.
While this is not exactly as easy as it sounds, it is surely a step in the right direction.
The Great Diwali Discount!
Unlock 75% more savings this festive season. Get Moneycontrol Pro for a year for Rs 289 only.
Coupon code: DIWALI. Offer valid till 10th November, 2019 .