The Arsene Wenger Era Part 1: When an obscure foreigner revamped the order of English football
More than the trophies, Arsene Wenger could be pleased about his role in the seismic shift English football had experienced
English football in the 90s, merely wrapped by gauze of cosmopolitanism, was stridently traditionalist. The paeans for an outward-looking, multicultural society were all good but, drawing on centuries of ingenious misleading, football observers in the country could insist on a football which was 'English' while professing globalisation. English was a by-word for many things; at its softest it signified beer-drinking footballers, foul-mouthed rants, and messianic figures.
A foreigner could be involved in the charade, of course, but his acceptance would depend on his faith in the accepted conventions of English football. In the early years of the Premier League, the non-British glitz was largely limited to dour Scandinavians, fan-kicking Eric Cantona, and three Brazilians in a single Middlesbrough team. No foreign managers were in charge, till a schoolmaster-like Frenchman arrived in North London in the autumn of 1996. It looked like someone had given him the wrong address.
Nick Hornby spoke for a lot of fans when he recalled, "I remember when Bruce Rioch was sacked, one of the papers had three or four names. It was Terry Venables, Johan Cruyff and then, at the end, Arsène Wenger. I remember thinking as a fan, I bet it's f*****g Arsène Wenger, because I haven't heard of him and I've heard of the other two. Trust Arsenal to appoint the boring one that you haven't heard of."
The boring one turned out to be the one who brought the entertainment. Even as English football resisted the seductions of cosmopolitanism, Arsenal vice-chairman David Dein was more prone to the lures of internationalism. Dein could foresee the dramatic transformations the Premier League was set to undertake. To carry Arsenal through the great churn, a cultural shift was required. Dein had known Wenger for about seven years after a fortuitous meeting in 1989 at Highbury, and he could trust the erudite Frenchman with the process.
By the time the Arsenal board accepted its vice-chairman's bidding, at the second time of asking, Wenger was well-prepared for the job. Even as he guided Nagoya Grampus to unprecedented success in Japan, the French manager kept a keen eye on Arsenal thanks to the VHS tapes sent by Dein. Wenger's arrival, however, was met with wide-ranging scepticism — as has been colourfully documented over the years.
His first intervention in the dressing room kept the doubts alive. Against his better judgment, with his reign yet to begun officially, Wenger asked his team to switch to a back four defence at half-time of the UEFA Cup second leg tie at Borussia Monchengladbach. Already trailing on aggregate, Arsenal's players did not take kindly to his suggestion. The eventual defeat compounded matters. There he was, the foreign tinkerer out to meddle too much and cause disruption.
The players' suspicions grew when he finally took full-time charge. When they were called from the team hotel for exercises on the morning of the league game against Blackburn Rovers, they could scarcely believe it. Yet, slowly, Wenger peeled the intransigence off. A host of dietary and training changes meant the grumbling did not stop; the manager, though, was mindful of the changes he was enacting. He did not throw the baby out with the bathwater.
For the opening season, although this was not the tactical plan of his choice, Wenger stuck by the three-man defence of which club skipper Tony Adams was a chief proponent. Even though the manager had begun to push Arsenal away from its dull proclivities, the team's defensive core was made up of old-style English defenders – Adams, Nigel Winterburn, Lee Dixon, Steve Bould.
By the time Arsenal finished third in Wenger's inaugural league campaign, he had won over the squad. The rewards of the new diet and training — a far-cry from beer-drinking and Mars bar-chomping — had begun to appear, and the players were more amenable to his methods. In the summer of 1997 arrived Marc Overmars and Emmanuel Petit, while Paul Merson moved on to Middlesbrough and so nearly did David Platt. The Wengerball shift towards continental football was in full motion.
The rewards were quick. In 1997-98, Arsenal won its first domestic double since 1971. The league and FA Cup wins confirmed Dein's long-held convictions; even the doubters and non-believers were forced to reconsider their opinions. The Premier League trophy had arrived and in a manner which came to be deeply associated with Wenger in his early years at Arsenal.
It is worth recalling that after 18 league games, Manchester United had a 10-point advantage over the Gunners. However, over the following 18 matches, Arsenal went on to pick up 48 points — a 10-game winning run from March to May ensuring the league title, despite protestations by Wenger's opposite number Sir Alex Ferguson who was convinced that his title rival would drop points in the run-in.
In the process, Wenger became the first non-British manager to win the league title in England and his famous rivalry with Sir Alex Ferguson got its impetus. Although United left Arsenal behind in second place for the next three league campaigns, the North Londoners continued to shake up the order by playing football of the kind not seen before in the Premier League. Wenger's arrival had truly awakened everyone to the possibilities; Chelsea and Tottenham followed in Arsenal's footsteps by hiring foreign managers.
During these campaigns of limited success on the pitch, Wenger built up the squad which was set to take English football by storm in the early years of the 21st century. From 1998 to 2001, the likes of Thierry Henry, Fredrik Ljungberg and Robert Pires were signed. Only the FA Charity Shield was won twice in this time, even as Arsenal earned widespread appreciation for its football.
Continentally, though, Wenger's team was improving. The 2000 UEFA Cup final was lost to Galatasaray only on penalties while the following year, the Gunners reached the Champions League knockout stage for the first time under their French manager – bowing out on away goals to Valencia in the quarters.
Even in the failed League campaigns, Arsenal had not lost its magical ability to go on long unbeaten runs. In the 1998-99 campaign, for example, Wenger's players won 15 and drew four matches from December until May. However, Arsenal was undone by United which was on an impressive run of its own. Sir Alex Ferguson's charges remained unbeaten in the league post-Christmas.
By the 2001-02 season, though, Wenger's charges had matured into winners. The doubts persisted till mid-January when United held a four-point advantage, albeit having played a match more, thanks to an eight-match winning streak. But the Gunners went on a 13-match winning run from February to eventually finish seven ahead of second-placed Liverpool and United could only come in third with three fewer points. The league title, fittingly, was won at Old Trafford thanks to a late Sylvain Wiltord goal.
Arsenal went on to finish the league campaign with a unique record of scoring in every game, a feat which has no parallel in history. Another FA Cup title was added to the club's mantelpiece as well, Wenger no longer the foreigner to be sneered at. In six years, he had broken many conventions while his extensive scouting network made other Premier League rivals finally recognise the jewel that they would go on to desire intensely – the foreign footballer.
By 2002 Wenger's legacy was already hefty but the following years were going to burnish it further, before unforeseen challenges strangled him. The Premier League's preoccupation with the foreigner was going to take on new dimensions, changes even the Arsenal manager could not see coming. The innovations he pioneered, though, were set in stone. More than the trophies, Wenger could be pleased about his role in the seismic shift English football had experienced. But with the churn ongoing while Arsenal cherished its second domestic double under him, the professor still had a few more dices to roll.
Click here to read The Arsene Wenger Era Part 2: From Invincibles to fourth-place trophy, how the Arsenal revolution lost its way

Click here to read The Arsene Wenger Era Part 3: Chelsea take control of London as Arsenal fail to adapt to changing times
Click here to read The Arsene Wenger Era Part 4: Despite FA Cup success, Arsenal could barely match rivals' financial and technical might
Find latest and upcoming tech gadgets online on Tech2 Gadgets. Get technology news, gadgets reviews & ratings. Popular gadgets including laptop, tablet and mobile specifications, features, prices, comparison.
Sports
Greenwood, 18, scored his 13th goal of the campaign in all competitions against Brighton and Hove Albion on Tuesday, before delivering an inch-perfect cross for Bruno Fernandes to volley home United's third in a 3-0 win at the Amex Stadium.
Sports
Substitute midfielder Daniel Ceballos restored Arsenal's lead against Sheffield United just four minutes after David McGoldrick's 87th minute equaliser to send his team into the last four.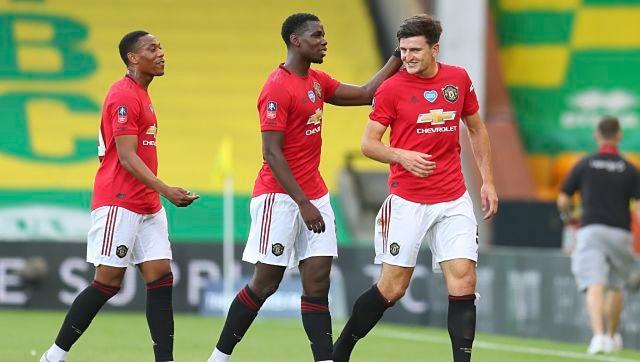 Sports
Manchester United has won the competition 12 times — within one of Arsenal's record — and last won it in 2016.