Editor's note: The issue of transfer fees is debated during nearly every transfer window, with some deciding that the money on offer is far too much and others opining that it's less than a player's worth. The matter came to a head this week with news that a prominent Barcelona striker was about to seal a mega-bucks move to Paris Saint-Germain. The following article offers one point-of-view regarding the consequences of this potential transfer. To read the opposing viewpoint, click here.
After weeks of speculation, it appears the Neymar transfer saga is on the verge of arriving at its logical (or illogical, depending on how you see it) conclusion with the Brazilian striker set to seal a £198 million transfer from Barcelona to Paris Saint-Germain. It is the contention of this piece that the move falls in the realm of the 'illogical'.
There is a very valid case to be made for better workers receiving better wages, and this applies to a majority of industries. Equally, employers will and do offer attractive pay packages in order to ensnare the best workers. Capitalist or not, it's just the way things work.
However, the Neymar issue doesn't pertain to salaries, rather the value attributed to a player and what it means for other players, clubs and the business of football in general.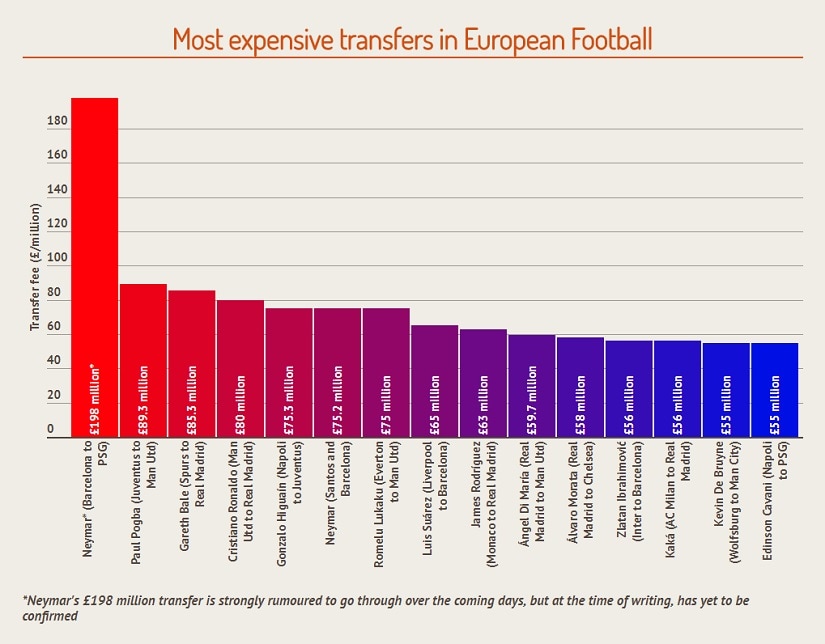 As is clearly visible above, the Neymar deal is likely to surpass the previous record transfer (Paul Pogba's move from Juventus to Manchester United last season) by a long way. The breaching of the £100-million barrier was one that managers, pundits and fans alike were raving about back then. Now it's the £200-million one that will have tongues wagging. For all we know, next season (or even this season with Kylian Mbappe, if Monaco get a little adventurous with their demands) could see the first £250-million-plus player sold. But it's £198 million we're talking about right now.
And a payout of this magnitude will have manifold consequences. Let's take a look at some of those:
The impact on clubs
The most obvious ramification of the Neymar move will be that clubs will begin to slap heftier price tags on players, thereby making said players available to only an ever-shrinking number of clubs — the even more exclusive Old Boys' Club, if you will. In other words, if your club isn't owned and bankrolled by a West Asian prince, a Russian oligarch or an American business mogul, you won't have a chance of seeing certain players in your team's colours.
The patience of fans and shelf-lives of managers are growing shorter with every passing season. In the quest for instant success, clubs will find themselves at each other's throats to sign the next big thing, who could potentially make the difference between finishing second or third in the league, and winning the league outright while challenging for the Champions League. And in that quest, a lot of money will be thrown around to seal the deal. All of which plays perfectly into the hands of one group...
Agents
Dubbed leeches and parasites by some and father figures by others, the fact is that these representatives of players have been becoming increasingly powerful over the years and the ability to execute deals like the Neymar one will make a handful of agents near-omnipotent. The sway they will hold on player-club negotiations cannot be understated. Neither can the notion that they would use their influence to force the hand of certain clubs and manipulate deals and agreements. Another aspect to consider here is that the cut an agent makes from a deal is directly proportionate to the value of the transfer. This could lead to situations where an agent — spurred by personal proclivities or a desire to move into a bigger house that has four Maseratis in the garage — influences his client to join a club which may not suit the footballer's style at all.
Ceding control to broadcasters
Another group that would greatly benefit from Neymar-esque transfers becoming more common are TV broadcasters. It wouldn't be unfair to say that the money from the sale of broadcast rights plays a significant role in filling the coffers of a number of clubs, whether split equally among clubs as in the Premier League or showered over the two biggest teams of the La Liga. In order to stay within Financial Fair Play regulations at a time of grotesquely-inflated transfer fees, TV rights will begin to be sold for a lot more money.
You can't raise ticket prices by 200 percent or force people to buy more merchandise — at least not yet. And so, apart from acquiring new sponsors (more on this in the next section), TV rights are the quickest way for clubs to increase revenue. What this will eventually cede is greater control to broadcasters. The first game of the Premier League season has traditionally been played on a Saturday. This year marks the first time that the first game (Arsenal versus Leicester City) will be played on a Friday night. Why? Because the broadcaster wanted it that way. Giving this bunch more control is a slippery slope.
The jerseys
Sponsors, to whom a brief allusion was drawn in the above section, will likely enter the game like never before. The Premier League is already looking at shirt sleeve sponsors, and it probably won't be long before you see your favourite players bombing up and down the flanks, pulling off incredibly scorpion kicks or performing random other feats of athleticism while wearing what looks like conspicuously like an F1 driver's jumpsuit.
Clubs turning into feeders and impact on academies
The ability to turn young players into multi-million pound profits — profits that can go towards expanding stadia and training facilities, for starters — will see a number of clubs turn into feeders, whose primary job will become grooming youngsters to sell them to wealthier clubs. Let's not kid ourselves, no young player will turn down a megabucks deal to join a club that regularly competes in the Champions League.
This, in turn, could impact academies, particularly those that have a proven track record of producing talent. Take Southampton for instance, who have been coming to terms over the past few years, with seeing their homegrown players jump ship and head to more profitable shores. What is a club's motivation then to run a solid academy, if they know that their best graduates will simply walk away when the highest bidder comes along and that the money accumulated from those sales can be spent on a finished article rather than trying to groom another youngster?
The players
Finally, and perhaps most pertinently, it's about the impact on players. The pressure of living up to a price tag can often be as internally-inflicted as externally and so while we saw Pogba struggle ostensibly under the weight of his price tag last season, the comparison between John Stones (£50 million) and Rob Holding (£2 million) is most indicative in this regard. While one player was able to express himself, free from any expectation that a huge transfer free brings with it, the other appeared to be constantly trying to justify why the club paid so much for him.
Ultimately, the sad truth is that money, more money and even more money has been entering the game for decades now, and the consequences are to be expected. But that doesn't mean we need to accept those without kicking and screaming a little.
To read the opposing viewpoint titled 'Why Neymar's world record transfer fee makes complete sense', click here.
Updated Date: Aug 03, 2017 19:27 PM