NBA: LeBron James has triple-double in win against Knicks, climbs into fourth place on assists list
LeBron James had 28 points, 11 assists and 10 rebounds, with the points giving him 38,299 for his career. Kareem Abdul-Jabbar is the leader with 38,387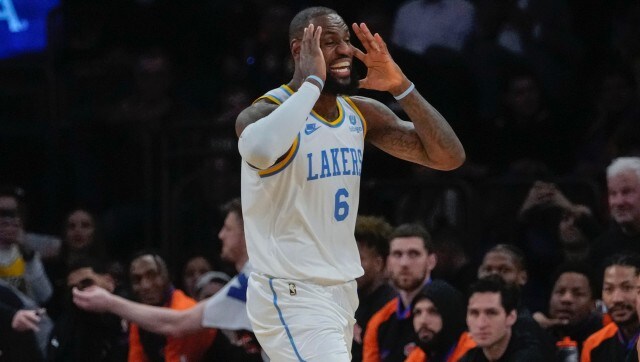 New York: LeBron James moved within 89 points of breaking the NBA's career scoring record and climbed into fourth place on the assists list, finishing with a triple-double in his return to Madison Square Garden as the Los Angeles Lakers beat the New York Knicks 129-123 on Tuesday night.
James had 28 points, 11 assists and 10 rebounds, with the points giving him 38,299 for his career. Kareem Abdul-Jabbar is the leader with 38,387.
But James' game has always been about more than scoring, as he proved again Tuesday. He fed Dennis Schroder for a 3-pointer that snapped a 118-all tie with 3:13 remaining, grabbed his 10th rebound later in the extra period and then powered to the basket for a 127-121 lead with 19 seconds to go.
"He's just doing it all," Lakers coach Darvin Ham said. "That's what great players do. That's what all-time greats do, and he's right up there at the top of the list with all of them."
James had earlier moved ahead of Mark Jackson and then Steve Nash into fourth place on the assists list during his first game at Madison Square Garden in three years.
Anthony Davis added 27 points and nine rebounds for the Lakers, who had dropped two straight to open their trip. Both James and Davis had sat out their loss Monday in Brooklyn.
Jalen Brunson scored 37 points and Julius Randle had 23 points and 12 rebounds for the Knicks, who were 7 for 34 from 3-point range and dropped their second straight.
"We're scoring plenty, that's not our issue," Knicks coach Tom Thibodeau said. "So we've got to shore up our defense."
James was fuming following his last game, the' Lakers loss in overtime in Boston on Saturday, after which referees said they missed a foul on his drive to the basket to end regulation.
He then sat out Monday with what Ham said was left foot soreness, though the Lakers had listed the injury as an ankle. They listed him as questionable to play in the morning, then upgraded James to available after he moved well during a pregame workout.
He certainly didn't want to miss this one after being hurt two years ago and suspended last season for striking Detroit's Isaiah Stewart in the face. His last game here was Jan. 22, 2000, when he was days away from passing Kobe Bryant into third place on the career scoring list.
Now the only one left to catch is Abdul-Jabbar, which could happen in the next 10 days.
The game was tied at 90 before James fed Troy Brown Jr. for a 3-pointer with his eighth assist, then set up Thomas Bryant for a dunk that moved him ahead of Jackson and then Nash into fourth place for assists. He has 10,338 assists.
That LeBron James is likely going to break the NBA's scoring record and crack the top-five in all-time assists (passing Mark Jackson and Steve Nash) in the same week is pretty compelling evidence that James is the GOAT.

— Chris Mannix (@SIChrisMannix) January 31, 2023
James has always called MSG one of his favorite places to play and this visit draw a sellout crowd that included celebrities such as Michael J. Fox, Michael B. Jordan, Emma Stone and Chris Rock. Fans filled seats in the lower sections of the arena just to watch James warm up, but he struggled to give them one of his vintage performances once the game began.
He threw up an airball in the second quarter as part of his 2-for-8 start, but made his final two shots of the half, then threw a pass that Schroder heaved in from halfcourt to beat the buzzer and cut it to 53-52 at halftime.
Recently acquired Rui Hachimura had 19 points and nine rebounds for the Lakers, while Russell Westbrook added 17 points and eight assists, with three of them in OT.
Read all the Latest News, Trending News, Cricket News, Bollywood News, India News and Entertainment News here. Follow us on Facebook, Twitter and Instagram.
NBA
Ja Morant, who plays for the Memphis Grizzlies, has not played since posting video of himself in a Colorado strip club brandishing a firearm on 4 March.
NBA
The league and the National Basketball Players Association have a Friday deadline to opt out of the current deal on 30 June, a deadline that has been extended twice already.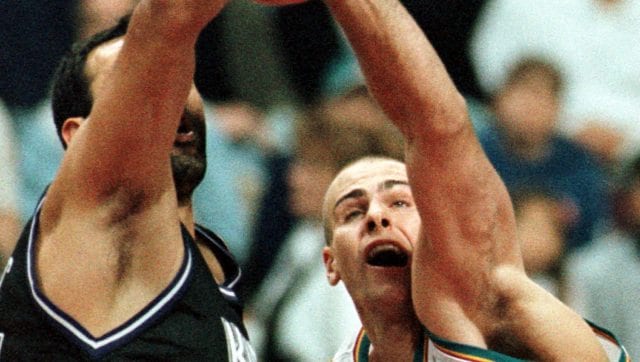 Sports
Montross had his best NBA campaign as a rookie in 1994-95 when he averaged career-highs of 10.0 points and 7.3 rebounds for the Boston Celtics.