Hockey World Cup 2023: India need mental conditioning coach, says coach Reid after shock exit
India coach Reid's comments could be an indication that his team was not able to deal with the mental aspect of the game.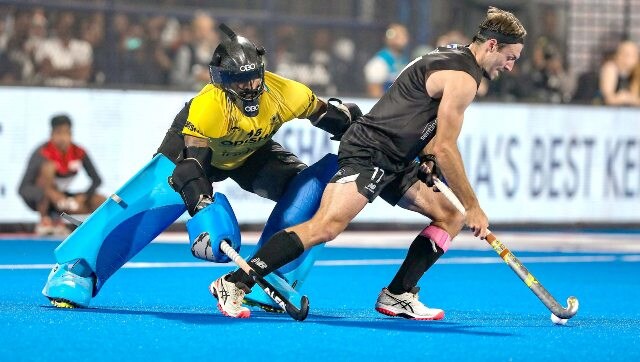 Bhubaneswar: India's chief coach Graham Reid on Sunday said the team needs a mental conditioning coach going ahead after the hosts lost to New Zealand in penalty shootout in a crossover match to crash out of the hockey World Cup here.
Reid's comments could be an indication that his team was not able to deal with the mental aspect of the game as the home side once again dominated their crossover match but squandered two goal lead twice to end at 3-3 in the regulation time.
"We need to do something different perhaps. Following this, we will work on how we can get a mental coach involved. I think that is an important part for the future of the team," a distraught Reid said at the post match conference.
"As far as the drills or training are concerned, we do what all other teams do. I have been in this game for a long time and I know what other teams are doing. If there is anything necessary, a silver bullet out there, I do think that (is) mentally."
In the shootout, India and New Zealand were tied 3-3 after five shots. Captain Harmanpreet Singh had the chance to seal the match in the first round of sudden death when New Zealand's Nic Woods fluffed his chance, but he inexplicably chose to take a direct hit from a distance and wasted the golden chance.
Next, both Raj Kumar Pal and Sean Findlay scored as the scores were tied.
Both Sukhjeet and Hayden Phillips missed next to keep the scoreline level. Shamsher Singh finally missed while Sam Lane converted to seal a 5-4 shootout win for New Zealand and break the hearts of the 15,000 full-to-the-brim crowd at the Kalinga Stadium.
Asked why he took a shot like that in a crucial moment, Harmanpreet said, "It was a good opportunity and I wanted to score and seal the match. But it did not happen."
On whether captaincy has put pressure on him and affected his performance, he said, "It is a team game. Everybody has been talking about my (lack of) penalty corner conversions. But I had not gone into a match without wanting to score. I feel no pressure. I have to work harder and the same for the team also."
Reid said the team would need to go back to the drawing board and sort out the mistakes.
"Tonight, we lacked consistency. In the last quarter, for example, we let ourselves down. We threw the ball away, kept doing stuff like that, Things like that made it very difficult for ourselves.
"Every team has at some stage had certain issues like converting circle penetration. We need to go back to the drawing board a little bit later," he said.
"It is very hard to answer questions after such a loss. It is (lack of) skill execution at the end of the day, We need to work on that."
He refused to make any comments on whether the current team was the best available for the World Cup.
"I am not making comments on the players. We still have to play two matches (classification matches for 9th to 16th place)."
"We made a lot of circle penetration but we could not convert them. Three or four more (goals) could have been there."
The Australian said lack of penalty corner conversion was not the only issue against New Zealand.
"PC was a factor but not the only one. The problem tonight was every time we won the ball we gave it back (to the opponents) and that happened many times. That was the telling factor and you can't do that at this level." Reid, whose tenure is up to the 2024 Olympics, gave no hints of leaving the job as he listed the matches coming up.
"After these two classification matches, we have Pro League matches against Germany and Australia and then we have a Test series against Australia. But our focus is on the next match."
India will play Japan on January 26 in the classification match.
Read all the Latest News, Trending News, Cricket News, Bollywood News, India News and Entertainment News here. Follow us on Facebook, Twitter and Instagram.
Hockey
Veteran goalkeeper PR Sreejesh starred in the shootout which India won 4-3 to notch up their fourth win on the trot at the Birsa Munda Stadium.
World
The International Ice Hockey Federation cited security concerns for players, competition staff and fans — because of Russia's invasion of Ukraine — to extend the exclusion that will stretch beyond two years when the 2023-24 season is over
Hockey
The 24-year-old Hardik beat his illustrious senior players like Manpreet Singh and Harmanpreet Singh to win the coveted award for 2022 named after hockey legend Balbir Singh senior at the fifth Hockey India Annual Awards.