Highlights IPL 2017, RPS vs SRH in Pune, cricket scores and updates: MS Dhoni guides Pune to 4-wicket win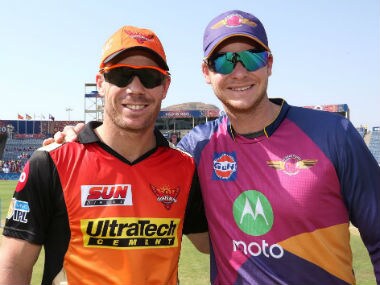 19:46 (IST)

MS Dhoni is named the Man of the Match for his splendid match-winning 34-ball 61.

19:52 (IST)

Thank you so much for following our coverage of RPS vs SRH. Make sure you tune in to the live blog for the second match - Mumbai Indians vs Delhi Daredevils.

19:51 (IST)

Live IPL 2017, MI vs DD in Mumbai, cricket scores and updates: Delhi elect to field; hand Rabada league debut}

Mumbai Indians will look to exploit their home conditions when they take on Delhi Daredevils. Follow our live blog for regular scores and updates.

https://www.firstpost.com

When he plays like this, you wonder if MS Dhoni writes his own scripts. For the most part it looked like he had set himself too stiff a target, that even the finisher had miscalculated, particularly given his recent form. But he is back, and with a bang. If this keeps up, Pune could look a different side altogether.

MS Dhoni today:

First 23 balls: 26 runs, SR-113.04
Next 11 balls: 35 runs, SR-318.18

This is the second time Rising Pune Supergiant have won consecutive matches in IPL.

19:32 (IST)

After 20 overs,Rising Pune Supergiant 179/4 ( MS Dhoni (W) 61 , Manoj Tiwary 17)

Kaul to bowl the final over. DROPPED! Tiwary looks for the big hit, and Rashid drops a catch at the cow-corner boundary to allow the ball to run away for four runs. Gets a single next ball to hand the strike back to Dhoni. Just a single in the third ball of the over, after Dhoni guides an attempted yorker down towards fine-leg for a single. Another full-toss in the next ball, with Dhoni getting the strike back. Dhoni guides the penultimate ball towards wide long-on, and runs back for a second run. Two off one ball needed now! FOUR! And Dhoni finishes in style! A boundary towards extra-cover!

Rising Pune Supergiant win by four wickets!

This is MS Dhoni's fourth fifty-plus score against Sunrisers Hyderabad in IPL which is the joint most by any batsman against the Hyderabad outfit in IPL. Virat Kohli has also scored four fifty-plus scores against Sunrisers Hyderabad in IPL.

19:23 (IST)

After 19 overs,Rising Pune Supergiant 166/4 ( MS Dhoni (W) 54 , Manoj Tiwary 11)

Bhuvi starts off with a full delivery outside off, which is alled a wide by the umpire. Pressure on the bowler right now. FOUR! Bhuvneshwar fires a yorker along leg, and Dhoni flicks it away towards the backward square-leg boundary, before slashing the next ball towards the backward point boundary for back-to-back boundaries! SIX! What a way for MSD to bring up his half-century! Gets the big score after struggling for the most part in the tournament! Goes for a double in the last ball. Huge over by Bhuvneshwar, with 19 coming off it!


Pune need 11 to win from 6 balls.

19:22 (IST)

What a way to silence the critics. An assault against the best death bowler in the tournament. Welcome back MSD

— Snehal Pradhan (@SnehalPradhan) April 22, 2017

19:21 (IST)

SIX! MS Dhoni brings up his half-century — his first of tournament — with a flat hit down the ground! What a way to get to the milestone, and silence his critics! RPS 162/4

19:16 (IST)

After 18 overs,Rising Pune Supergiant 147/4 ( MS Dhoni (W) 37 , Manoj Tiwary 10)

DROPPED! Siraj nearly gets a wicket in the first ball of an over yet again, Dhoni tries slogging towards extra-cover, though he doesn't quite hit it right. Bhuvi dives to his right, but the ball pops out of his hand. Tiwary, on the other end, flicks the second ball straight to the backward square-leg area for a one-bounce four. SIX! Dhoni smashes the back-of-length off-cutter outside off, picking it beautifully to smash it over long-on! Uppercuts the next ball, another short ball but much faster, towards the backward point boundary. Collects a single off the last ball. His presence is of hope for the home team. 17 off the over!


Pune need 30 to win from 12 balls.

47 runs off the last three overs means that RPS have left themselves too much to do. And it's not easy to ask a batter like Tiwary to come out and blast from ball one, which is what he did against RCB. But knocks like that don't happen every day. Also, Bhuvneshwar Kumar will bowl one of those three overs, and he is in the form of his life.

19:12 (IST)

After 17 overs,Rising Pune Supergiant 130/4 ( MS Dhoni (W) 25 , Manoj Tiwary 5)

The required rate is starting to climb, and Dhoni and Stokes need to pull something special off right now. Bhuvneshwar though, pitches up first ball along leg, and entices Stokes into a flick straight into the hands of the substitute fielder stationed at deep midwicket — what field placement by Warner! Dhoni goes for a similar shot next ball, though he gets just a single this time. Bit of a delay after the third ball, with the umpires checking for a possible boundary after a fine effort by Hooda at deep midwicket to save two runs. Tiwary, the new batsman, hammers a boundary off the last ball, with nine coming off the over.


Pune need 47 to win from 18 balls.

19:04 (IST)

Must confess I like the look of Mohd Siraj. Generates pace of an easy action.

— Harsha Bhogle (@bhogleharsha) April 22, 2017

19:04 (IST)

OUT! Stokes looks to up the ante for Pune, and ends up flicking the full delivery from Bhuvi straight to deep midwicket! Substitute fielder Vijay takes the catch! RPS 121/4

As often has happened when MS Dhoni has come to the crease, the run rate has gone down as he takes some time to get set. Add to that a brilliant run out removing the set batter, and RPS are in prime position to make a hash of this. Dhoni needs to finish this game.

19:02 (IST)

After 16 overs,Rising Pune Supergiant 121/3 ( MS Dhoni (W) 21 , Ben Stokes 10)

Siraj into the attack for the 16th over. Dhoni collects a couple of runs in the third ball of the over after beating Williamson at point, with Henriques saving a couple of runs in the deep. Six runs in the over, all of which are scored in ones and twos.


Pune need 56 to win from 24 balls.

18:57 (IST)

After 15 overs,Rising Pune Supergiant 115/3 ( MS Dhoni (W) 17 , Ben Stokes 8)

Dhoni launches himself in Kaul's second over, smashing it wide of long-on for a flat six! Stokes then smacks the last ball of the over towards extra-cover, with 14 coming off the over. Has been a terrible spell by Kaul so far in the match, and he probably might have to make up for it with some fantastic work in the death overs.


Pune need 62 to win from 30 balls.

18:53 (IST)

After 14 overs,Rising Pune Supergiant 101/3 ( MS Dhoni (W) 9 , Ben Stokes 2)

Another superb over by Rashid, conceding just three singles off it while pulling off a terrific pick-and-throw to run Tripathi out at the non-striker's end. The young batsman was back in the dugout even before the giant screen flashed the word 'OUT'. Meanwhile, the 100 comes up for the home side.


Pune need 76 to win from 36 balls.

18:51 (IST)

OUT! Dhoni tries setting off for a quick single, but Tripathi isn't quite as quick as MSD in running between the wickets, and is caught well short of his crease at the non-striker's end, thanks to a terrific pick-and-throw by Rashid! RPS 98/3

Rahul Tripathi run out (Rashid) 59(41)

18:47 (IST)

After 13 overs,Rising Pune Supergiant 98/2 ( Rahul Tripathi 59 , MS Dhoni (W) 8)

Siraj bowls his second over, and Dhoni slashes the first ball towards the backward point fence. Tripathi nearly is run-out in the next ball, after Dhoni sets off Seven off the rest of the over, with the umpire signalling for the second timeout of the innings. Despite losing their captain, Pune are still very much in the game right now.


Pune need 79 to win from 42 balls.

18:42 (IST)

After 12 overs,Rising Pune Supergiant 91/2 ( Rahul Tripathi 59 , MS Dhoni (W) 2)

Henriques is introduced into the attack in the 12th over, and the batsmen at the crease choose the cautious approach in this over, sticking to the singles to rotate the strike between themselves. Four off the over. Tripathi has one of the most decorated finishers at the other end right now, though the latter will look for a big score himself to get out of the rut that he finds himself in at the moment.


Pune need 86 to win from 48 balls.

18:39 (IST)

After 11 overs,Rising Pune Supergiant 87/2 ( Rahul Tripathi 57 , MS Dhoni (W) 0)

Rashid into his third over. and he deceives Smith with another googly that the Pune captain fails to read yet again, getting a thick inside edge that deflects to his off-stump off his pad. He is beside himself with anger for that shot. Brings the 72-run second-wicket stand to an end, and concedes just four runs for that wicket in this over.


Pune need 90 to win from 54 balls.

The run rate has dropped as soon as spin has come on from both ends, especially since one of those ends is tended to by Rashid Khan. despite a big over pff Bipul Sharma, possibly Smith and Tripathi looking to capitalise when the fast bowlers return. This period of play will also tell is more about Tripathi. Will he be content with a fine fifty, or keep the intensity up until the victory comes?

18:35 (IST)

BOWLED EM! Smith failed to pick a googly from Rashid, and got the ball to deflect off his pad after getting an inside edge! RPS 87/2

Steve Smith b Rashid 27(21)

18:33 (IST)

After 10 overs,Rising Pune Supergiant 83/1 ( Rahul Tripathi 55 , Steven Smith (C) 25)

Bipul into his final over. Skipper Smith now starts expressing himself in this over, smacking the stylish-looking left-arm spinner towards the leg side for consecutive sixes. Pune are 18 runs ahead of where SRH were at the half-way mark in their innings, and are progressing quite well at the moment.

Rahul Tripathi is the youngest Indian player (26 years and 51 days) to score a fifty for Rising Pune Supergiant in IPL. The previous youngest was Saurabh Tiwary (26 years and 123 days).

18:31 (IST)

After 9 overs,Rising Pune Supergiant 68/1 ( Rahul Tripathi 54 , Steven Smith (C) 11)

Rashid intro his second over. Tripathi brings up his maiden T20 half-century with a single in the third ball of the ninth over, and is congratulated by his skipper. That will do his confidence a world of good, which shows in the last ball as he smacks it towwards the midwicket boundary to get his sixth boundary.


Smith was earlier beaten neck-and-crop by a googly that he failed to pick it.


Pune need 109 to win from 66 balls.

18:27 (IST)

Maiden half-century for Rahul Tripathi! And he gets there in 32 deliveries, having hit five fours and three sixes in his innings so far!

18:25 (IST)

After 8 overs,Rising Pune Supergiant 61/1 ( Rahul Tripathi 49 , Steven Smith (C) 9)

Spin from both ends now, and Bipul concedes just three singles off th over. Tripathi, meanwhile, is just one run away from his maiden IPL fifty, and this could be his big opportunity to impress the national selectors. Also nearing the fifty-mark is the current partnership. The umpire calls for the timeout at the end of this over.

Pune need another 116 to win from 72 balls.

18:19 (IST)

After 7 overs,Sunrisers Hyderabad 53/0 ( David Warner (C) 20 , Shikhar Dhawan 29)

Rashid Khan into the attack in the first over after powerplay. Fumble in the third ball of the over allows Tripathi to set off for a quick single. Just three conceded by Rashid in his first over of the day.

Pune need another 119 to win from 78 balls.

A steady start, certainly no sprint out of the blocks from RPS. Rahane has not contributed since his half century in his first game. It has been airbrushed over by Tripathi, who is one of the success stories of this IPL. He has his highest score of the tournament so far, and looks well at home against the pace bowlers. If he sticks around, will be interesting to see how he plays spin.

18:16 (IST)

After 6 overs,Rising Pune Supergiant 55/1 ( Rahul Tripathi 47 , Steven Smith (C) 5)

Final over of powerplay, and we have Siddharth Kaul introduced into the attack. SIX! Superb shot by Tripathi in the third ball of the over, shuffling down the track and smacking it down the ground with a straight bat! Drives the next one through extra-cover to more to the 40s. SIX! Tripathi appears to have miscued the last ball towards the off-side, but it still manages to clear the point boundary. Some assistance from the wind?


Huge over this for RPS, with 18 coming off the over. Pune need another 122 to win from 84 balls.

18:10 (IST)

After 5 overs,Rising Pune Supergiant 37/1 ( Rahul Tripathi 30 , Steven Smith (C) 4)

DROPPED! Bipul denies Siraj a wicket in his very first delivery of the match. Tripathi top-edges it high over the short fine-leg position, with the ball popping out of Bipul's palms after he got into position. Tripathi makes the most of that reprieve with a six and a four in the next two deliveries. 13 off the over.

18:05 (IST)

After 4 overs,Rising Pune Supergiant 24/1 ( Rahul Tripathi 17 , Steven Smith (C) 4)

Rahane miscues a length delivery after coming down the track, but a bottom inside-edge results in the ball lobbing over to Kaul at mid-on. Huge blow for Pune early in their innings, and now the skipper walks out to undo the early damage. Tripathi hits the second ball over short fine-leg, getting a top-edge in his sweep. Smith hammers the last ball straight over the bowler's head to get off the mark with a boundary.

18:02 (IST)

OUT! Rahane comes down the pitch looking to hammer the ball down the ground, but doesn't get enough distance, getting caught by Kaul at mid-on as he departs early! SRH 15/1

Ajinkya Rahane c Kaul b Bipul 2(7)

18:01 (IST)

After 3 overs,Rising Pune Supergiant 15/0 ( Ajinkya Rahane 2 , Rahul Tripathi 12)

Finally, some action in the Pune innings. Tripathi comes down the pitch in the first ball of the over, and rolls his wrists away to whack it towards the wide long-off boundary! Bhuvi replies with a yorker in the next ball, though he isn't quite as lucky in the third delivery, getting a leading edge off Tripathi's bat that carries all the way through the vacant slip region. SUperb yorker to end the over, with Tripathi protecting his stumps by steering the ball towards the backward point fielder. Good over this for Pune, with 10 coming off it.

17:57 (IST)

After 2 overs,Rising Pune Supergiant 5/0 ( Ajinkya Rahane 2 , Rahul Tripathi 2)

Bipul Sharma, wearing flashy sunglasses, bowls from the other end, wiht four runs coming off the over (including a leg-bye). Tripathi is off the mark in this over, as Pune are off to a rather sedate start.

17:55 (IST)

After 1 overs,Sunrisers Hyderabad 7/0 ( David Warner (C) 2 , Shikhar Dhawan 5)

Bhuvneshwar walks out to bowl the first over of the innings, and starts off on a tight note, giving away just one run off the over, with Rahane getting off the mark.

17:55 (IST)

Right then, Rahane and Tripathi walk out to bat, with Bhuvneshwar bowling the first over of the second innings.

17:37 (IST)

Henriques showed batting wasn't difficult. Fear 176 may not be enough for #SRH. Will have to bowl really well

— Harsha Bhogle (@bhogleharsha) April 22, 2017

17:35 (IST)

Pune bowlers allowed Hyderabad, without Yuvi, to break free from shackles mid-inning. 176 v competitive score even on a true pitch

— Cricketwallah (@cricketwallah) April 22, 2017

The highest target successfully chased by Rising Pune Supergiant in IPL is 185. It was against Mumbai Indians at Gahunje in 2017.

Highest targets successfully chased against Sunrisers Hyderabad in IPL:

206 by Kings XI Punjab at Hyderabad (RG) in 2014

179 by

Mumbai

Indians

at Wankhede in 2013

162 by Royal Challengers

Bangalore

at Bangalore in 2013

17:35 (IST)

Meanwhile, we have quite the tug-of-war going on for the 'Orange Cap', with David Warner now taking it away from Brendon McCullum.

17:34 (IST)

After 20 overs,Sunrisers Hyderabad 176/3 ( Moises Henriques 55 , Deepak Hooda 19)

Thakur to bowl the final over. Hooda uppercuts the second ball of the over over the keeper's gloves to get the second boundary of his innings. Cheeky stuff by the Hooda indeed. Henriques drives a full delivery along the leg stump towards the extra-cover boundary, whle guiding the next one towards third man for back-to-back boundaries. Perfect yorker by Thakur in the last ball, with 15 coming off the final over.


Sunrisers Hyderabad set a 177-run target for Rising Pune Supergiant in Match 24 of IPL 2017.

Not a happy ending for RPS. Henriques ran away to a score that made it look like he was a giant running amok in the village. But this is a fairly high scoring venue. and RPS are not out of the story by any means. This wicket is slightly slower than usual, but could quicken up as the evening cools down.
Preview: A confident Sunrisers Hyderabad, on a two-match winning run, will face a rejuvenated Rising Pune Supergiant in an Indian Premier League (IPL) match at the Maharashtra Cricket Association Stadium in Pune on Saturday.
Earlier this week, Hyderabad defeated Kings XI Punjab and Delhi Daredevils at home and now they play their third away match. They had lost their earlier two away matches.
And come Saturday, they will be keen to win the Pune clash so that they can take the confidence to their coming away games at Bengaluru and Mohali.
Australian Steven Smith-led Pune, who defeated Royal Challengers Bangalore in their last match to end a three-match losing streak on Sunday, will be fresh and raring to go after a five-day break. Pune team, which has won two matches from five games, must have utilised the five-day break as a period to recharge their batteries and retrospect themselves with the middle campaign of the IPL about to reach.
To overcome a strong team like Hyderabad, Pune will have to put up a strong show with both the bat and the ball. Pune will be expecting Smith, Mahendra Singh Dhoni, Ajinkya Rahane, Manoj Tiwary and Ben Stokes to fire in order to post a good total.
Pune's bowling, always the weak link, must be confident after restricting a powerful RCB batting line-up to 134/9 in pursuit of 162. A lot will depend on how veteran South African leg-spinner Imran Tahir performs.
Medium pacers Shardul Thakur, Jaydev Unadkat, Stokes and Daniel Christian will again need to raise the bar as they will be up against the likes of a top-heavy Hyderabad batting line-up, which features David Warner, Shikhar Dhawan and Kane Williamson. Australian left-handed opener Warner has been leading the way for them, having notched 239 run in six innings so far.
Williamson in the last match plundered 89 off 51 against Delhi Daredevils in his opening match of this edition. He was included because of the off-colour performances of Yuvraj Singh (96 runs) and Deepak Hooda (59 runs).
In Ashish Nehra and Bhuvneshwar Kumar, Hyderabad have two of India's best shortest format medium pacers. Bhuvneshwar is currently the highest wicket-taker with 15 scalps. Meanwhile, Hyderabad's newly acquired Afghan spin pair of Rashid Khan and Mohammed Nabi has been impressive. But due to Williamson, Warner may leave Nabi out of the team.
With inputs from IANS
Firstpost is now on WhatsApp. For the latest analysis, commentary and news updates, sign up for our WhatsApp services. Just go to Firstpost.com/Whatsapp and hit the Subscribe button.
Updated Date: Apr 22, 2017 19:52:36 IST