Highlights, Germany vs Mexico, FIFA World Cup 2018, Match 10 in Moscow: Mexico stun Germany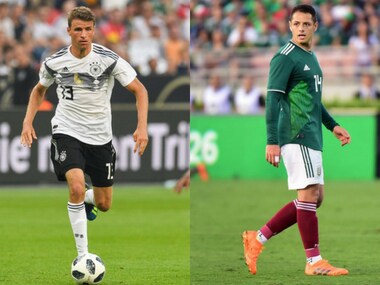 22:45 (IST)

Brazil take on Switzerland!

We know it'll take time for that shock German result to sink in, but we have another major clash on our hands now! Favourites Brazil open their campaign against Switzerland. Follow our live blog to get the latest updates!

22:38 (IST)

Defending champions Germany slump to a shock defeat!

Here's a quick recap of the match:

Germany became the third defending champions in the last 16 years to lose their opening match at the World Cup, falling to Mexico 1-0.

Hirving Lozano scored the lone goal in the 35th minute, picking up Javier Hernandez's pass inside the penalty area and beating Mesut Ozil before shooting past Manuel Neuer from 10 yards.

France in 2002 and Spain in 2014 were the other defending champions to lose their opening matches.

After Lozano's goal, Mexico goalkeeper Guillermo Ochoa pulled off a spectacular save to keep the score even, palming Toni Kroos' shot onto the crossbar.

Mexico pulled back into a more defensive formation midway through the second half as players tired and Germany attacked.

22:33 (IST)

Brilliant performance from Hector Herrera!

Héctor Herrera for #MEX vs. #GER:

• Most passes (37)
• Most tackles won (7)
• Most take-ons completed (6)
• Most fouls committed (4)
• Most fouls won (3)

What a performance. 🙌 pic.twitter.com/rGBvFMXjB2

— Squawka Football (@Squawka) June 17, 2018

22:32 (IST)

Germany 0-1 Mexico

Take a look at the stats from the match

22:27 (IST)

Germany stunned by Mexico!

Germany become the fourth defending champions in the last five editions to fail to win their opening match at the World Cup after France (in 2002), Italy (in 2010) and Spain (in 2014).

22:22 (IST)

FT! Mexico beat defending champions Germany!

Germany have suffered a shock defeat. It is not so much about the result as it was about the performance. Mexico deserved the three points and a more clinical side would have killed this match earlier. And oh, the possibility of a Brazil-Germany clash in the round of 16 is stronger now!

22:21 (IST)

90+2` Germany 0-1 Mexico

Final chance for Germany as they win a corner. Neuer comes up to add to the German numbers in the box. Nothing comes off it.

22:20 (IST)

90` Germany 0-1 Mexico

Three minutes of added time as Mexico edge towards a famous win. If they lose, Germany will become the second successive defending champion after Spain to lose their opening match.

22:18 (IST)

89` Germany 0-1 Mexico

Brandt has been lively since coming on and he creates an opening for Reus but his shot is blocked. The ball is recycled back to Brandt whose volley kisses the outside of the post with Ochoa beaten.

88` Germany 0-1 Mexico

Mexico fans in incredible voice as the final whistle nears. No nerves as of now.

86` Germany 0-1 Mexico

Timo Werner replaced by Julian Brandt. Expect pace, more dribbling, and hopefully for Germany's sake, decent final balls.

22:14 (IST)

YELLOW CARD !

84` Germany 0-1 Mexico

Hummels goes into the referee's book.

22:13 (IST)

83` Germany 0-1 Mexico

Germany break on the counter with Gomez scooping the ball to Werner, who may have been offside. There was too much pace on the ball and Werner is forced to drift to the left. Germany try to create an opening before Kroos shoots. Ochoa saves low to his right.

22:11 (IST)

YELLOW CARD !

82` Germany 0-1 Mexico

Muller becomes the first German to go into the referee's book.

22:10 (IST)

80` Germany 0-1 Mexico

Mexico break and it is a 3-v-2 situation with Jimenez, Hernandez and Layun up against Boateng and Hummels. Jimenez looks to set Layun free on the right but his pass comes off Hummels' trailing leg.

78` Germany 0-1 Mexico

Mario Gomez coming on, for Marvin Plattenhardt. Low has seen enough and he decides to field another striker as Germany move closer to Mexico's goal.

22:07 (IST)

77` Germany 0-1 Mexico

Layun misses a difficult chance to extend Mexico's lead. Marquez breaks up the German attack and sets Layun away on the counter. He's all on his own and he manages to get past Hummels before having a go at goal but it sails over.

22:05 (IST)

75` Germany 0-1 Mexico

Kross comes to close yet again but just seem to get his shot on target. He gets the ball from Kimmich and looks to slide it into the bottom corner from outside the box but his shot flies past the post.

73` Germany 0-1 Mexico

A clear shift in intent from Osorio as Rafael Marquez (remember him?) replaces Guardado. It'll be all about defending henceforth.

22:02 (IST)

72` Germany 0-1 Mexico

39-year-old Rafael Marquez comes on to make history as he becomes only the second player to play in five World Cups. He replaces Andres Guardado.

22:00 (IST)

69` Germany 0-1 Mexico

Shouts for a Mexican penalty as Chicharito goes down in the box. He times his run perfectly into the box but is put under pressure by Hummels. Fervent appeals for a penalty but the referee is unmoved. VAR also seems to agree with the referee's decision.

67` Germany 0-1 Mexico

Ilkay Gündogan would be better suited to the role Özil is playing at the moment but there is no sign of him coming off the bench right now.

21:56 (IST)

66` Germany 0-1 Mexico

Werner and Draxler squander two really good chances within a space of 30 seconds. Draxler is found on the right by a cross but he takes time to get his shot away and it's deflected behind. From the corner, Ozil swings in a cross which is flicked on by Hummels to Werner at the back post but Werner skies his volley.

21:54 (IST)

64` Germany 0-1 Mexico

Boateng strides forward and spots an unmarked Kimmich near the penalty spot and pings in a cross. The cross is behind Kimmich but he improvises and looks to execute a bicycle kick but the ball lands on the roof of the net.

21:52 (IST)

63` Germany 0-1 Mexico

Mexico have also beefed their midfield by replacing Carlos Vela with the more defensive-minded Edison Alvarez.

62` Germany 0-1 Mexico

The introduction of Marco Reus sees Ozil drop a bit deeper, providing Germany with a different passing solution in the centre of the pitch.

21:50 (IST)

59` Germany 0-1 Mexico

Both sides make their first change. Carlos Vela makes way for Edson Alvarez while Marco Reus comes on for his first World Cup appearance. He replaces Khedira.

21:48 (IST)

56` Germany 0-1 Mexico. Vela squanders a chance to make it 2-0

Germany lose possession and Mexico break with Hernandez. It's a 2-v-1 situation with Hernandez and Vela up against Boateng. Hernandez squares the ball to Vela but it is just too much for Vela as a chance is wasted.

55` Germany 0-1 Mexico

It takes Germany ten minutes in the second half to build concerted pressure. A few misplaced passes have stymied their effort. For Mexico, though, this is a pretty good situation. They are built to play counterattacking football and more opportunities will materialise if the score remains the same.

21:44 (IST)

54` Germany 0-1 Mexico

Draxler nearly levels it up for the Germans. His run into the box is spotted by Ozil who puts in a perfectly weighted ball to the PSG man. Draxler looks to curl into the far post but his shot takes a huge deflection and wrong-foots Ochoa in goal. Unfortunately for Draxler, the ball evades the goal.

21:40 (IST)

50` Germany 0-1 Mexico

It has been an interesting battle between Lozano and Kimmich on the left so far. Two immensely talented youngsters up against each other and so far, Lozano has had the better match. He tries to get past Kimmich and run parallel to the byline but takes a heavy touch as the ball goes out of play.

21:36 (IST)

46` Germany 0-1 Mexico

This is the story of the match so far

Germany are in an unfamiliar position for a World Cup opener — trailing at half-time. Hirving Lozano scored from 14 yards out in the 35th minute to give Mexico a 1-0 lead in Moscow. He took a pass from Javier Hernandez and wrong-footed Mesut Ozil to score his eighth international goal.

Both sides put pressure on the goalkeepers in a high-energy first half at Luzhniki Stadium. Germany had five shots on goal to Mexico's four. German goalkeeper Manuel Neuer stopped a header just short of the goal line. Germany have won their last seven World Cup openers, outscoring opponents 20-2 in its last four.

No changes for either side at halftime as the second half gets underway.

21:26 (IST)

Stat attack!

Take a look at the stats from the first half

21:19 (IST)

HT. Germany 0-1 Mexico

Are you complaining?

Mexico fans, in their jubilantion here, threw cups of beer which spilt over on journalists. The media delegation is not impressed.

— Priyansh (@GarrulousBoy) June 17, 2018

HT! Germany 0-1 Mexico

Half-time and it's not looking great for Germany. Even though Kroos struck the bar with his freekick, it's Mexico which looks likely to score the next goal. Germany do not need any personnel changes in particular but they must show more intensity and tactical discipline.

21:16 (IST)

45` Germany 0-1 Mexico

Mexico get on the attack and Hummels is too slow to close down Vela whose shot flies just past the post.

21:15 (IST)

44` Germany 0-1 Mexico

Word.

1998 - The last time Germany conceded first in a World Cup match and went on to win was back in 1998, versus Mexico (2-1). Omen? #GERMEX #WorldCup #GER #MEX

— OptaJoe (@OptaJoe) June 17, 2018

21:14 (IST)

43` Germany 0-1 Mexico

1 - After scoring with four of his five shots on target in the Concacaf World Cup 2018 qualifiers, Hirving Lozano managed to score with his first shot on target in the World Cup finals. Chucky. pic.twitter.com/7Uelhl7HqO

— OptaJohan (@OptaJohan) June 17, 2018

42` Germany 0-1 Mexico

It's shocking how open Germany are at the moment. Easy for Mexico to cut through the opponent when there is immense space between defence and midfield.

21:10 (IST)

37` Germany 0-1 Mexico. Kross hits the crossbar!

Lozano gives away a dangerous free-kick after bringing down Kimmich 25 yards from goal. Kroos steps up and his shot seems destined to find the back of the net but Ochoa palms it on to the crossbar!

GOAL !

35` Hirving Lozano scores!

Another break for Mexico and this time they make it count. Hernandez had the good sense of finding Hirving Lozano on the left, who cut inwards with ease before beating Neuer at the near post.

21:02 (IST)

30` Germany 0-0 Mexico

Germany have been very poor today defensively. Lozano looks to create a chance but Boateng gets in the way. Khedira looks to play out from the back instead of hoofing the ball away. Muller fails to control the ball and Lozano pounces on the error and squares the ball to Layun. However, his shot is weak and Neuer saves comfortably.

26` Germany 0-0 Mexico

Mexico are finding joy on the left as Joshua Kimmich pushes up in characteristic fashion. If not for a poor final ball, the Mexicans could have taken a surprise lead.

20:59 (IST)

25` Germany 0-0 Mexico

Now the Germans get a free-kick deep in the Mexican half. Kroos finds Hummels at the back post who heads it towards the danger area but Mexico get it away.

24` Germany 0-0 Mexico

Germany are in control here, even though Mexico look threatening. Julian Draxler has been particularly impressive, offering a direct threat on the left flank.

20:55 (IST)

23` Germany 0-0 Mexico

Kimmich commits a foul on the left and Mexico prepare to once again trouble the German defence. However, Moreno fouls Khedira as he tries to win a header and Germany get a free-kick.

20:52 (IST)

19` Germany 0-0 Mexico

Werner gets at the end of a long ball and despite spotting Draxler free, shoots but shoots straight at Ochoa.
Preview: Mesut Ozil returned from injury to take his place in Germany's starting line-up for the defending champions' opening match of the World Cup against Mexico in Moscow on Sunday.
Ozil had sparked controversy on the eve of the tournament by posing for photographs with Turkey President Recep Tayyip Erdogan, and the Arsenal midfielder missed Germany's final warm-up with a knee injury.
Marvin Plattenhardt was handed a start at left-back in place of an ill Jonas Hector, while Manuel Neuer made his long-awaited competitive return after eight months on the sidelines with a broken foot.
Mexico coach Juan Carlos Osorio named an attacking trio of the highly-rated Hirving Lozano, Javier Hernandez and Carlos Vela.
Rafael Marquez was named on the bench as the 39-year-old looks to become just the third player to appear at five editions of the World Cup.
Germany are bidding to win their opening group game at the World Cup for an eighth successive finals, while Mexico's only victory over their Group F opponents came back in 1985.
Germany (4-2-3-1)
Manuel Neuer (capt); Joshua Kimmich, Mats Hummels, Jerome Boateng, Marvin Plattenhardt; Sami Khedira, Toni Kroos; Mesut Ozil, Thomas Mueller, Julian Draxler; Timo Werner
Coach: Joachim Loew (GER)
Mexico (4-3-3)
Guillermo Ochoa; Hugo Ayala, Carlos Salcedo, Hector Moreno, Jesus Gallardo; Hector Herrera, Andres Guardado (capt), Miguel Layun; Hirving Lozano, Javier Hernandez, Carlos Vela
Coach: Juan Carlos Osorio (COL)
Referee: Alireza Faghani (IRI)
With inputs from Agencies
Click here for full coverage of FIFA World Cup 2018
Click here to view the full schedule of FIFA World Cup 2018
Click here to view the points table of FIFA World Cup 2018
Firstpost is now on WhatsApp. For the latest analysis, commentary and news updates, sign up for our WhatsApp services. Just go to Firstpost.com/Whatsapp and hit the Subscribe button.
Updated Date: Jun 17, 2018 22:52:46 IST