French Open 2018: Novak Djokovic's focus at Rome Masters an indicator of a man finding his way back
Novak Djokovic is back to focusing on the basics rather than indulging in quick-fixes like hiring and firing coaching staff.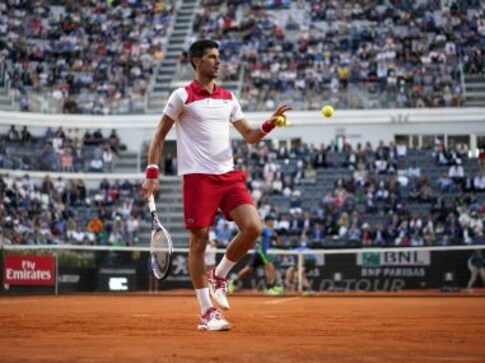 There was something new, something old about the way Novak Djokovic played at the Rome Masters last week. You could see his clarity of thought in the way he was hitting his shots off both flanks. There was no jerky motion of the racquet in order to prevent aggravating that delicate right elbow. Instead his ground strokes were strong, accurate, and effective – especially that smooth two-handed backhand that has been rated as one of the best in the game.
He sailed into the semi-finals at the Foro Italico, dropping only one set on the way, to square off against the master of clay Rafael Nadal himself. He did lose out 7-6(4), 6-3, but not without putting up a fight. And that was a crucial development in the form of the 31-year-old, especially a week before the French Open. For it was at that the Mecca of clay that led to one of tennis' most dramatic downfalls.
At Roland Garros two years ago, Djokovic had become the first player since Rod Laver to hold all four Grand Slam titles at the same time. It was his 12th Major and the Serbian had completed a Career Slam. Winning the French Open, after three successive losses in the final, completed him.
"It's really a very special moment," he said. "Perhaps the greatest moment of my career."
But he had reached a level so high that the only direction he could go was down.
Djokovic's precise, percentage tennis unravelled rapidly: he hasn't won a Slam since that 2016 French Open. Last year, Djokovic playing as the defending champions for the very first time was ousted in the quarter-finals by Dominic Thiem in dramatic fashion. The 6-0 score in the third set of the straight-sets loss prompted John McEnroe to comment, "he gave up."
Consider the stats since that French Open triumph. Djokovic won only the Montreal Masters later in 2016. In 2017, he won only two titles, the ATP 250 events in Doha and Eastbourne, making it the first time since the 2010 season where the Serb could manage only two titles – he would win at least six titles in the six years between.
The problem wasn't merely a loss of form. There were alleged personal problems that had been affecting the former World No 1. The weight of expectations on court too had started to take a toll as he would lose his top world ranking to Andy Murray at the 2016 ATP Finals in London.
"The last 5-6 months have not been ideal," said Djokovic in November 2016. "There were things I could've done better on court. I know that. It was a tough season. I had just been through so much emotion in the first six months with Roland Garros I needed some time to take it all in, digest it. But I didn't have that time. I had to be on court right away. I guess that all took its toll."
The French Open had become that unconquerable roadblock in Djokovic's path to greatness. In the early years, Nadal had been the immovable object, beating the Serb in two finals.
In 2015, though, it looked like the stars had lined up for Djokovic. Nadal was mysteriously out of confidence, and out of form, even on his favourite surface and the Serb, ranked No 1 in the world at the time, defeated him in the quarter-finals to open up a new world of possibilities. But in the final, he ran into Stan Wawrinka on one of those days when the Swiss can power through any barrier. At the presentation ceremony, overwhelmed by the warm applause, Djokovic tearfully accepted the runners-up trophy. He vowed to come back stronger the next year, and kept his word.
In the 2016 finals, Djokovic defeated Andy Murray to complete his Grand Slam set. But that title seemed to have taken the wind out of his sail.
A month later, he lost in the third round to big-serving American Sam Querrey. Later at the US Open, Wawrinka beat him in the final.
His title defence at the 2017 Australian Open, a competition he'd won six times, ended when an unheralded Uzbek Denis Istomin got the better of him in the second round.
Having split with super coach Boris Becker at the end of 2016, Djokovic sought to add another charming multiple-Slam winner to his entourage by appointing Andre Agassi as coach and mentor. The duo was unable to work magic at the French Open at short notice. The question was not whether Agassi, hitherto untested, be a good coach but if he had enough time to commit to Djokovic's cause.
Shortly before Wimbledon though, he'd try "shock therapy" by splitting with his entire team including long-time coach Marian Vajda. It was his attempt at "finding the winning spark again." Rather, all the problems compounded and centred in on his right elbow at SW19, forcing him to withdraw from the quarter-final against Tomas Berdych – the last match Djokovic wold play that year.
He arrived six months later, at the Australian Open this year with the expectation of doing what Roger Federer had done a year earlier – take a break from the tour, come back and win a Slam the first time of asking. He had put in some work into his game as well, under the tutelage of both Agassi and Radek Stepanek. At Melbourne he'd display a new service action that was less explosive and had a shorter backswing.
But he'd fail in the quarter-final against NexGen ATP Finals champion Hyeon Chung. That failure prompted a more drastic look at the elbow trouble: he underwent surgery for it in February.
He followed that up with first round exits at both the Indian Wells and Miami Masters. His run till the Madrid Masters earlier this month didn't do much to quell the thought that though Djokovic had returned he was still a shadow of the man he was. From No 1 in 2016 at the French Open, he has slid down to 22 in the world rankings.
Then came the Italian Open. A few weeks earlier Djokovic reunited with Vajda, who had been with the Serb since 2006. Djokovic arrived in Rome with no expectations but with no pressure either. He played freely, was cheerful again, and even handed out one of his racquets to a fan when others would only pass on sweaty headbands, wristbands or even a towel.
Against Nadal, even though he lost, Djokovic believes he is finally getting his act together.
"I don't think that there was too much of a difference between me and Rafa, which is great for me, great news for me," he said after losing to Nadal in the semi-final. "Rafa is, of course, the best player ever to play tennis on clay courts. But all in all it was a really good quality match. I can only take positives from this week."
The performance in Rome was a much needed boost, although it did come later than he expected.
"I'd never faced this kind of situation before, I thought it wouldn't take long to get back to winning ways," he said. "But the contrary actually happened and I had to learn a lesson and accept the circumstances. Looking back two or three months, this is the best I've felt on court, by far."
There was indeed something different about Djokovic the way he played in Rome – he wasn't flawless, but he had significantly cut down on the errors, which had alarmingly crept into his water-tight defence. He is back to focusing on the basics rather than indulging in quick-fixes like hiring and firing coaching staff.
And now he's tuning up to head back to Paris for the French Open, the site where his career was complete, and where the downfall began. He'll hope to resurrect there as well.
Tennis
Eleven male athletes and the 1980 US Olympic team, which did not compete in that year's Moscow Summer Games, have received the award.
Tennis
Watching body language, anticipating shots and reactions, have been areas that Cirstea has been encouraged to engage with by Johannson.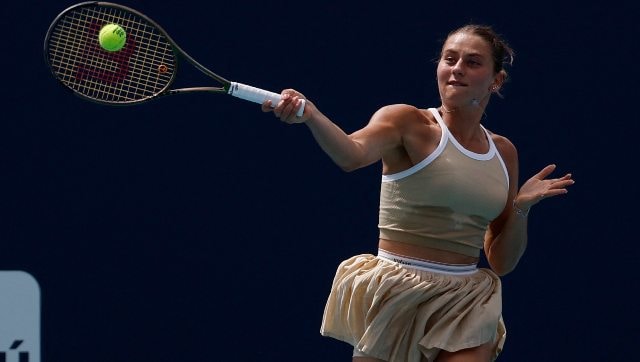 Tennis
Ukraine's Marta Kostyuk says the WTA Tour has ignored a request for a meeting with players from the war-torn nation in the latest signs of the conflict-related tensions in women's tennis.