Italian Open: Rafael Nadal dismisses Novak Djokovic to enter final; Halep sets up summit clash with Svitolina
Rafael Nadal, still unbeaten in semi-finals at the Foro Italico, unleashed a trademark clay-court attack after winning a tight first set lasting well over an hour.
Rome: Rafael Nadal closed in on an eighth Rome Masters title as he dismissed old rival Novak Djokovic 7-6 (7/4), 6-3 on Saturday to reach the final for a record-extending 10th time.
The last-four success will give the Spanish top seed added confidence ahead of the French Open, where he has won a record 10 titles.
Nadal, still unbeaten in semi-finals at the Foro Italico, unleashed a trademark clay-court attack after winning a tight first set lasting well over an hour.
"I need to be able to play my best tomorrow," Nadal said of a Sunday final against either defending champion Alexander Zverev or Croatian Marin Cilic where a win will take him back to the world number one spot.
"I'm very happy with my game. It all worked for me, the tactics, the shots."
"To play against Novak you always have to play at the limit of your game with a high intensity and understand well the tactics you want to play."
The 31-year-old world number two cut the deficit in his head-to-head series with Djokovic to 26-25, after their 51st meeting since first facing off in 2006.
But the Serb complained afterwards about poor scheduling which affected his preparation, playing a late-afternoon quarter-final on Friday before returning to court on Saturday mid-afternoon.
"I don't want to seem like I'm complaining about losing the match because of the schedule. But having to end at night and coming back to play early in the day affects a lot," he said.
"Nobody has ever, ever reached me in my entire career to ask me about what I think would be the best scheduling. I don't think that is fair, we will address it in the next players' council."
Djokovic has rediscovered his form this week after months of elbow injury problems, including an operation earlier this year.
He can also feel his confidence increasing.
"I don't think there was that much of a difference, which is great news for me. Winning the tie-break was for him a great wind in his back," said Djokovic.
"Rafa was just better in the important moments, played the better shots. He deserved to win
"I haven't had many breaks in the last period, so I'm pleased by how I've played in the last days. I hope Roland Garros can be the continuation."
Halep downs Sharapova
Simona Halep profited from a miserable day on serve for Maria Sharapova to reach the Italian Open final with a 4-6, 6-1, 6-4 defeat of the five-time Grand Slam winner on Saturday.
The Romanian world number one will bid for the title on Sunday against Elina Svitolina in a repeat of last year's final won by the Ukrainian.
Svitolina booked her spot as she dominated Anett Kontaveit to win 6-4, 6-3 in just 74 minutes.
Halep fought back from a set down to win only her second match against Sharapova, who may have been feeling the effects of a three-hour victory the day before and was broken 10 times.
Halep has now defeated the Russian twice in a row having lost their seven previous meetings.
"She plays tough, it's difficult to return against her," Halep said. "I tried to play my game, I didn't think about our past.
"I did what I had to do, I changed tactics after the first set and it worked very well for me.
"Against Svitolina I must play my best, and we will see what happens."
Sharapova was burdened by nine double faults over a match lasting almost two and a half hours, taking her cumulative time on court to well over 12 hours this week.
She will still earn a seeding at Roland Garros, starting next Sunday, while Halep will remain number one ahead of Caroline Wozniacki.
Sharapova was playing her second semi-final of the season and should move back into the top 30 as a result.
Svitolina too strong 
The first meeting between Svitolina and Kontaveit featured four breaks of serve in the first eight games, with the fourth-seeded defending champion snatching the early lead after 39 minutes.
Svitolina moved to 3-1 in the second set, reached 5-3 with an ace and served out victory a game later on her second match point.
"I'm very proud of myself already that I reached the final. You know, it was really tough, from the beginning, from the first match," world number four Svitolina said.
"I work for these kind of matches, I work on it every day. When my opponent tries to hit everything, I have an answer.
"And when my opponent tries to play maybe a little bit more into court I can attack, so that's an answer.
"Today, I think I was very solid with my performance. And this was really, really good. I'm very proud of this, that I could stay really consistent all match."
Kontaveit, ranked 26th, had been on a roll against top-10 opponents, upsetting second-ranked Caroline Wozniacki and world number nine Venus Williams this week.
"It was definitely a really good week for me. She was really tough today and played really great. I'm only taking the positives from this week," the Estonian said.
"She had an answer to everything I gave her, it made me maybe try and do too much or do things I didn't want to do."
Svitolina will be bidding to win her eighth successive final dating back to last season as she bids for a third title this year after winning in Brisbane and Dubai.
Sports
Nadal enjoys a 7-1 record in his French Open meetings with Djokovic and is 19-7 overall on clay.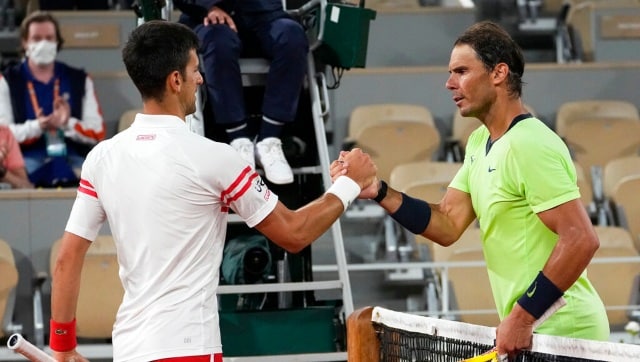 Sports
Here's how Twitter reacted to Novak Djokovic's landmark win over long-time rival Rafael Nadal in the French Open 2021 semi-finals!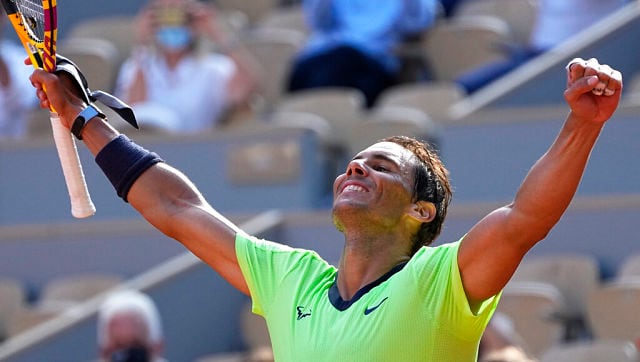 Sports
Here are all the live streaming details about Stefanos Tsitsipas vs Alexander Zverev and Rafael Nadal vs Novak Djokovic Franch Open semi-finals matches.