Manchester City accused by Premier League of alleged financial breaches
Manchester City are accused of cooking up their financial books for the period of 2009-18 and have been referred to an independent panel.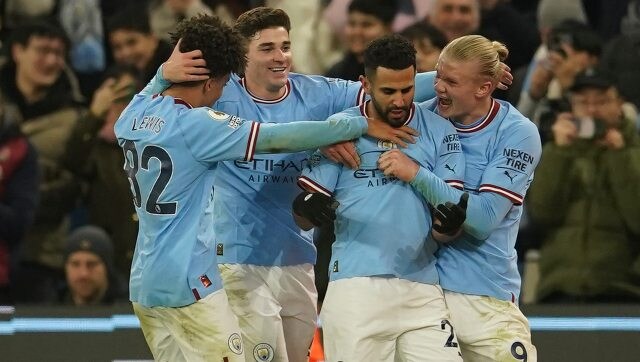 London: Manchester City could be docked points or even relegated from the Premier League after the English champions were charged with over 100 breaches of financial rules on Monday. They have been referred to an independent commission by the Premier League.
The alleged rule breaches took place between 2009-18, the first nine full seasons under the club's Abu Dhabi ownership. They're accused to have breached league rules requiring provision "in utmost good faith" of "accurate financial information that gives a true and fair view of the club's financial position".
Manchester City, in response, expressed "surprise" with the allegations and has "welcomed" an independent assessment to put the "matter to rest once and for all."
The Premier League said the accurate financial information required related to "revenue (including sponsorship revenue), its related parties and its operating costs".
The second set of breaches listed refers to alleged breaking of rules "requiring a member club to include full details of manager remuneration in its relevant contracts with its manager" related to seasons 2009/10 to 2012/13 inclusive. Roberto Mancini, the current Italy boss, was the Manchester City coach at the time.
The second set of alleged breaches also refers to requirements for a club to "include full details of player remuneration within the relevant contracts".
The third section deals with alleged breaches of Premier League rules requiring clubs to comply with UEFA Financial Fair Play regulations while the fourth set of alleged breaches relates to the Premier League's profitability and sustainability rules.
Cooperation
Finally, the club are alleged to have breached league rules requiring member clubs to cooperate with and assist the Premier League with its investigations, from December 2018 to date.
The Premier League's statement clarified the commission would be "independent of the Premier League and member clubs".
"The proceedings before the commission will… be confidential and heard in private", it said, adding that there would be no further comment "until further notice".
Premier League rule W.51 covers the sanctioning powers available to commissions should alleged breaches of league rules be found proven.
These range from a reprimand, through to the deduction of points up to a recommendation to the league to expel a club from the competition.
The commission has the power to make such sanctions conditional on defined actions being taken within a fixed time period, and respondents have a right of appeal.
Manchester City's statement in reply said: "Manchester City FC is surprised by the issuing of these alleged breaches of the Premier League Rules, particularly given the extensive engagement and vast amount of detailed materials that the EPL has been provided with."
"The Club welcomes the review of this matter by an independent Commission, to impartially consider the comprehensive body of irrefutable evidence that exists in support of its position."
"As such we look forward to this matter being put to rest once and for all."
Since being taken over by the Sheikh Mansour's Abu Dhabi United Group in 2008, Man City have won six Premier League titles – including last year. However, they're yet to win the UEFA Champions League.
City were banned from UEFA competitions in February 2020 for two years by European football's governing body for "serious financial fair-play breaches" but the sanction was overturned by the Court of Arbitration for Sport in July the same year.
Pep Guardiola's side are second in the league table this season, five points behind leaders Arsenal after a 1-0 defeat at Tottenham on Sunday.
City, awarded club of the year at the 2022 Ballon d'Or ceremony, reported record club revenues of £613 million ($737 million) and a profit of £41.7 million for the 2021/22 season.
Manchester City chairman Khaldoon Al Mubarak said at the time that City were chasing "unprecedented goals".
"In 2008, we gave ourselves the target of exceeding the benchmarks that had been set by others within football and, in doing so, to also exceed the new standards that we believed leading clubs would achieve in the time it would take us to catch up," he said.
"Our aim was clear — to one day be the club that set the benchmark for others. The statistics and results show that in many ways we are beginning to achieve our long-term ambition."
(with inputs from AFP)
Read all the Latest News, Trending News, Cricket News, Bollywood News, India News and Entertainment News here. Follow us on Facebook, Twitter and Instagram.
Football
Bukayo Saka scored in either half as Premier Leaders Arsenal extended their lead over defending champions Manchester City to eight points with a game in hand.
Football
Crystal Palace, without a win this year, are 12th in the Premier League table but are just three points above the drop zone
Football
Reports said bidders, including chairman of Qatar Islamic Bank Sheikh Jassim Bin Hamad Al Thani and British billionaire Jim Ratcliffe, were initially told they had until 2100 GMT on Wednesday to submit new bids, but that has now been extended.