FA Cup: Mikel Arteta ready to step out of influential Pep Guardiola's shadow
Arteta worked for Guardiola as the City manager's assistant for three years before leaving to take over at Arsenal in 2019.
Mikel Arteta insists he will never copy Pep Guardiola's managerial style as the Arsenal boss prepares for the first of three crucial clashes with Manchester City.
Arteta worked for Guardiola as the City manager's assistant for three years before leaving to take over at Arsenal in 2019.
The old friends will be rivals for 90 minutes on Friday when City host Arsenal in the FA Cup fourth round.
They have known each other since Arteta progressed through the youth ranks at Barcelona, where Guardiola is revered for his time as a player and manager at the Camp Nou.
But, while Arteta has always admired Guardiola, the 40-year-old is determined to do it in his own way when it comes to his career in management.
"I had this when I was a player as well," Arteta told reporters when asked if he sought to replicate Guardiola's style.
"We grew up in the same position. I cannot control that. I have never tried to copy and paste anything.
"This club deserves much better than that, and it would not work that way. Every character and person dictates how the manager is, and how the team is. And we are very different.
"We are really different as people and we are very different as managers. That is why we understand each other so well and have the relationship that we have. That is probably for someone else to respond."
After several rocky periods at Arsenal, Arteta is showing signs of being able to emulate Guardiola's sustained success.
He has taken Arsenal five points clear at the top of the Premier League, with second-placed City looking to inflict a psychological blow on the leaders in the FA Cup.
The showdown at the Etihad Stadium is the prelude to a pair of Premier League battles later this term that will shape the destiny of the title race.
When it was put to the former Everton and Arsenal midfielder that he has stepped out of his friend's shadow, Arteta was keen to credit his fellow Spaniard for his development as a coach.
"I feel gratitude. First of all because he inspired me as a player and he inspired me and gave me the opportunity as a coach. That's it," Arteta said.
"I wouldn't be sitting here and having that willingness and love for coaching if he hadn't trusted in my love and given me the opportunity.
"I was looking at him and just wanted to achieve what he was doing. I loved the way he played and the way he was transmitting on the pitch and understanding what was happening. He was an inspiration since I was 18-years-old.
"I think the influence that Pep had in football in the last 20 years is just incredibly powerful, he changed the game like Johan Cruyff did in the past, he did it like other managers have that will go (down) in history."
Read all the Latest News, Trending News, Cricket News, Bollywood News, India News and Entertainment News here. Follow us on Facebook, Twitter and Instagram.
Football
Chelsea defender Chilwell is back in the England squad after a hamstring injury ruled him out of last year's World Cup.
Football
Indian football team received a boisterous welcome at the Khuman Lampak Stadium ahead of their first match ever in Manipur.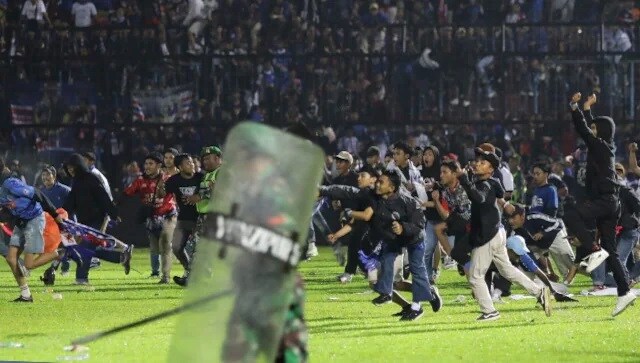 Football
Last year's crush in the city of Malang killed 135 people — including more than 40 children — after a 3-2 defeat for Arema FC by their fierce East Javan rivals Persebaya Surabaya.