When it comes to the 2016 Rio Olympics, Google has been pretty creative. Whether it is live schedules, big data analytics or even fruit games, Google has been upping their game at the Games.
So in case you still have the Olympic blues, or you love numbers, or you just want to know how India stands statistically in terms of its GDP, check out this alternative Olympics medal table.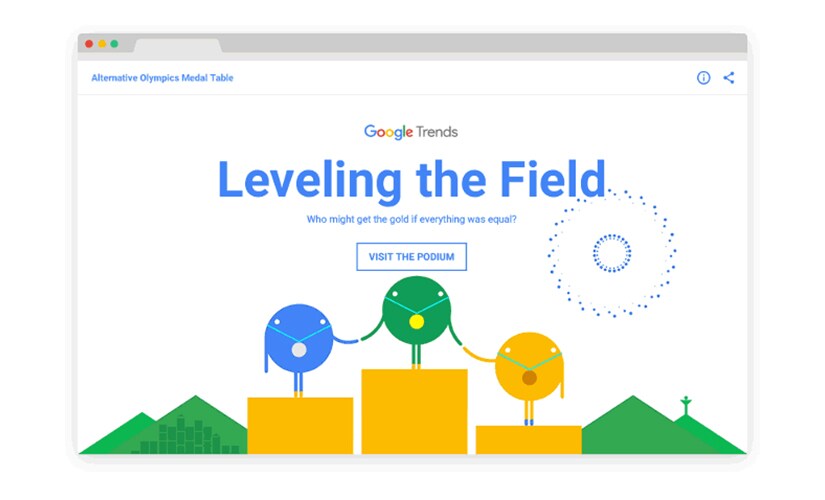 "We wanted to take account of factors beyond the traditional medal count. Our data team examined previous Olympics and economic indicators such as the output of a country's economy (GDP), the size of its population — and also different kinds of search interest on Google (for countries providing data). We then weighted the medal scores by each factor, to create a medal 'count' reflecting each variable," the technology magnate said about this new feature.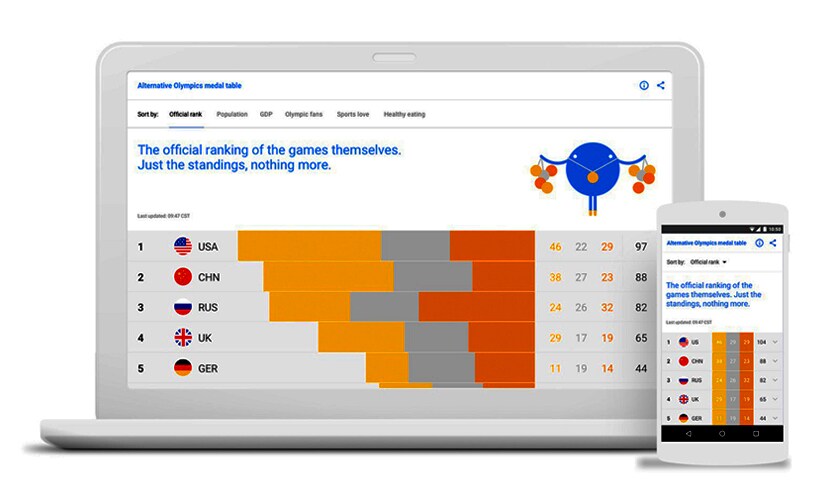 "The most populous countries and those that invest most heavily in their programs taking the top slots. But what if you could look at the medal table in another way?" the organization added in a blog on Medium. "We wanted to apply the techniques of data journalism to this idea, which is how the Alternative Medal Table interactive was born," the company added.
This fresh take on data journalism really puts the Games into perspective. Also, if you felt India's official rank of 67 is bad, well then we have some news for you. In terms of population size, India ranks 86 out of a possible 87. If all the world's populations were equal, India would rank even worse.
India ranks better at 65 in 'Olympic love', 'Sports fan' and 'Healthy eating', which calculates search interest in sport participation, searches for sporting activities and search interest in healthy eating. GDP is another area where India doesn't fare well. Once Gross Domestic Product is taken into account, Indian ranks low at 80.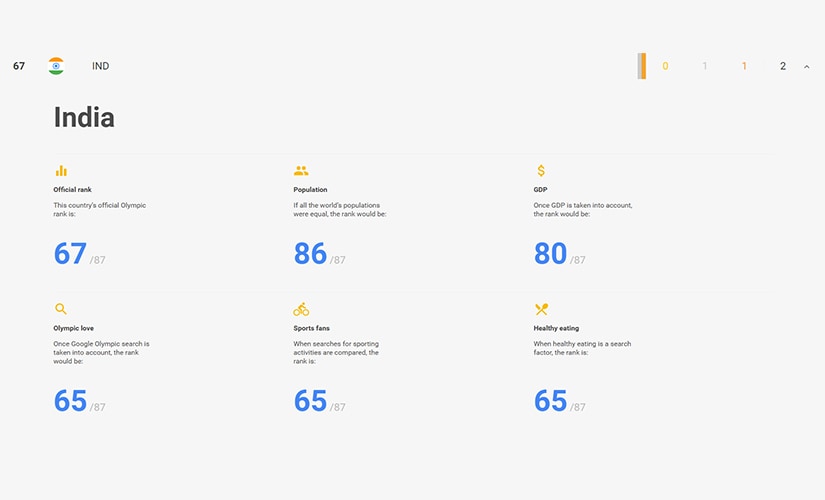 Maybe this table comes as a wake-up call for the officials, who are infamous for their neglect, very infamous. See the full medal tally table by Google here:

Firstpost is now on WhatsApp. For the latest analysis, commentary and news updates, sign up for our WhatsApp services. Just go to Firstpost.com/Whatsapp and hit the Subscribe button.
Updated Date: Aug 22, 2016 15:08:20 IST