FIFA World Cup 2018: 'Sorry' Germany arrive home to scathing headlines after shock first-round ouster
Germany's chastened national team arrived home on Thursday after their shock World Cup exit plunged the football-mad nation into mourning and left the future of coach Joachim Loew in the balance.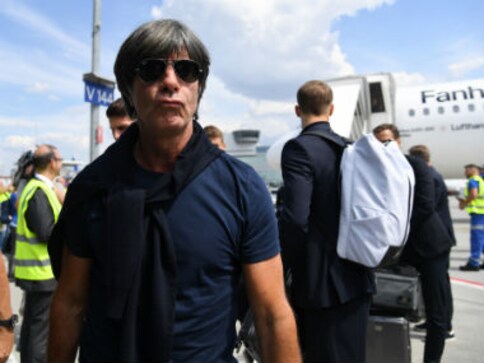 Frankfurt Am Main: Germany's chastened national team arrived home on Thursday after their shock World Cup exit plunged the football-mad nation into mourning and left the future of coach Joachim Loew in the balance.
The four-time champions landed at Frankfurt airport shortly after 3 pm (1300 GMT), a day after their humiliating 2-0 defeat against South Korea at Russia's Kazan Arena sent them packing in the first round.
Senegal take on Colombia while Japan face Poland at 7.30 on Thursday while England face Belgium and Panama take on Tunisia at 11.30 in the second set of matches on Day 15
In a mea culpa on their official Twitter account, the German Mannschaft apologised to a country in agony.
"Dear fans, we're just as disappointed as you," the tweet read.
"We're sorry we didn't play like world champions. That's why we deserved to be eliminated, as bitter as it is."
Defender Mats Hummels had earlier also tweeted out his regrets with a succinct "sorry..." and a crying-face emoji.
German media have given a damning verdict of the titleholders' World Cup campaign, which will be remembered as the first time since 1938 that the country has failed to make it past the first round.
"No words!" chided the best-selling Bild daily, over a picture of a despondent-looking Toni Kroos.
The headline mirrors the one used four years ago after Germany's stunning 7-1 victory over Brazil at the last World Cup — but this time the nation has been left speechless out of sheer disbelief.
Anger was mounting too after a weak performance in Russia that has left commentators calling for radical changes in German football.
"Our elimination is fully deserved," Bild wrote, lamenting the "shame" of the defending champions getting knocked out after just 10 days, "reduced to ashes and rubble".
Other newspapers, like the Rheinische Post and Berlin's Tagesspiegel, simply went with the headline "Out", while the Stuttgarter Zeitung spoke of a "historic debacle".
Off-pitch drama
Bild said head coach Low's fate would be decided "in the coming days" following talks with the German football federation (DFB).
After 12 years in charge, Loew is now under fire for placing too much faith in former stars past their prime.
The Frankfurter Allgemeine Zeitung said only Loew's departure could give Germany the "new start" it needed.
"That the party ended before it really began is bearable — but only if German football strategists recognise the sign of the times and act accordingly," the conservative daily wrote.
Sports website Kicker spoke of a "collective failure".
"There was no real team in Russia," it wrote, noting Germany's earlier lacklustre performances against Mexico and Sweden in Group F.
Alongside criticism of missed chances and the woeful performances of some veteran players, recent off-pitch drama added to a picture of a team in disarray.
Ilkay Gundogan and Mesut Ozil, both of Turkish origin, sparked a storm of controversy when they posed for pictures with Turkey President Recep Tayyip Erdogan in London last month, prompting angry fans to question their loyalty to the national team.
German-born Ozil in particular came in for sharp criticism after an underwhelming turn.
The far-right, anti-immigration Alternative for Germany (AfD) party was quick to blame the Arsenal midfielder for the nation's heartache.
"Without Ozil, we would have won!" tweeted AfD lawmaker Jens Maier.
Despite the premature end of the Mannschaft's campaign, main sponsor Adidas said it still expects to sell around eight million football jerseys this year — more than during the 2014 World Cup in Brazil.
The German shirts may yet be snapped up by bargain-hunters, with stores promptly hawking them on steep discount after Wednesday's defeat.
Major German shopping centre chain Kaufhof offered a 40-percent price cut on World Cup merchandise in a promotion called "Too bad, Germany".
Click here for full coverage of FIFA World Cup 2018
Click here to view the full schedule of FIFA World Cup 2018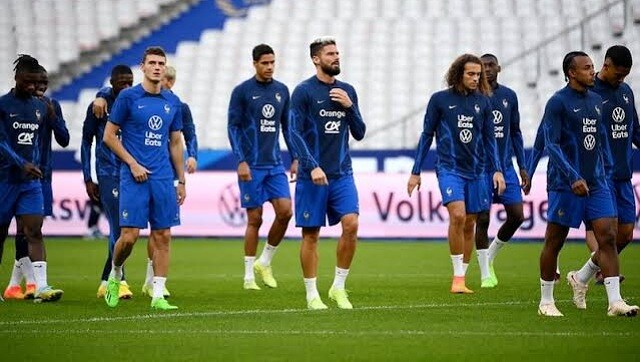 Football
Defending champions France, Germany, England and other strong European nations have endured a slump in form at competitive matches leading to FIFA World Cup 2022.
Football
All 10 European nations' captains will be wearing 'OneLove' armband during the FIFA World Cup 2022 in Qatar as homosexuality remains to be a crime in the gulf nation.
Football
Neymar Jr. with 74 goals is just three goals behind Pele's 77 goals for Brazil. The Brazilian forward has matured over the period after the last FIFA World Cup.