FIFA World Cup 2018: Serbia football association formally appeal to organising body over refereeing decisions in Swiss defeat
The Serbian football association has appealed to FIFA over referee Felix Byrch's decisions in the match against Switzerland, pointing out seven occasions on which the referee made a mistake.
Kaliningrad: The football association of Serbia said they have appealed to FIFA over referee Felix Brych's officiating during the thrilling 2-1 defeat to Switzerland on Friday which jeopardised the nation's hopes of reaching the last 16.
"We have submitted seven video-recordings clearly showing Brych's tendency to make decisions against our national team," said a statement from the Serbian association. The statement added, "the footage reveals Brych's double standards in brandishing yellow cards, as he was quick to book our key players while he didn't do the same in similar situations at the other end."
Chief among their complaints was the decision to not award Aleksandar Mitrovic a penalty in the second half when the game was poised at 1-1, an incident where referee Brych chose not to consult the video assistant referee (VAR).
A strike from Xherdan Shaqiri in stoppage time completed Switzerland's comeback from a goal down and means Serbia face the daunting task of beating Brazil in their final game on Wednesday to guarantee their place in the next round. If they draw with Brazil, however, they would qualify in the unlikely scenario that Switzerland lost to Costa Rica by more than one goal in the other Group E game.
"The most glaring poor decision was not awarding Serbia a penalty for a foul on Mitrovic with the score 1-1, and awarding the spot kick could have turned the match our way," added the statement, further claiming that "the whole world saw the penalty except Brych and it should have gone to VAR analysis. We are wondering why Serbia is the only team in the World Cup where the match official chose to ignore controversial situations as it raises the legitimate question whether the VAR is being used selectively."
Click here for full coverage of FIFA World Cup 2018
Click here to view the full schedule of FIFA World Cup 2018
Sports
Much of the racist abuse is sent to players from anonymous accounts. Twitter and Facebook would only provide comments from unnamed spokespeople when asked for interviews to discuss the boycott.
Sports
The trio risks being banned from the Champions League as UEFA pursues a disciplinary process against them for not disavowing the Super League and being reintegrated into the existing system.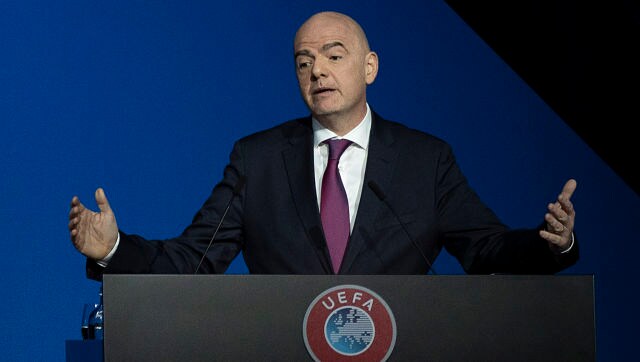 Sports
Infantino said there were many possible avenues to promote "economic stability" and "competitive balance" in football.