FIFA World Cup 2018: Meet Malayalam commentator Shaiju Damodaran, whose high-octane style has made him a global sensation
Star Malayalam commentator Shaiju Damodaran shares the secrets of his success in this exclusive interview with the Firstpost.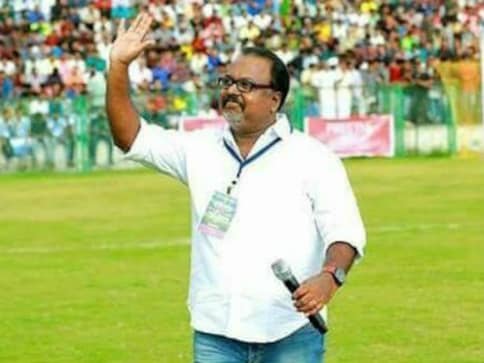 As the world waited and watched with bated breath at the edge of their seat for an equaliser from Cristiano Ronaldo, one man's commentary took social media by storm. The instant hero is Shaiju Damodaran, a football journalist known only among Malayalees until recently.
Shaiju's "Ronaaldoooooooooooo" scream coupled with Rajanikanth's dialogues from Kabali 'Naa vanthittennu sollu; Thirumbi vanthittennu sollu' set Twitter ablaze. As the video clips of the commentary went viral on social media, even many non-Malayalam speaking footballs fans across the world switched over to Sony ESPN's regional language Malayalam to listen to his high-spirited, animated and entertaining commentary.
Kochi-based Shaiju, who started his career as a sports journalist in a Malayalam daily, had forayed into TV television commentary by chance when he was called to cover Celebrity Cricket League, a tournament played by film stars. Watching his performance, Asianet TV tried to test him when it was awarded the right to telecast the inaugural Indian Super League (ISL) in 2013. He justified his choice by making the viewers glued to the television sets throughout the ISL series.
Shaiju, who has covered 222 ISL matches so far, is looking forward to stamping his presence in the cricket arena if he is given an opportunity to cover the 2019 ICC World Cup. The star commentator shared the secrets of his success as a commentator in this exclusive interview with the Firstpost. Excerpts:
Your commentary of the FIFA 2018 World Cup match between Spain and Portugal has taken the social media by storm. Why has it become a big hit?
I must thank Rajanikanth's famous dialogue in his blockbuster Kabali for the adulations I have received. The dialogue "Naan vandittenu sollu-thirumbi vanditenu sollu" (Tell them I'm back; tell them I've returned) had all the punch I wanted to describe Cristiano Ronaldo's 87th-minute free kick goal against Spain, which saved Portugal from an imminent defeat. The line from the movie came when I saw the packed stadium at Sochi (the Russian venue) waiting with baited breadth for the football star's moves after Portugal trailed 2-3.
The video clip of the commentary on social media has been liked even by people who do not understand either Tamil or Malayalam. Do you think people can enjoy your commentary without understanding your language?
Sports has no language like music and cinema. Commentary too is or should be like that. The commentary should flow like melodious music. Language is insignificant if the commentator is able to catch the action on the field in his expressions. I myself have not been limited by the barriers of language. I use a mix of language in my commentary. It comes naturally to me when the action calls for it. It's an emotional display rather than a verbal expression. I think people like it.
Are you doing it deliberately to entertain your listeners?
Yes, I have fashioned my commentary in tune with the time. Gone are the days when people liked to just know what is happening in the field. It is boring for the people living in the era of infotainment. Now the people, especially the youth, like to be entertained. They are not happy with the technical presentation of the sports. I have been trying to make my commentary as interesting as possible by mixing songs and dialogues from films. I had got huge applause from the listeners when I borrowed lines from popular Malayalam film song Poomaram to describe the Kerala Blasters ISL team powered by Sachin Tendulkar and Steve Coppell two years ago. The team was like a ship made out of a blooming tree as portrayed in the song.
Do you think the present style of commentary should change?
We have been seeing a lot of changes taking place in sports over the years. This World Cup will be etched in the history because of the introduction of video assistant referee (VAR). When sports administrators are ready to apply modern technical innovations in the game, the commentators should also change their old ways. I think an element of entertainment will make commentary more appealing to the people.
How do you rate the present World Cup compared to the previous editions?
The level of competition is definitely high in 2018. Every team is performing very well. I am sure the spectators will be able to see the best of football in the coming days. Apart from this, the current edition will also be memorable because this may be the last World Cup in which the three greats Ronaldo, Lionel Messi and Neymar are participating. It's a golden opportunity for football fans to see the trio in action.
Do you think Malayalam is an easy medium of language for commentary?
It is not the speciality of the language. I am able to do well in Malayalam because it is my mother tongue. It will be same with other commentators when they do the commentary in their mother tongue. We are able to express our thoughts and feelings better in the mother tongue. However, the commentary depends upon how you use the language. I am able to pack emotions into my commentary because I love the language as I love my mother. I think the emotions will naturally come when one treats their mother tongue as they treat their mother. I speak only my mother tongue wherever I go. If I am elected as an MP, I will speak only Malayalam in the Parliament. It's this abiding love for my mother tongue that has made my commentary powerful.
How do you view Mahindra Group executive chairman, Anand Mahindra's comment that your commentary in Malayalam had made the Hindi and English commentators sound tame?
He has emphasised my view that music and commentary don't need a language. Mahindra sir didn't understand what I said in Malayalam. Yet, he was able to enjoy my commentary. This is because of the emotional element in the commentary. Still, I consider his tweet as a big recognition for my language in the sports world. I have no words to express my thanks to him.
How are you able to pack emotions into your commentary?
It's because of my involvement with the sports. I started my career as a sports journalist in the Malayalam daily Mathrubhumi in 1995, and remained focused on sports until I turned to commentary. I had covered all major sports events, including many national and international ones, while I was in Mathrubhumi. This gave me a strong platform to launch my career as a commentator.
Apart from football which other game you cover?
Football is my first love. But I can also cover cricket. In fact, I made my foray into television commentary with the Celebrity Cricket League involving film stars. I was selected to cover the ISL after I proved my potential as a commentator. I am looking forward to opportunities in the cricket. If I am called for the 2019 Cricket World Cup, I will accept the challenge.
Click here for full coverage of FIFA World Cup 2018
Click here to view the full schedule of FIFA World Cup 2018
Entertainment
One of the top anchors in Asia, Lincia has hosted over a thousand shows globally, in countries like India, Dubai, Singapore, Malaysia, Thailand, and China.
Football
Morocco had already said it planned to bid for the 2030 World Cup, which has been held in Africa once, in South Africa in 2010.
Football
The FIFA 2030 World Cup hosts are expected to be picked in September next year.