FIFA World Cup 2018: Here's all you need to know about Fair Play rule, the new tie-breaker that led to Senegal's exit
Japan were able to advance to the Round of 16 because they received fewer yellow cards than Senegal. Here's a handy explainer on how the Fair Play tie-breaker works.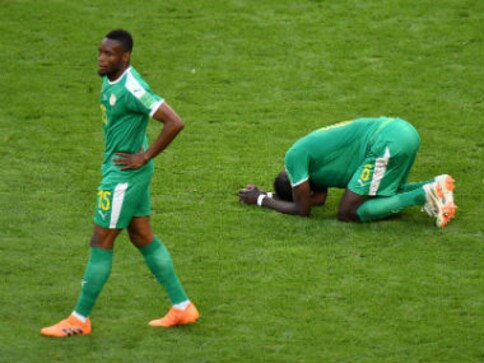 Fair play, a newly implemented tie-breaker in the group stage of the world's biggest football tournament, was put into use for the first time on Thursday and Japan came out as the beneficiary.
Despite losing 1-0 to Poland, the Japanese were able to advance to the Round of 16 because they received fewer yellow cards than Senegal, who lost to Colombia by the same score at the same time.
What are the group stage tie-breakers?
With teams playing just three games in the group stage, it's not uncommon for there to be ties amongst the group. In such a case, FIFA turns to a series of tie-breakers to determine the standings of the teams advancing.
Here is the order of the tie-breakers which are used to determine how teams finish in a group:
1. Greatest number of points obtained in all group matches
2. Goal difference in all group matches
3. Greatest number of goals scored in all group matches
4. Greatest number of points obtained in the group matches between the teams concerned
5. Goal difference resulting from the group matches between the teams concerned
6. Greater number of goals scored in all group matches between the teams concerned
7. Greater number of points obtained in the fair play conduct of the teams based on yellow and red cards received in all group matches
8. Drawing of lots by FIFA
How things stood in Group H after two rounds
Before the final round of group stage matches, Japan and Senegal were leading Group H with four points each. Both teams also has an identical goal difference (+1) and had scored the same number of goals (4). However, Japan were on top of the group as they had only three yellow cards as opposed to Senegal's five. Colombia were third with three points while Poland were out of contention.
What happened in the final round of matches of Group H?
In the Japan vs Poland match, defender Jan Bednarek scored for the Polish team in the 59th minute. He beat his marker at the far post and volleyed in a swerving free kick from Rafal Kurzawa.
When Bednarek scored, Japan were facing elimination. However, Yerry Mina scored for Colombia in their match against Senegal.
Once Colombia had scored in Samara, Japan knew they had done enough to advance even though they were losing late in their own match. The Japanese players slowed play down to almost nothing, softly passing the ball back and forth in little triangles in their own end to waste time.
The fans at the Volgograd Arena showed their displeasure by booing and whistling loudly over the final minutes. Poland, happy to get a victory after two losses, did little to pressure the opposing side.
How Group H stands after all three rounds
Colombia advanced to the Round of 16 as Group H toppers with six points. (2-1 loss to Japan, 3-0 win over Poland and 1-0 win over Senegal.) They will face England in their next match at the World cup.
After their defeats on Thursday, both Japan and Senegal finished the group phase with four points, had the same goal difference and the same amount of goals scored. They also played to a 2-2 draw on Sunday. Japan ended with four yellow cards in their three group matches while Senegal had six. As a result, Japan qualified for the Round of 16 as the runners-up in Group H.
Overall, Japan committed only 28 fouls in three group matches, among the fewest in the tournament. Senegal committed 44 fouls.
Japan faces Group G winners Belgium on Monday in Rostov-on-Don.
Senegal, however, became the first victim of the new tie-breaker. As a result, no African team advanced from the first round of the World Cup for the first time since 1982.
With inputs from agencies
Click here for full coverage of FIFA World Cup 2018
Click here to view the full schedule of FIFA World Cup 2018
Sports
Saudi Arabia lifted a decades-old ban on female footballers only a few years ago, and it is now aiming to develop a national team strong enough to contest major tournaments.
Sports
Expectations are high that England, now with invaluable experience under the belts, can add a second World Cup to their only previous major tournament win in 1966.
Sports
New Zealand's path to the World Cup in Qatar will start there when the Oceania qualifying tournament that was drawn on Monday is played in the host nation in March.