FIFA World Cup 2018: France's Round of 16 clash against Argentina promises entertaining battle of counter-attacks
In the Round of 16 clash on Saturday, expect Argentina to have explicit instruction to try and get under the skin of this bustling with talent but inexperienced French side.
What is peak Argentinian football? Lately, it's the kind that induces acid refluxes, irregular arrhythmia, high blood pressure, receding hairlines, and of a manic Diego Maradona on the side. But historically, it's one that's played between smoke, dust, and mirrors, with sleight of hand and feet, a stray elbow, a sly stamp, and a rousing word in the ear.
The gold standard Argentine football is one that has the elements of chiaroscuro — shadow and light. This concept of art was brought over by Italian immigrants in the early 1930s, and was imbibed in the Argentine culture. The core belief of this concept is that harsher the shadows on a canvas, the more vivid is the light. And this is exhibited nowhere better in the history of the World Cup than with Argentina. The cloak and dagger style of play has unsettled some of the best football-playing teams in the world. Their specialty is lacing cynicism with the romanticism of their football, and this is needed in heavy doses if the class of 2018 have any chance to sedate the quicksilver French attack.
France play Argentina at the Kazan Arena in Saturday's early game at 7.30 pm, followed by Uruguay vs Portugal at the Fisht Stadium in Sochi at 11.30 pm 
France, nicknamed L'Equipe Tricolore head into this Round of 16 fixture in Kazan with an enviable record — having gone eight matches unbeaten in the history of the competition vs South American sides. But they would be wary of history repeating itself, as the last South American team to get the better of the cultured French, was, of course, the Argentina's class of '78, who would go on to win their first ever World Cup with chain-smoking Bohemian manager, Cesar Luis Menotti.
Tactical overview
While average position on the pitch is proving more and more crucial deciding the outcome of matches, managers would tell you how sometimes all of that goes out the window in high-intensity matches such as this. There will be mind games and subplots popping up all around the pitch. As insinuated, expect Argentina to have explicit instruction to try and get under the skin of this bustling with talent but inexperienced French side (second youngest squad in the tournament, averaging at 26). However, both the teams are a little unsure of themselves — while one team lacks in identity, the team other is struggling to assert it.
In order to get the best out of Lionel Messi in this system, Argentina may field a 4-2-3-1. If Argentina's last two matches are anything to go by, the tinkering is set to continue from Jorge Sampaoli, with reports stating the possibility of Messi playing the false-nine role. But this being Argentina, there is an equal chance that those reports are disinformation propagated by the Argentine press to confuse the French scribes and Didier Deschamps.
While running back against Antoine Griezmann and Kylian Mbappe is a frightening enough prospect, Argentina will look to maintain superiority of numbers in the face of every counter-attack — making defensive midfielder Javier Mascherano's role, as the man who pulls up the moat door, utterly important.
France will be told to keep their heads and play a deep line as a damper to Argentina's tendency to slink in behind fences, like a greased mongoose in a chicken coop. To negate the very telling influence Ever Banega, France are likely to deploy the double-damper of N'Golo Kante and Blaise Matuidi. This could see a repeat of their 4-3-3 vs Peru.
The French full-backs will be instructed to holdfast their positions and look to break when Argentina fail to play through a crowded midfield. If played to perfection, this match could be a battle of counter-attacks — or a boring one-nil if played with too much cheerless caution. It's all in the mind.
Possible XI for Argentina: Franco Armani; Gabriel Mercado, Nicolas Otamendi, Marcos Rojo, Nicolas Tagliafico; Enzo Perez, Javier Mascherano, Ever Banega; Cristian Pavon, Lionel Messi, Angel Di María.
Possible XI for France: Hugo Lloris; Benjamin Pavard, Raphael Varane, Samuel Umtiti, Lucas Hernandez; Paul Pogba, Blaise Matuidi, N'Golo Kante; Kylian Mbappe, Antoine Griezmann, Olivier Giroud.
Five Key Battles
Nicolas Otamendi vs Olivier Giroud
Otamendi's temper and standing jump will be tested against the battering ram approach of Giroud. They will not be strangers, having locked horns in the Premier League multiple times with their respective teams. Argentia have been susceptible to punts over the top against Iceland and Croatia, resulting in three of the five goals they have conceded in the group stages. Deschamps will look to employ early crosses directed at the Chelsea target man.
Ever Banega vs Blaise Matuidi
While smiter-in-chief Kante is manning the barricades, it'll be one of the most underrated French defensive midfielders of this generation, Matuidi, who will be tasked with the second-most important man-marking job for France. Banega was the ringmaster in Argentina's win vs Nigeria, and Matuidi's task will be make sure he sees as little of the ball of ball as possible.
Javier Mascherano vs Paul Pogba
Mascherano plays with an invisible dagger between his teeth. Now, at the twilight at his career he will be facing Pogba — the most physical challenge of Mascherano's career till date. Mascherano's mind may will him to try his all but his battle-hardened limbs may not follow with the same jack-knife sharpness that made him a Liverpool cult hero. Similarly, this could be the one of most defining moments of Pogba's fledgling legacy — better and more experienced midfielders in the past have felt the shadow of Mascherano follow them into their most private moments, such was his ability of mark people of out games.
Nicolas Tagliafico vs Kylian Mbappe
This is going to be nice and fresh like a hot fudge sundae with the wholesome fruity bits on top — 'the next Javier Zanetti' in a battle of wits, will and ability against 'the next Thierry Henry'.
Tagliafico has not only shown the kind of maturity that warrants an old, greyed-out mage's hat, but also the eye for the adventurous pass and run that'd do well with a cowboy hat. In a team without a creative outlet, Tagliafico's passing has been the focal point for Argentina surprisingly often.
What remains to be seen if he can carry out his role with the same proficiency with the pace and cheek of Mbappe pulling him all over the place.
Lionel Messi vs Raphael Varane
It's Barcelona vs Real Madrid. Messi is likely to play a false-nine role that could see him come up against the Real Madrid and France sweeper, Varane. Varane has come a long way from being just a prodigy, having won multiple champions leagues. He's perhaps the most self-assured in this young French backline. If Matuidi does a job on Banega further downfield, Messi may have to do it all on his own. Again.
Click here for full coverage of FIFA World Cup 2018 
Click here to view the full schedule of FIFA World Cup 2018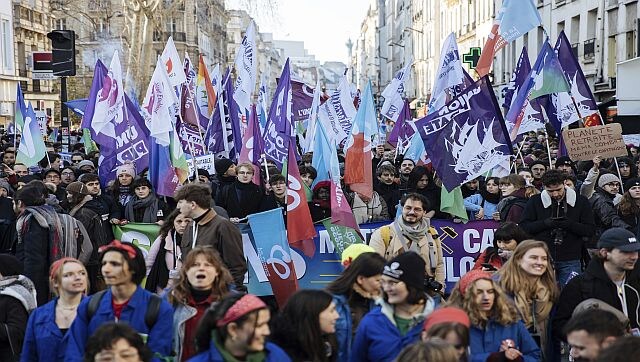 World
For a generation already worried about inflation, uncertain job prospects and climate change, the retirement bill is stirring up broader questions about the value of work
World
President Emmanuel Macron is undaunted by the uncollected trash piling up in Paris and other cities from a strike by garbage workers opposed to the bill and reduced services and supplies in other sectors like transport and energy
Entertainment
Argentina, 1985 director Santiago Mitre says that while the Oscars and World Cup are unrelated, both events have succeeded in uniting a normally polarized society around his film's success.